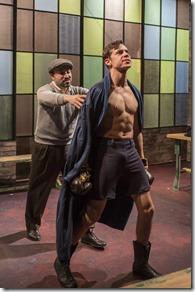 Golden Boy
Written by Clifford Odets  
Directed by Jonathan Berry 
at Theater Wit, 1229 W. Belmont (map)
thru April 6   |  tickets: $28-$33   |  more info
  
Check for half-price tickets 
  
  
   Read review
  
---
Rich ensemble achingly reveals wounds incurred
when silencing one's dreams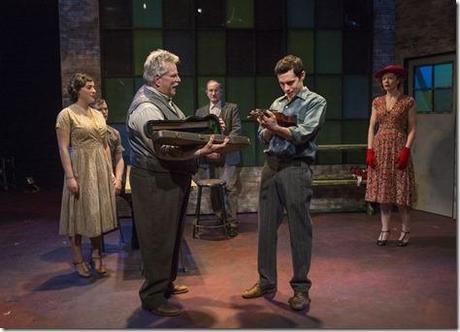 Griffin Theatre presents
Golden Boy
Review by Catey Sullivan 
Ambitious, compelling and boasting one of those impossibly rich ensemble casts that are the signature of Chicago storytelling, Griffin Theatre's Golden Boy packs a punch. Directed by the prolific Jonathan Berry with sharp intelligence and an eye for honest emotion, this isn't a perfect TKO of a production. But it is a satisfying, meticulously realized rendition of Clifford Odets' three-act tale of a boxer with a battered soul.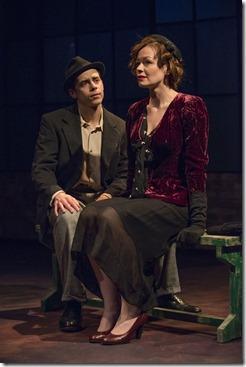 Golden Boy is something of a departure for Odets, whose previous works (including Awake and Sing and Waiting for Lefty) were uncompromisingly, overtly political, pieces that put a laser light on the injustices and imbalances of society as much as on the tormented lives of individuals. Golden Boy differs in that its politics hover toward the background, an undercurrent of subtext that drives what is first and foremost a narrative that's focused on individual rather than societal drama.
Set in the waning days of the 1930s, Golden Boy is a pointed exploration of the emotional fallout that results when you compromise your ideals. In the case of lightweight boxer Joe Bonaparte (Nate Santana), that fallout literally tears him apart: Every bruise, black eye and bloodied knuckle seems like retribution. His crime? Turning his back on the art that fulfilled him and giving up a career as a violinist in order to make a name for himself – and a lot of fast money – in the boxing ring.
It doesn't matter if you're a boxer, musician or working girl, the story is genuinely universal. Compromise is the great bedevilment that invariably accompanies age. Whether it's a small, incremental compromise or the heart-hardening compromise of completely forsaking one's passion, we all give up something on the path between the dreams of childhood and the responsibilities of adulthood. For Joe Bonaparte, a driving desire to provide for his family and prove his machismo causes him to silence his music. A promising violinist before he took to the ring, Joe can never quite reconcile himself to the loss of his art, no matter how hard he throws himself at his opponents.
But Joe isn't the only one wrestling with demons in Golden Boy. Lorna Mooney (Nina O'Keefe), the tough-as-nails (at least on the outside) longtime paramour to married boxing promoter Tom Moody (Mark Pracht) has made her own compromises over the years; when she's forced to face them head-on, the emotional fall-out is incendiary.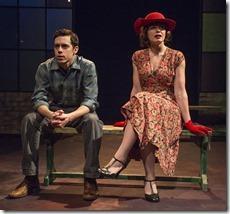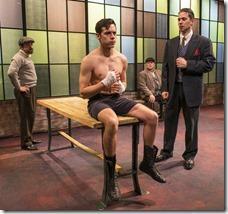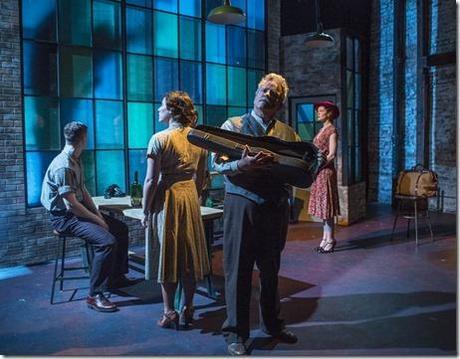 Berry knows how to bring out truthful, multi-dimensional performances in his actors, no matter how small their roles. Santana's Joe Bonaparte is a tightly coiled bundle of energy and combustible emotion: You can all but palpably feel the wires of tension running through his wiry, bantum-weight body. There's howling rage and frustration simmering just below the surface in Joe. If he explodes, he knows he's going to badly scald everyone in his orbit. But Santana shows that Joe is more than a raging machine. When he gives up his violin, you can see the unbearable sense of loss all that anger cloaks. It's the kind of sorrow so intense that it simply cannot be borne, and it fuels both Joe's flying fists and his bellicose dialog.
O'Keefe's wounded, defensive Lorna is equally fine, a portrait of a not-so-young-anymore woman whose exterior toughness makes her a contender in the hyper-masculine world of professional boxing. She's a classic old-school dame from her blood-red lipstick down to her stilettos. And when she finally allows her heart to crack open, the moment is steeped in both joy and a thick sense of looming dread.
Golden Boy plays out on Dan Stratton's cleverly minimalist set, dominated by a massive backdrop that allows the boxing scenes to play out in effective silhouette. And thanks to Rick Sims' evocative sound design, every bone-crunching blow and impossibly ethereal violin strain packs a punch.
Rating: ★★★½
Golden Boy continues through April 6th at Theater Wit, 1229 W. Belmont (map), with performances Thursdays and Fridays at 7:30pm, Saturdays 2:30pm and 7:30pm, Sundays 3pm.  Tickets are $28-$33, and are available by phone (773-975-8150) or online through TheaterWit.org (check for half-price tickets at Goldstar.com). More information at GriffinTheatre.com.  (Running time: 2 hours 45 minutes, includes two intermissions)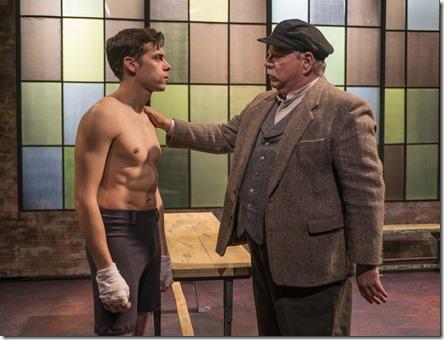 Photos by Michael Brosilow 
---
artists
cast
Nate Santana (Joe), Jerry Bloom (Carp), David Cady Jr. (Mickey), John Connolly (Roxy), Laura Lapidus (Anna), Jason Lindner (Tokio), Morgan Maher (Siggie), Niall McGinty (Frank, Sam), Connor McNamara (Pepper), Johnny Moran (Lewis, Barker), Nina O'Keefe (Lorna), Paul Popp (Drake, Driscoll), Mark Pracht (Moody), David Prete (Eddie), Norm Woodel, Patrick Blashill, Paige Smith, Emily Berman (understudy)
behind the scenes
Jonathan Berry (director), Dan Stratton (set design), Mieka Van der Ploeg (costume design), Rebecca Barrett (lighting design), Rick Sims (sound design), Amanda Herrmann, Christopher J. Neville (props design), John Tovar (fight choreography), Kendra Thulin (dialect coach), Joe Schermoly (production manager, assistant director), Jon Ravenscroft (stage manager), Michael Brosilow (photos)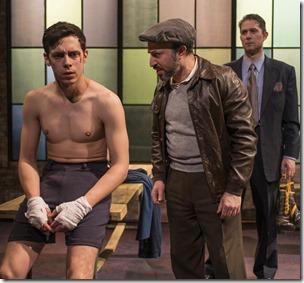 14-0246