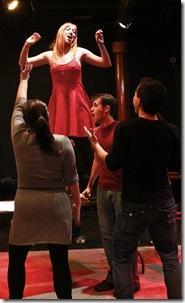 Godspell 
Music and Lyrics by Stephen Schwartz  
Book by John-Michael Tebelak
Directed by M. William Panek  
Collaboraction Studio, 1579 N. Milwaukee (map)
thru Oct 7  |  tickets: $15-$25   |  more info
  
Check for half-price tickets 
  
  
   Read entire review
  
---
A stripped-down, modernized version of classic 70s musical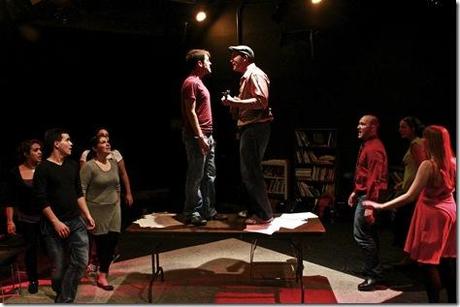 The Brown Paper Box Co. presents
Godspell
Review by J.H. Palmer
The last thing you might expect to see in uber-hip Wicker Park is a revival of the 1971 musical Godspell, but there it is – on the third floor of the Flat Iron Arts Building at the six cornered intersection of Damen, North, and Milwaukee, for all the world to see (should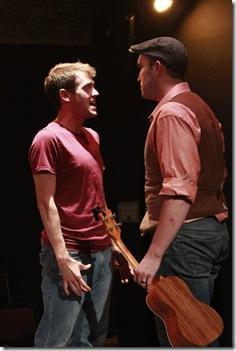 they manage to make their way up all those stairs). While the basic premise remains the same – a group of young people discuss biblical subjects based on the Gospel According to Matthew, and break into song seemingly at the drop of a hat, a few things have been updated: Babble is represented by an attachment to electronic objects, indeed – this is the only theatrical piece I've seen where the characters seem to get lost in their iPhones, iPads, and laptops as the action unfolds around them.
In Brown Paper Box Co's hands, the piece feels like a summer camp frolic – or maybe more accurately, a bible camp frolic, only hipper. It begins quietly, with dialogue, but picks up quickly enough with the opening number: "Prepare Ye the Way of the Lord". What's remarkable about Godspell is how entrenched the music has become in our common musical theater knowledge; even someone who's never seen it will likely recognize the opening strains of "Day by Day", or the haunting, mournful tones of "By My Side". It is a collaborative event, and the cast all has good singing voices, but there are definite standouts: Veronica Garza comes to mind, as well as Nick Shoda (the actors all go by their real names in the billing.)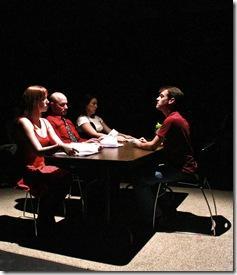 The audience sits on three sides of the stage, some of it on floor level, giving the experience a casual feel that invites itself to something that comes close to audience participation; in one number
Stephanie Rohr
directed her attention to a patron in the first row who had risen to leave the theater (presumably to use the restroom as he came right back in), gesturing towards him as if trying to convince him to stay, and there were other moments of up-close contact as the cast uses the aisle space between the seats as part of their domain.
The staging is basic but effective, with the entirety of the stage being used at various points in the show, and while at times it feels a bit low-tech, the vocals and feel-good vibe create a sense that this should be a somewhat unplugged experience. Do be prepared for a Spartan encounter; there are no intermission refreshments at this show, and as far as I could see this is not a handicap accessible building, so if you're bringing grandma consider how long it takes her to climb stairs. Brown Paper Box's version of the musical is unpolished as far as production values, but not a bad way to see (and hear) some of the most memorable songs in American musical theater. Fans of Godspell in particular will enjoy this piece.
Rating: ★★★
Godspell continues through October 7th at Collaboraction Studio 300 in the Flat Iron Arts Building, 1579 N. Milwaukee (map), with performances Thursdays-Saturdays at 7:30pm, Sundays 3pm.  Tickets are $15-$25, and are available online through BrownPaperTickets.com (check for half-price tickets at Goldstar.com). More info at BrownPaperBox.org.  (Running time: 2 hours, includes an intermission)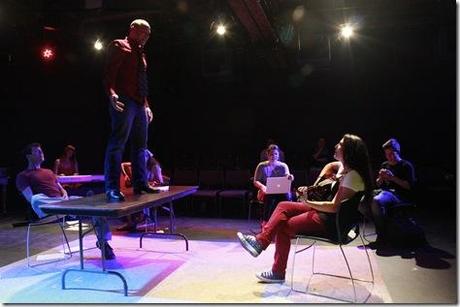 Photos by Chad Shelton
---
artists
cast
T.J. Anderson, Jeanne T. Arrigo, Megan Ensley, Veronica Garza, Michelle Limon, Andrew Lund, Jake Mahler, Pavi Proczko, Stephanie Rohr, Nick Shoda
behind the scenes
M. William Panek* (director, set design); Katie Colby* (musical director); Daniel Spagnuolo (choreography); Charlie Sheets* (graphics); Ian James Anthony* (props); John Tallman (sound design); Michelle Kritselis* (dramaturg); Patrick J. Butterfield* (casting); Anna Schutz* (stage manager); Eric Phillips (lighting); Chad Shelton (photos)
* denotes The Brown Paper Box company member
12-0949