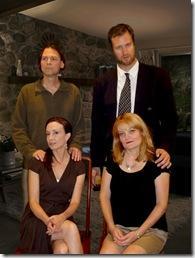 God of Carnage 
Written by Yasmina Reza  
Directed by Doug Long
at Heartland Studio, 7016 N. Glenwood (map)
thru Nov 17  |  tickets: $10-$25   |  more info
  
Check for half-price tickets 
  
  
  
  
---
An eloquent blend of wit and despair, served with a side of mayhem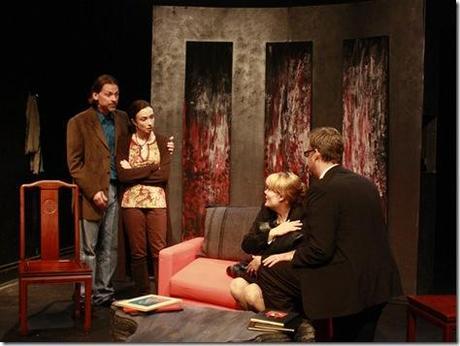 AstonRep Theatre Theatre presents
God of Carnage
Review by Anuja Vaidya
When lives led in quiet desperation find an outlet, mayhem ensues. God of Carnage gives us a play-by-play account of what happens when inner beasts and frustrations overtake attempts at civility. This Tony Award-wining play can best be described as a tragicomedy, wherein you laugh at and take pity on the characters on stage.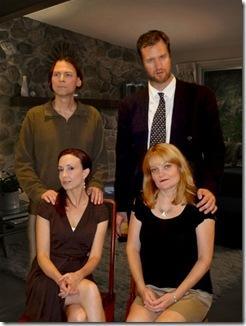 The parents of two boys meet to discuss the quarrel that led to one of the boys, Benjamin, hitting the other, Henry, with a stick in a playground. In an effort to be amicable and to avoid exacerbating the tense situation, Henry's parents invite Benjamin's parents over. However, this seemingly noble endeavor quickly falls apart due to differences in opinion (especially when it comes to parenting) and thinly veiled insults. Soon, the unhappiness intrinsic to their lives is revealed. We see the cracks in their personalities and their respective marriages, and their baser natures take over.
With razor-sharp wit, Yasmina Reza gives us humor even as the despondency on stage is palpable. The dialog meanders irrationally, digressing from the issue of the altercation on the playground to their own frustrations. This irrationality lends to the over all feeling of hopelessness that is exuded through the production. We are also given a very literal look at the notion of inner bestiality finding expression, as physical fights break out amongst the characters.
While all the actors do a commendable job, Kelly Lynn Hogan, who plays Veronica, steals the show. Both her comedic and dramatic moments are spot on. She pushed the humor of the script and her retorts pack a punch. Hogan brings out Veronica's need to uphold her notion of western civilization. But you also get the sense that she is a very lost woman. Amy Kasper gives a spirited performance as Annette, whose nerves seem to be giving way under an overwhelming sense of dissatisfaction.
However, the actors (with the exception of Hogan) do not always capture the wit of the dialogues. Moments that might be hilarious produce just a murmur of a giggle. Also the comic timing seems to be a bit off, with some dialog striking us as witty only in retrospect.
The Heartland Studio, while small, does not assist in bringing this intimacy to the production itself. There is a certain intangible emotional wall between audience and performer – one can sense the despair of the characters on stage, but not feel the desperation personally. Indeed, we're so busy enjoying the rapid repartee that comprehending the tragedy of the situation only fully sinks in after the lights come on.
Rating: ★★★
The Gods of Carnage continues through November 17th at Heartland Studio, 7016 N. Glenwood (map), with performances Thursdays-Saturdays at 8pm, Sundays 2pm.  Tickets are $10-$20, and are available by phone (773-828-9129) or online through BrownPaperTickets.com.  More information at AstonRep.com.  (Running time: 1 hour 20 minutes, no intermission)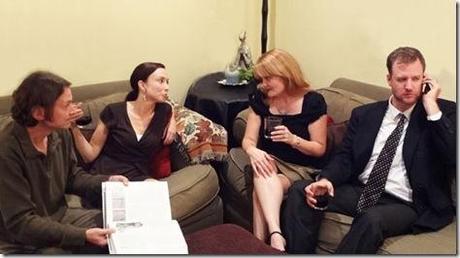 ---
artists
cast
Kelly Lynn Hogan (Veronica); Amy Kasper (Annette); Ray Kasper (Michael); Robert Tobin (Alan)
behind the scenes
Doug Long (director); Rebecca Aronson (asst. director); Jeremiah Barr (producer, stage manager, set design); Danielle Moore (intern, assistant stage manager); Samantha Barr (lighting, costumes); Robert Tobin (sound design, co-graphic design); Lea Tobin (props, co-graphic design, house and box office manager)