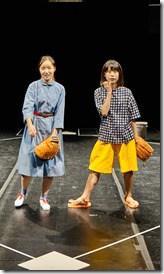 God Bless Baseball
Written/Directed by Toshiki Okada
at MCA Stage, 220 E. Chicago (map)
thru June 30  |  tix: $30  |  more info
  
Check for half-price tickets  
  
---
Swing and a miss on the curve ball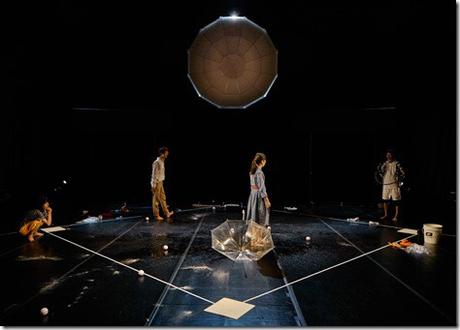 MCA Stage presents
God Bless Baseball
Review by Keith Glab
I love baseball, theatre, and the spirit of collaboration engendered by both passions. Imagine my enthusiasm in learning that a Chicago theater institution would present a baseball-centric play combining the cultures of both Korea and Japan. Unfortunately, raising expectations to the height of a Sadaharu Oh home run leaves a tremendous vulnerability for disappointment.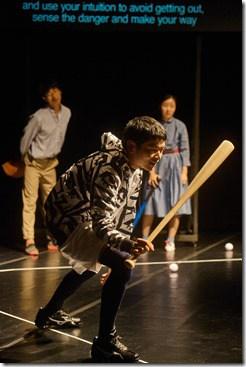 God Bless Baseball is presented in three spoken languages, with the two not in use given supertitle translations on either side of the stage. This usually works well, though in the painfully slow beginning to the play, a Korean man attempts to explain to both a Korean woman and a Japanese woman the rules of baseball, the two women repeat each other's exact same lines over and over in their respective languages. Not only does this portion of the play prove dull due to the mundane subject matter, long silences, and repetition, but it perpetuates an increasingly inaccurate stereotype of women not being interested in baseball.
While the repetition mercifully ebbs, the silences continue and join with disinterested body language from the actors onstage. It's very difficult to engage in the material when the cast appears bored. While the response might be character appropriate, it does not work from a dramatic perspective. This abstract theater work from Japanese playwright Toshiki Okada intermittently features stylized movements, particularly with regards to appendages moving independently from the characters' bodies. This at least proves visually interesting as opposed to the sitting around looking disinterested motif.
One of the actors portrays outstanding Japanese right fielder Ichiro Suzuki, who has performed at a Hall-of-Fame caliber level both in Japan and in the United States. His imitation of Ichiro's swing is embarrassing, but his mannerisms at the plate are passable and his haircut is spot on. Then there's his outfit, which is a strange black and white hoodie with a gold 51 on its back rather than a jersey replica. The character behaves like a jerk for the majority of the play, at one point even launching a bizarre perfunctory attack upon the others with baseballs and a hose. I'm not sure what the intention is behind this negative portrayal of a baseball icon beloved by Japanese, Americans, and Koreans alike.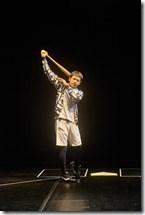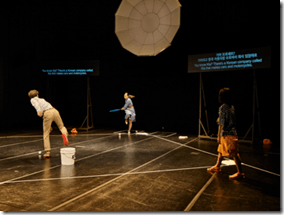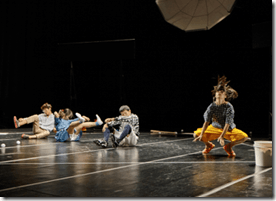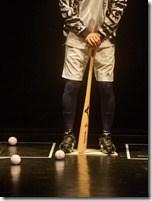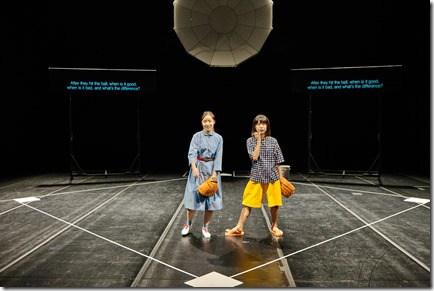 Other oddities seen in this self-referential play include a disembodied English-speaking voice upstage (that could be anything from a character's dead father to some ethereal umpire) , a disconcerting lack of music (other than a randomly-timed seventh-inning stretch rendition), and choppy narrative flow (flopping direction from half-hearted baseball play to interesting baseball facts to a discussion on Korea's economy).
The play closes on a powerful image, but a puzzling one as far as its meaning, and finally ends without punctuation. Both baseball and theater have the ability to bridge cultural divides, providing a common bond for people regardless of language, class, or social values. Regrettably, this production chooses not to extend such bridges. Although God Bless Baseball contains a few interesting moments, I glean no more about East Asian culture from it than the two female characters do about the rules of baseball in the opening scenes.
Rating: ★★
God Bless Baseball continues through January 30th at MCA Stage, 220 E. Chicago (map).  Tickets are $30, and are available by phone (312-397-4010) or online through their website (check for half-price tickets at Goldstar.com). More information at MCAChicago.org.  (Running time: 1 hour 45 minutes, no intermission)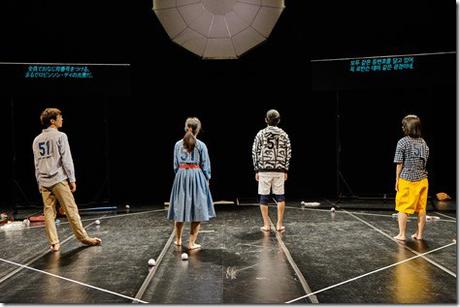 Photos by Moon So Young
---
artists
cast
Yoon Jae Lee, Pijin Neji, Sung Hee, Wi Aoi Nozu, Jerome Young (recorded voice)
behind the scenes
Toshiki Okada (director), Tadasu Takamine (set design), Kyoko Fujitani (costumes), Sugatsu Kanayama (dramaturg), Hongyie Lee (Korean translation), Koro Suzuki, Tsubasa Yamashita (stage managers), Susumu Kumaki (asst. stage manager), Ayumi Kito (lighting design), Yuji Tsutsumida (sound design), Takaki Sudo (video design), Tamiko Ouki (production manager), Aya Ogawa (English translation ), Kaku Nagashima (Japanese surtitles), Moon So Young (photos)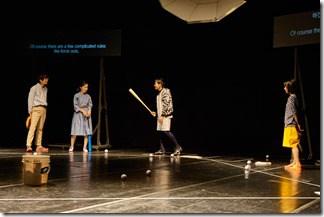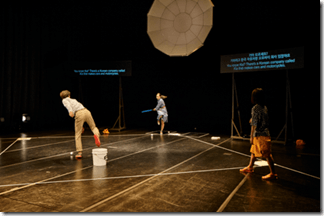 16-0116