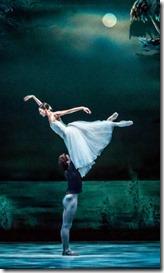 Eerie and unforgettable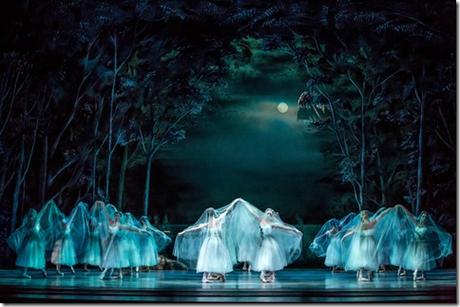 Review by Lauren Whalen
Most ballets are emotional, but in terms of true feeling, Giselle may just take the cake. The ballet, which premiered in Paris in 1841 and whose lead role has become a dream for many ballerinas, encompasses love, madness and vengeance as well as a dramatic score, beautiful mime and choreography that borders on otherworldly. The Joffrey Ballet's premiere of a newly-staged doesn't disappoint, wringing out every possible drop of excitement, in a production that's equal parts breathtaking and horrifying, hands-down one of the best ballets I've ever seen.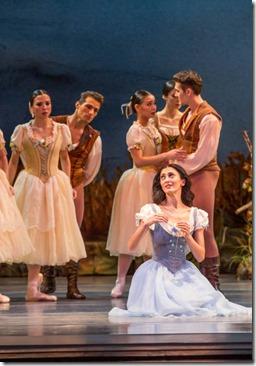 Set in Middle Ages Rhineland,
Giselle
opens in a peasant village, where wealthy royal Albrecht goes undercover to enjoy the village's annual grape harvest and festival. He quickly meets and falls in love with Giselle, a sweet young woman with a weak heart and a protective mother. But trouble quickly arises as Albrecht's fiancée Bathilde visits the village, and Giselle's would-be suitor, the gamekeeper Hilarion, sets out to reveal Albrecht's true identity. Soon, Giselle, Albrecht and Hilarion find themselves in the underworld, at the mercy of the Wilis, ghosts of jilted women with revenge on their minds. Who will survive? Will love ever be enough?
's original choreography is courtesy of ballet legend Marius Petipa, and has been reimagined for the modern stage by Lola De Ávila, former Associate Director of the San Francisco Ballet School. Her restaging is equal parts sensuous and disturbing, combining difficult technical dance and pantomime that conveys an entire plotline in a series of small but meaningful gestures. Aldolphe Adam's lush, romantic score remains, flawlessly executed by a live orchestra led by Conductor Scott Speck, a perfect complement to the action. Peter Farmer's scenic and costume designs are simple but evocative, with cozy housefronts and trees that look real and imposing.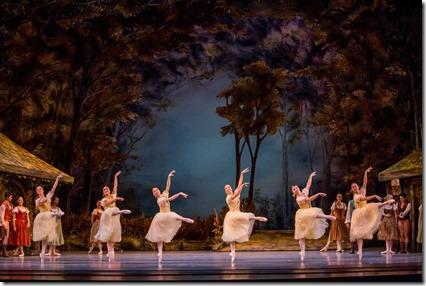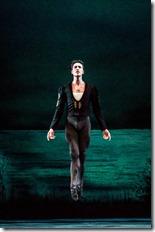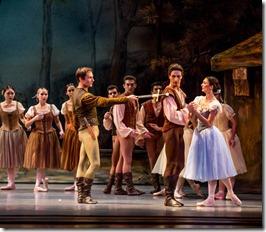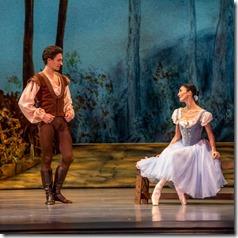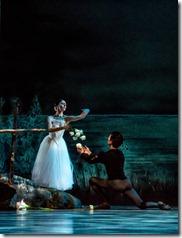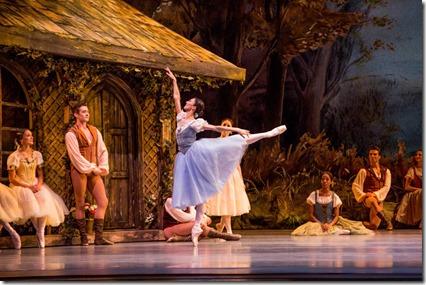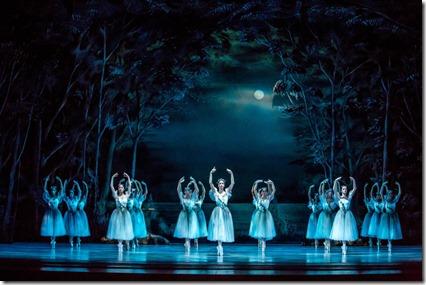 Though the cast rotates each performance, the four leads at my performance were all portrayed by dancers of color, and each executed the choreography and mime as if they were second nature. As Hilarion, Miguel Angel Blancowas the perfect spurned lover whose good intentions lead to an untimely demise. Gayeon Jungand Edson Barbosahave a lovely and bright pas de deux in the ballet's first half, and Cara Marie Garyand Anais Buenoshine as terrifying Wilis in an act two duet. Jeraldine Mendozais a force of nature as Myrtha, Queen of the Wilis, gorgeous but utterly unmerciful. Dylan Gutierrez's Albrecht is strong but vulnerable, light on his feet but conveying an air of gravitas. And Christine Rocas' Giselleis nothing short of a tour de force, a culmination of years of hard work and training. Giselle is one of the most physically and emotionally demanding roles in ballet, and when Rocas is onstage, one is unable to tear your eyes away from her.
Any company who undertakes has their work cut out for them, and the Joffrey - a gifted, diverse ensemble who regularly turn out challenging ballets with beautiful, unique style - is more than up to the task. This season marks the tenth for Artistic Director Ashley Wheater, and was the first ballet he worked on at the Joffrey. This production is a triumph for Wheater and company, a celebration of a stellar career, a gift that keeps giving for two hours that pass like two minutes. This is both catnip for balletomanes and a worthy introduction for those new to the art form. On the night I attended, the bravas and cheers, like the Wilis, were relentless and unending, a moment in time worth rejoicing.
continues through October 29th at Auditorium Theatre, 50 E. Congress Parkway (map). Tickets are $34-$104, and are available by phone (312-341-2300) or online through their website (check for availability of ). More information at Joffrey.org. (Running time: 2 hours, includes an intermission)
The Joffrey Ballet: Matthew Adamczyk, Derrick Agnoletti, Yoshihisa Arai, Amanda Assucena, Edson Barbosa , Miguel Angel Blanco , Anais Bueno , Fabrice Calmels, Raúl Casosola, Valeriia Chaykina, Nicole Ciapponi, Lucia Connolly, April Daly, Fernando Duarte, Olivia Duryea, Cara Marie Gary , Stefan Goncalvez, Luis Eduardo Gonzalez, Dylan Gutierrez , Rory Hohenstein, Dara Holmes, Riley Horton, Yuka Iwai, Victoria Jaiani, Hansol Jeong, Gayeon Jung , Yumi Kunazawa, Brooke Linford, Greig Matthew, Graham Maverick, Jeraldine Mendoza , Jacqueline Moscicke, Aaron Renteria, Christine Rocas , Chloé Sherman, Temur Suluashvili, Olivia Tang-Mifsud, Alonso Tepetzi, Elivelton Tomazi, Alberto Velazquez, Joanna Wozniak, Joan Sebastián Zamora
behind the scenes
For Giselle: Ashley Wheater (artistic director), Scott Speck (conductor), Marius Petipa , after Jean Coralli and Jules Perrot (original choreography), Lola De Ávila (staging), Adolphe Adam (music), Peter Farmer (scenic and costume design), Pittsburgh Ballet Theater (scenery and costumes, courtesy of), Michael Mazzola (lighting design), Cheryl Mann (photos)
For the Joffrey Ballet: Greg Cameron (executive director), Robert Joffrey, Gerald Arpino (founders), Gerard Charles (director of operations, ballet master), Nicolas Blanc (ballet master, principal coach), Adam Blyde, Suzanne Lopez (ballet masters), Grace Kim, Michael Moricz (company pianists)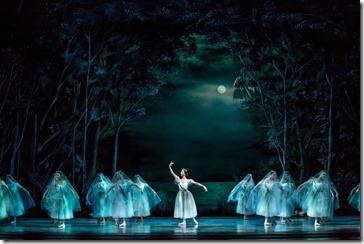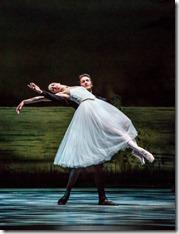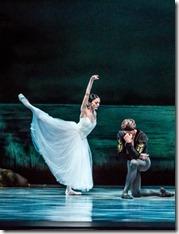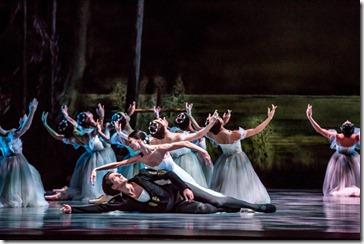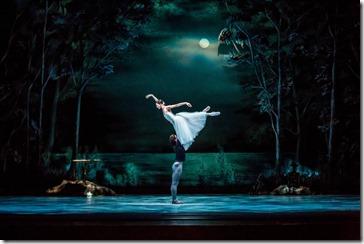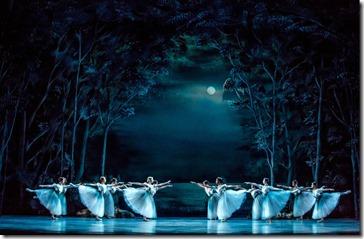 Tags: 17-0134, Aaron Renteria, Adam Blyde, Adolphe Adam, Alberto Velazquez, Aldolphe Adam, Alonso Tepetzi, Amanda Assucena, Anais Bueno, April Daly, Ashley Wheater, Brooke Linford, Cara Marie Gary, Cheryl Mann, Chicago dance, Chloe Sherman, Christine Rocas, Dara Holmes, Derrick Agnoletti, Dylan Gutierrez, Edson Barbosa, Elivelton Tomazi, Fabrice Calmels, Fernando Duarte, Gayeon Jung, Gerald Arpino, Gerard Charles, Grace Kim, Graham Maverick, Greg Cameron, Greig Matthew, Hansol Jeong, Jacqueline Moscicke, Jean Coralli, Jeraldine Mendoza, Joan Sebastian Zamora, Joanna Wozniak, Jules Perrot, Lauren Whalen, Lola De Ávila, Lucia Connolly, Luis Eduardo Gonzalez, Marius Petipa, Matthew Adamczyk, Michael Mazzola, Michael Moricz, Miguel Angel Blanco, Nicolas Blanc, Nicole Ciapponi, Olivia Duryea, Olivia Tang-Mifsud, Peter Farmer, Pittsburgh Ballet Theater, post, Raúl Casosola, Riley Horton, Robert Joffrey, Rory Hohenstein, Scott Speck, Stefan Goncalvez, Suzanne Lopez, Temur Suluashvili, Valeriia Chaykina, Victoria Jaiani, Yoshihisa Arai, Yuka Iwai, Yumi Kunazawa
Category: 2017 Reviews, Auditorium Theatre, Dance, Joffrey Ballet, Lauren Whalen