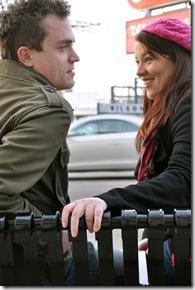 Girlfriend 
Written by Keely Flynn 
Directed by Amy Buckler
at Zoo Studios, 4001 N. Ravenswood (map)
thru May 19  |  tickets: $15-$20   |  more info
  
Check for half-price tickets 
  
  
   Read entire review
  
---
New play takes hilarious look about impending adulthood,
Chicago theater scene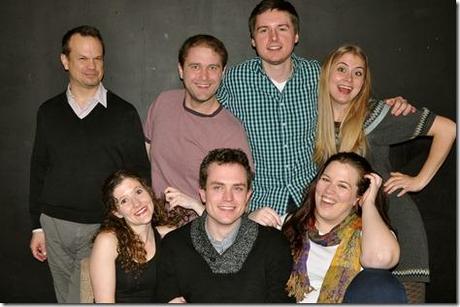 20% Theatre Company presents
Girlfriend
Review by Joy Campbell
I remember my 20s. I was going to do so much, and of course I was going to do it all before I turned 30, which was the age on my mental map where life's topography dropped to an abyss. The frantic gauging of one's life by everything accomplished before that fateful age seems universal, and has spawned so many movies/plays/TV episodes that it can be called its own genre: 20 Angst.
Refreshingly, Keely Flynn's Girlfriend, which makes its world premiere in this inspired production by 20% Theatre Company, avoids the most irksome cliché of this genre — the woman focused solely on marriage as a measure of success — and brings us characters we can all enjoy and identify with.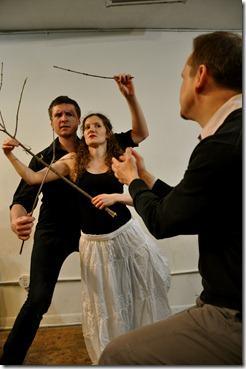 Anna (
Lindsay A. Bartlett
) is about to turn 30. Of the items on her "List of Things To Do By 25" (extended desperately to 30), only one – "buy a condo" – has been accomplished, and it is, as she points out, an un-appreciating piece of real estate. She did indeed start her own theater company as planned, but since it only had one performance – in an alley – it's not exactly a crowning jewel on a diadem of accomplishment. It did show her, however, that perhaps the theatrical life isn't for her because, as she tells her roommate, she realizes that she hates actors. She's tried to be a writer, but her only output has been her business card. And since her boyfriend dumped her and her personal ads go unanswered, her plans for marriage have been put aside as well. And oh yes – her job is fielding crappy customer-service calls from home.
Bartlett is outstanding as Anna, playing her with guts and the kind of non-whiney self-deprecating humor that makes us love her and identify with her frustration. We also can see, even if she can't, that she's got the kind of backbone that will get her through her present troubles, and triumph over them.
Anna's roommate and younger childhood friend Caro (Jackelyn Normand) has struck a deal with her parents: they'll support her for six months while she tries to make it as an actress, and if she doesn't, she has to go to law school. She hasn't had much success, mostly because she hates auditioning. As brilliantly played by Normand, Caro is a hyperkinetic, free-spirited, sometimes neurotic, flighty innocent whose optimism provides a balance to Anna's dejection, just as Anna balances her with some much-needed grounding in reality. Normand is pure hilarity to watch, and the comedic chemistry between the two women is fantastic.
Anna agrees to try dating, and Caro, to return to auditioning. Here we see playwright Flynn's genius for satire as she sends up the Chicago theater scene with biting wit and jabs that hit their mark with such deadly accuracy that nobody who has ever tried to perform here (myself included) wasn't in stitches. A particularly entertaining scene between Caro and a young director takes equal shots at the prolific formation of theater companies in Chicago and the trend toward exploiting female nudity by calling it "art" (yes, theme-based burlesque shows, I'm looking at you). The material is universally accessible and entertaining on its own merits, however, making it enjoyable for everyone.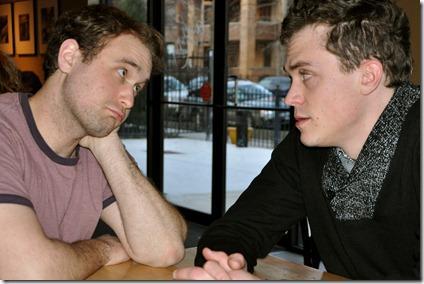 Sexual politics as well as those of PC pandering are explored when Caro gatecrashes an equity audition and lands the role of Juliet by telling the handsy director that she's a lesbian. To complicate matters, Anna gets hit on by reporter Jeff (Drew Wancket) seeking access to Caro in order to complete an investigative story on her director's misconduct. Again, Flynn's script shows insight and comic skill as we see the pedagogue director who wastes cast time by indulging in pointless, self-indulgent theater exercises rather than actually rehearsing. At Anna's first date with Jeff, Flynn gives us true wisdom on relationships when the waitress (Kristen Johnson) suddenly becomes the voice of Anna's subconscious in a small gem of a speech that should engender a new relationship-advice shorthand: "Listen To The Waitress."
The cast is rich with performers possessing an excellent comic sensibility that does justice to this wonderful script. Drew Wancket's Jeff brings the kind of acerbic wit that is the hallmark of all dangerous men who make us believe they might be worth investing in against our better judgment. As the hapless young man who plays, among others, the ignored young man cast as Romeo, Seth Wanta's dry exasperation is priceless. It's in his role as puppeteer, though, that he delivers a scene-stealing performance as the ghost of a mutilated teddy bear that comes back to haunt Anna. As director Wallace Tomkins, John Highberger hits just the right note of pompous egotism in his unflappable belief in his own infallibility. Kristen Johnson shows remarkable range as everything from the aforementioned waitress to a sexually competitive actress to a drunken bar girl. The only character about whom I had reservations was Jeff's friend and co-worker, Nelson. As played by Dan Haymes, Nelson is a sweet, believable character, but given his role in the story, he could be more appropriately portrayed as a socially eccentric but intelligent guy. As played, he comes across as somewhat mentally disadvantaged, which doesn't make his final purpose seem believable. Still, it's a minor flaw in an overall wonderful play.
Kudos to Keely Flynn for a terrific new script, and to 20% for doing it such justice. Many aspects of the Chicago theater scene may be satire-worthy, but its production of great new plays like this one isn't one of them.
Rating: ★★★
Girlfriend continues through Date at Zoo Studios, 4001 N. Ravenswood (map), with performances Thursdays-Saturdays at 8pm, Sundays 2pm.  Tickets are $15-$20, and are available online through BrownPaperTickets.com (check for half-price tickets at Goldstar.com). More information at TwentyPercentChicago.com.  (Running time: 90 minutes with no intermission)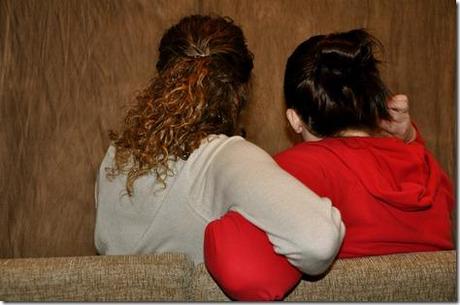 Photos by kClare Kemock 
---
artists
cast
Lindsay A. Bartlett (Anna); Jackelyn Normand (Caro), Drew Wancket (Jeff), Dan Haymes (Nelson), John Highberger (Wallace Tomkins), Seth Wanta (Male Ensemble), Kristen Johnson (Female Ensemble)
behind the scenes
Amy C. Buckler (director); Trina McGee (assistant director); Jamie Link (stage management); Ashley Ann Woods (production management); Keely Flynn (playwright); Erin Masters (scenic design); Tina Godziszewski (costume design); Cat Wilson (lighting design); Mel Ruder (sound design); Angela M. Campos (properties design); Makena Levine (puppet design)
13-0465