Ghost the Musical
By Bruce Joel Rubin, Dave Stewart & Glen Ballard
Directed by Matthew Warchus
at Oriental Theatre, 24 W. Randolph (map)
thru Jan 19  |  tickets': $27-$95   |  more info
  
Check for half-price tickets 
  
  
   Read review
  
---
State-of-the-art stage magic brings story to life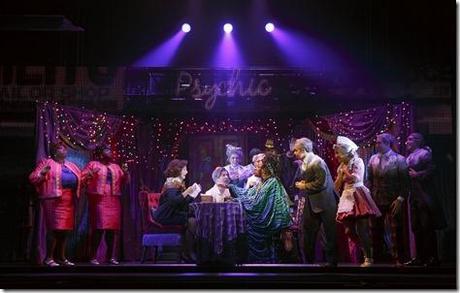 Broadway in Chicago presents
Ghost the Musical
Review by John Olson
Musical theater fans have for some time been decrying the abundance of stage musicals adapted from hit movies, so when Ghost: the Musical arrived on Broadway in 2012, it was hardly met with great anticipation, running for just four months. The previous season had brought the disappointing (to many) Sister Act, Priscilla: Queen of the Desert, Catch Me If You Can, and Women on the Verge of a Nervous Breakdown, so maybe audiences and critics just felt "enough already" about movie adaptations, giving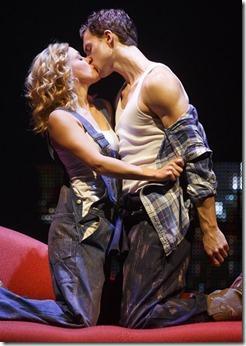 Ghost
little of a chance. Too bad – because
Ghost: the Musical
is a much better musical than most of the screen-to-stage adaptations that have been taken to the stage (and that includes the yet-to-arrive-on-Broadway
Flashdance
and
Dirty Dancing)
. The clever premise – a recently murdered young man connects with his widow through a fake medium who finds psychic powers she didn't know she had – still proves to be an engaging story. While the romantic lead characters are still a little bland and generic, there's a great musical theater role for the psychic Oda Mae Brown – a part that Whoopi Goldberg won an Oscar for playing – and some very decent pop/rock songs by
Dave Stewart
of the Eurhythmics and
Glen Ballard
(writer of such pop standards as Alanis Morrissette's "All I Really Want" and Michael Jackson's "Man in the Mirror"). Most important, though, is the show's visual design – which uses projections, lighting and holograms to not only recreate the ghostly special effects from the movie, but also to create a dream/nightmare-like vision of its New York City setting. This city – even for the young, affluent professionals who are its lead characters – is a dark place laced with danger. Street crime and white collar crime alike are lurking threats to the good guys. The visuals provide a very clear point-of-view toward the material, and gives the stage musical a point-of-difference from the film.
The production credits include a video/projection designer (Jon Driscoll), lighting designer (Hugh Vanstone) and illusion designer (Paul Kieve), but no set and costume designer (Rob Howell, who had those duties for the Broadway production is not listed, though his associates are credited). Whatever the reason for that omission, the visual design of the musical gives us ghost/hero Sam Wheat walking through walls, levitating bodies and much more. There are dual sets of projection screens giving us 3D effects, projections that give the illusion of moving subway cars and bad guys literally going to Hell. It's amazing and innovative stuff – up there with some of the best of the stage spectacles of the Disney variety – and this flashy stuff is all in service of the piece. Admittedly, the source material – Bruce Joel Rubin's screenplay, which he's adapted here for the stage – is no Romeo and Juliet, but it was entertaining enough to win Rubin an Oscar and make the film one of its year's most popular. For this adaptation, Rubin, director Matthew Warchus and the creative team have taken advantage of a contemporary perspective toward the Wall Street crimes that have come to light since the movie was released in 1990. The premise that Sam was killed because he was on the verge of exposing a multi-million dollar fraud is given greater weight through the dark and edgy visual design and resonates in a way quite different from the context movie audiences had just at the end of the "greed is good" 1980s.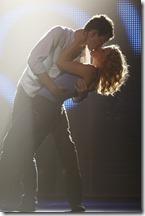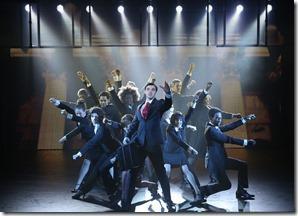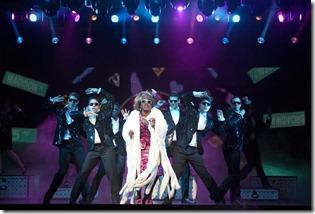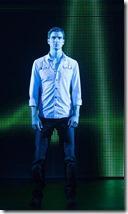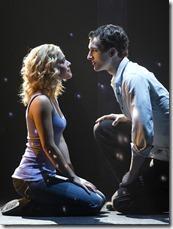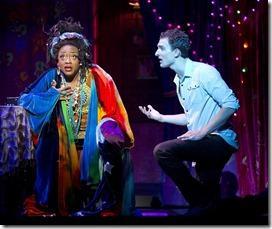 Rubin's story lends itself well to the inclusion of songs to help tell the story. It is a romance after all, so there's room for some ballads as well as the classic "Unchained Melody" that was used in the film) and comedy numbers for Oda Mae. And, there's an environment establishing number for the full company called "More" that sets up the high-energy, money-grabbing world of Wall Street. The numbers are given crisp, athletic choreography that reflects (quite appropriately) the rock-concert resume of choreographer Ashley Wallen, and is performed with precision by the talented ensemble. If pop rock concerts have stolen from Broadway in their production values, the approach to Ghost: The Musical returns the favor.
The non-Equity cast has the attractive Steven Grant Douglas and Katie Postotnik as its star-crossed lovers. The two have a believable chemistry and solid pop voices, even if their acting feels not quite organic. The same is true of Robby Haltiwanger as the duplicitous Carl, though his boyish face cleverly belies his character's evil intentions. In the Whoopi Goldberg role of Oda Mae, Carla R. Stewart lands all her good jokes capably enough, but she suffers (as do Douglas and Postotnik) with comparisons to the film stars. It's fair to say that much of film's popularity rode on the good will toward its movie-idol stars Patrick Swayze and Demi Moore, and the Oscar-winning performance of Goldberg. It's a tall order for any performers, let-alone non-Equity ones, to match up to those predecessors.
Somewhat similarly, Stewart and Ballard's songs don't entirely live up to their writers' own reputations. At least on a first listening, these numbers are far less catchy than Ballard's "Believe" (for Josh Groban) or "Hold On" (for Wilson Phillips) or Stewart's "Sweet Dreams" (written with Annie Lennox for the Eurhythmics). The Ghost songs aren't bad, though, and they work in the context of Rubin's clever story. All that said, it's the visual design and special effects that lift Ghost the Musical out of the ordinary. One hopes the producers and licensers might find a way to make these effects (or something like them) workable for future productions that make the show viable for regional productions. That's a tall order, though, and audiences are advised to catch this tour while they can and see some state-of-the-current art of stage magic.
Rating: ★★½
Ghost continues through January 19th at The Oriental Theatre, 24 W. Randolph (map). Tickets are $27-$95, and are available by phone (800-775-2000) or online through Ticketmaster.com (check for half-price tickets at Goldstar.com). More information at BroadwayInChicago.com.  (Running time: 2 hours 30 minutes, includes an intermission)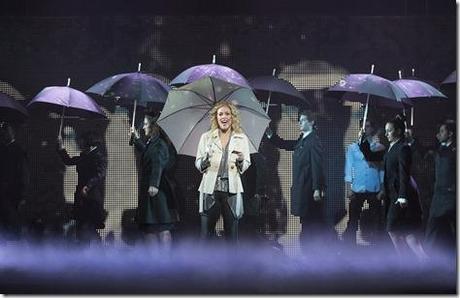 Photos by Joan Marcus 
---
artists
cast
Steven Grant Douglas (Sam Wheat), Katie Postotnik (Molly Jenson), Carla R. Stewart (Oda Mae Brown), Robby Haltiwanger (Carl Bruner), Fernando Contreras (Willie Lopez, ensemble), Brandon Curry (Subway Ghost, ensemble), Evette Marie White (Clara, ensemble), Nichole Turner (Louise, ensemble), Hana Freeman (Mrs. Santiago, ensemble), Shannan E. Johnson (Ortisha, ensemble), Omar Garibay, Susan Leilani Gearou, Tony Johnson, Beth Stafford Laird, Ben Laxton, Jake Vander Linden, Michael McClure, Jack O'Brien, Andrea Rouch, Maria Cristina Slye (ensemble).
behind the scenes
Matthew Warchus (director), Ashley Wallen (choreographer), Thomas Caruso, Paul Warwick Griffin (associate directors), David Holcenberg (musical supervisor), Matthew Smedal (music director), Talitha Fehr (music coordinator), Daryl Stone (associate costume designer), Christopher Nightingale (musical arranger & orchestrations), Jon Driscoll (video & projection designer), Michael Clark (associate video & projection designer), Hugh Vanstone (lighting designer), Joel Shier (lighting recreator), Paul Weimer (associate scenic designer), Liam Steel (additional movement sequences), Bobby Aitken (sound designer), Paul Kieve (stage illusions), Troika Entertainment, Colin Ingram (producers), Joan Marcus (photos)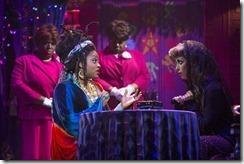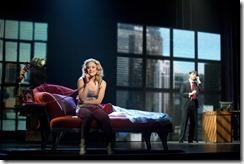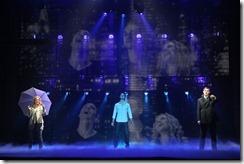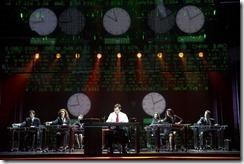 14-0104