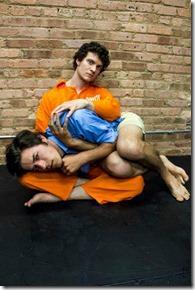 Ghost Dad:
   A Two Man Hamlet 
Adapted and Directed by Griffin Sharps
Public House Theatre, 3914 N. Clark (map)
thru Aug 24  |  tickets: $10-$25   |  more info
  
Check for half-price tickets 
  
  
   Read entire review
  
---
Reduced, improvised 'Hamlet' is hilariously reimagined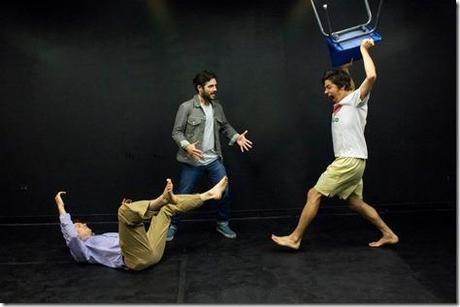 The Ghost Men presents
Ghost Dad
Review by Keith Glab
Fear not, theater patrons. Ghost Dad is not a stage adaptation of the 1990 comedy that stars Bill Cosby. Instead, it's a barebones, two-man re-imagining of Hamlet that incorporates both the actual text from William Shakespeare and comedic improvisation.
Bryan Duff and Mitch Salm assume the roles of Hamlet, Ophelia, Gertrude, Claudius, Polonius, Laertes, Horatio, and others in their account of the Prince of Denmark. But it isn't as though each actor takes half the characters; they both play each character at some point in the evening, constantly switching between roles. The character tics they give are subtle, but generally work well enough to distinguish between the characters if you are familiar with Hamlet. Horatio has a southern drawl, Polonius is bent over holding his lower back, and whoever plays Ophelia dons glasses and speaks in a prim feminine voice. There are no costume changes and the only set is a couple of chairs.
The actors alternate between delivering text from the play and their own remarks, but these insertions are not the only ways in which the work is altered. By reducing the performance to 75 minutes, adaptor Griffin Sharps had to omit quite a bit, changing the story. Some other important alterations include Ophelia being present for Hamlet's famous "To be or not to be" monolog (which works really well), and a revised ending that sees Hamlet confronted once again by his father's ghost.
Some of the improvised bits run too long, such as Horatio running around the stage and searching for Hamlet or Hamlet's obstinate confrontation of Gertrude. Other bits work well and could be extended, such as Polonius spewing ceaseless platitudes of advice to Laertes or Ophelia rehearsing asking Hamlet out on a date. Hopefully, after a few more performances, the actors will be better able to read the audience and adjust as necessary. Mitch Salm nails a scene in which he runs around backstage portraying all of the tragedians, then enters as each of the members of the court going to see the play within the play (within the play). A couple of unexpected occurrences opening night were handled rather well by the actors – they acknowledged some late-seated audience members and involved them in what was happening at the time, plus reacted to a Public House Theatre staff member finally closing a main door to the theater space that remained open following an exit.
There's a good energy to the entire performance. Duff and Salm have good comedic instincts and can find humor both in outrageous physical comedy and in deadpan delivery. In a couple of instances they get caught playing for laughs rather than the truth of the scene, but these are exceptions.
The Ghost Men execute a solid concept quite well. You could only do this sort of reprise with a story as well-known and rich in character relationships as Hamlet. Ghost Dad is a fun and unique take on a classic that is well worth the minimal time investment.
Rating: ★★★
Ghost Dad continues through August 24th at Public House Theatre, 3914 N. Clark (map), with performances Thursdays-Saturdays at 7:30ppm.  Tickets are $10-$15, and are available by phone (800-650-6449) or online through ThunderTix.com (check for half-price tickets at Goldstar.com). More information at PubHouseTheatre.com.  (Running time: 75 minutes, NO intermission)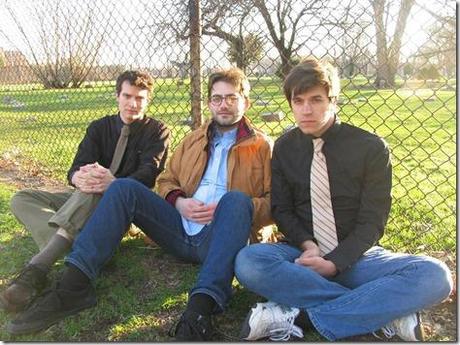 ---
artists
cast
Bryan Duff, Mitch Salm
behind the scenes
Griffin Sharps (director); Kevin Reader (executive producer); Chad Pickett (board operator)
13-0715