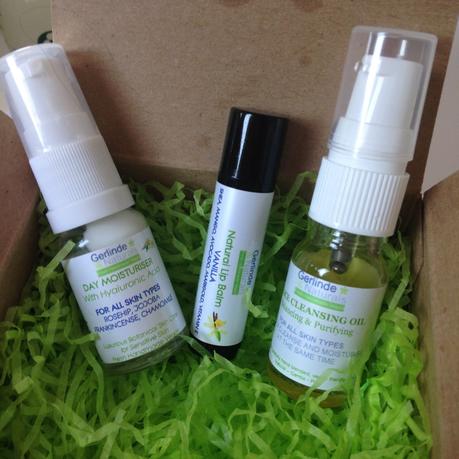 I have been trying out some natural skincare products from Gerlinde Naturals recently and have really enjoyed using them so thought I would share my thoughts on them with you.
I was made aware of the brand after reading Sugarpuffish Cleansing Oil Review and was intrigued by the brand.
Gerlinde Naturals is a small skincare boutique based in the South Of England making Vegan Skincare products that are rich with Minerals, Vitamins and Antioxidants.
They freshly make all of their products so they work in harmony with your well being and are suitable for sensitive skin.
I have three of their products I have been trying out the last couple of weeks and I am really impressed.
The Balancing & Purifying Cleansing Oil* (£10.70) is made up of Jojoba oil, Hemp oil, Apricot, Coconut oil and Essential oils which creates a gentle yet effective cleanser.
I found just two pumps of this effectively removed any makeup and dirt from my skin whilst still leaving it feeling plump and nourished. My skin is combination and this left it feeling comfortable and not dry or too oily just well balanced.
I really enjoy using this for my morning cleanse too, I give my face a good massage and then remove with a warm flannel, it is like having a mini facial.
After using the Cleansing Oil I have been following it up with the Skin Softening Day Moisturiser with Hyaluronic Acid*. (£14.90) This is a really lightweight moisturiser that is packed full of great ingredients including Rosehip, jojoba, Apricot oil, Hyaluronic Acid, Vitamin E, Frankincense and Chamomile.
I find this to be the perfect moisturiser to hydrate my skin but it isn't to heavy and makes my skin look oily.
The third product I have been trying is the Natural Lip Balm* in Vanilla (£3.50) which is a lovely moisturising balm that comes in a handy stick form so great for throwing in your handbag. This has Shea and Mango butter in it as well as avocado oil and Vitamin E oil to leave your lips feeling nourished and hydrated and it certainly does that.
Overall I am really impressed with all the products I have tried from Gerlinde Naturals and if you are into your skincare products I recommend checking the website out.


*PR Samples.