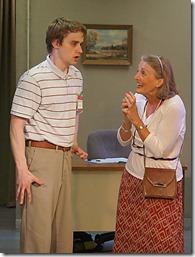 Geezers
Written by Tommy Lee Johnston 
Directed by Jan Ellen Graves
at Redtwist Theatre, 1044 W. Bryn Mawr (map)
thru Aug 24  |  tickets: $30-$35   |  more info
  
Check for half-price tickets 
  
  
   Read review
  
---
A charmingly-staged Redtwist heartwarmer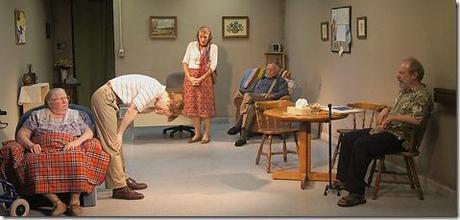 Redtwist Theatre presents
Geezers
Review by Lawrence Bommer
Audiences will take a lot if they like where they're led. A satisfying world premiere from Redtwist Theatre, company member Tommy Lee Johnston's two-act heartwarmer Geezers belies its dismissive title. Rising above insult, Jan Ellen Graves' charming staging delivers a warmly wrought if unabashedly predictable and sometimes sententious character drama.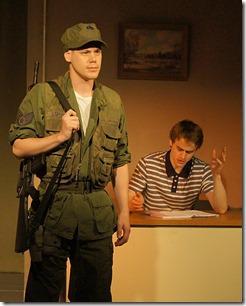 Like the film "Cocoon" (but minus the fantasy stuff), this new work about old folks is both hard-boiled and soft-hearted as it spins a "coming of age" (and not old age either) story. It centers on an introverted and almost virginal 27-year-old (
Aaron Kirby
, recalling McCauley Culkin in all his awkward wonder) who opens up as the shy lad learns a lot from the unsurprisingly vital and spontaneous residents of an urban retirement home.
Following in the steps of his deaf mother who had successfully served the survivors in this assisted living facility, Jack, a morbidly insecure would-be dramatist, tentatively commits to replacing her good work. He gets tough-love advice from nursing superintendent Gina (Jaqueline Grandt), whose own mother showed her the power to make a difference and whose bad luck with booze has sobered her into sympathy with life's losers.
Slowly Jack wakes up to the immaturity and lack of originality of the plays he's aped. Crucially, he discovers instead the wonderful tales, whether softened or stark, that these veteran survivors have to offer a writer looking for authenticity. If he could only cry, Jack could prove he can feel… (Guess what happens at the end.)
No dotards, codgers, fogies or fossils, these super copers offer Jack subject lessons in resilience and indomitability. Full of invigorating gallows humor, they've even set up a pool based on who dies when. The eldest inhabitant, walker-bound Emily (Kathleen Ruhl), now sunk in dementia, emerges from her clouded brain long enough to sing commercials from the TV she watches 24/7. This smiling soul is regularly visited by Jenny (Debra Rodkin), a devoted caregiver who treats her like a daughter.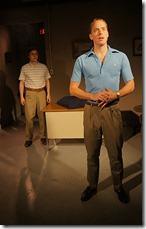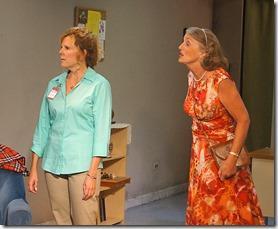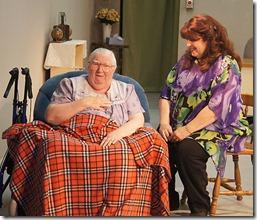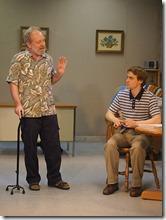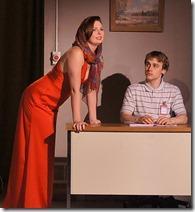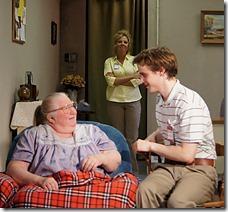 Three oldsters touch and transform Jack as he interviews them for a play to be called either "Truth" or "Geezers": Sarcastic and spunky, jokester Neil (Brian Parry) has a horrific back story, his memories still sweltering in the rice paddies of Vietnam. Former actress Kate (Donna Steele, rich with elegant excess) still carries on reflexive rendezvous with susceptible staffers as she recalls her not-so-glorious Hollywood days when she lost the main role to a rival in the now-cult film "Invasion of the Iguanas." Ray (Bruce Cronander) sleeps a lot because slumber returns him to the wife he lost in a bad way, these -memories best dealt with by dreams. As Jack recovers their lost youth, a young Kate, Neil and Ray (Julie Dahlinger, Caleb Fortune and Michael Bartz) bring forceful immediacy to the distant past.
It's the journey, not the destination, as the playwright's surrogate discovers. Sometimes Johnston doesn't quite trust that formula as he delivers predigested platitudes, convenient confessions, and self-help bromides that are wiser than fresh. But Graves' engaging staging keeps it focused, with Kirby's sweet-faced Jack center stage as catalyst and convert. His very believable initiation rite anchors the revelations as he slowly assembles the play we see. And it's also great to see a strong show with fine parts for five experienced actors who have not outlived their worth.
Rating: ★★★
Geezers continues through August 24th at Redtwist Theatre, 1044 W. Bryn Mawr (map), with performances Thursdays-Saturdays at 7:30pm, Sundays 3pm.  Tickets are $30-$35, and are available by phone (773-728-7529) or online through Arts-People.com (check for half-price tickets at Goldstar.com). More information at Redtwist.org.  (Running time: 2 hours 20 minutes, includes an intermission)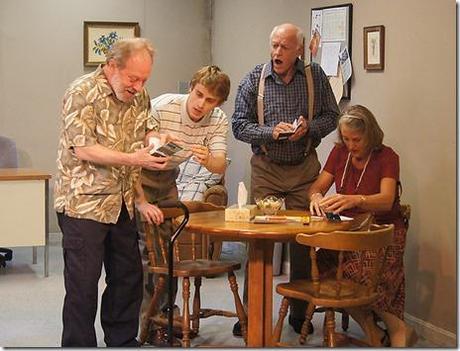 Photos by Nicole Johnston
---
artists
cast
Jacqueline Grandt (Gina), Brian Parry (Neil), Deb Rodkin (Jenny), Michael Bartz (Young Ray), Bruce Cronander (Ray), Julie Dahlinger (Young Kate), Caleb Fortune (Young Neil), Aaron Kirby (Jack), Kathleen Ruhl (Emily), Donna Steele (Kate)
behind the scenes
Jan Ellen Graves (director, graphics, marketing, co-producer), Elyse Dolan (assistant director), Allison Queen (stage manager), Eric Luchen (scenic design), David Federman (lighting design), Morgan Lake (sound design), Sarah Jo White (costume design), Robert Eric Shoemaker (props design), Kevin McDonald (dramaturg), Kathryn Haynes (assistant stage manager), Eric Vigo (lighting consultant), Michael Colucci (co-producer), Nicole Johnston (photos)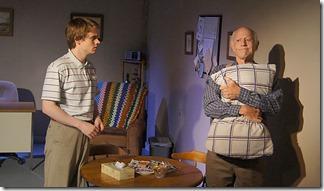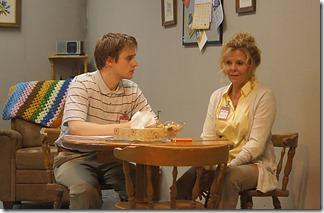 14-0735