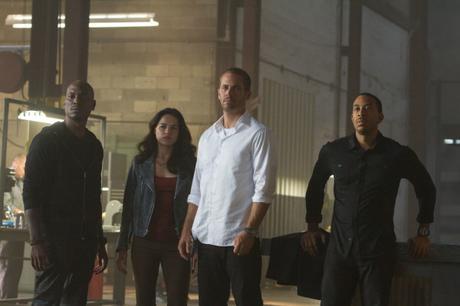 "One Last Ride"
The new Fast & Furious movie promises to tie up loose ends and provide a fitting end to the late Paul Walker's contributions to the franchise. For fans, Furious 7, is everything they have come to expect from the blockbuster series: beautiful women, fast cars, and high octane stunts. Every time out they have tried to outdo the previous entires idea of excess, but beyond all the has always been the bond of family. Paul Walker and Vin Diesel were always the centerpiece of the franchise, but Furious 7 proves that it will be able to exist without the future contributions of Walker.
Fast and Furious has always been about family, so it makes sense that the big bad of this entry seeks revenge for his brothers' injuries. Jason Statham joins the series for this entry as Deckard Shaw, a rouge black-ops agent that will stop at nothing to end the life of Toretto (Diesel) and O'Connor (Walker). Shaw was responsible for Han's death at the end of Fast and Furious 6 and now the grudge between Shaw and Toretto is personal.
The biggest problem for Toretto seems to be locating Shaw. The solution to the problem comes from a new program called 'God's Eye'. This device allows users the ability to find someone anywhere on the planet within minutes. Toretto and his team are tasked with getting the device in order to solve their problem with Shaw.
All of this set up only exists to get the team back together and pull off some crazy stunts. After watching Furious 7, you will believe that cars can fly. It might be easy to figure out exactly where the story is going, but some of outcomes of the big action set pieces could never be predicted. Of course we get the fights between Johnson and Statham, as well as, Diesel and Statham. Those are fantastic outside of the big car stunts. Most of the solutions to the problems they face in this film is most often to do the most outrageous action they can take. It all makes for an incredible amount of excitement and laughs.
Furious 7 is not without its faults. While incredibly fun, the stunts would only seem possible within the fantasy of Fast and Furious. They are so over-the-top to the point of ridiculousness, that it just seems funny. Some other issues include strange plot holes and actions for characters that exist only to benefit the story, not really to make any sense at all. This is particularly common with the character Dwayne Johnson portrays.
Another issue that unfortunately exists is the character of O'Connor feels terribly hallow. The production team decided they needed to include Paul Walker in this film even if he passed away before all of his parts were finished. His character just seems to exist in the background, always tagging along, but never really rising to the co-leading role he has been known for throughout the franchise. It is a wonderful attempt at giving his character a perfect send off, but it just feels like something is slightly off every time his character is given the spotlight.
All of this being said, Furious 7 provides plenty of excitement. It provides a bit of escapism from the rules of the common world. This family of ragtag drivers who seemingly defy all odds. Films like this exist outside of a normal critique. Furious 7 doesn't reinvent the wheel, but then it never had too. It provides a wonderful send off to Paul Walker and this series shows no signs of stopping.
Did you enjoy this article? If so, we'd love to hear your thoughts in the comments below. It would be great if 'liked' our Facebook Page or follow us on
Twitter
to get more goodness. There's lots more where this came from!