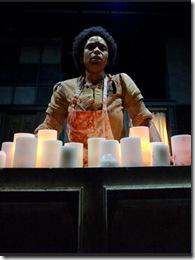 Fucking A 
Written by Suzan-Lori Parks 
Directed by Richard Perez
Uptown Hull House, 4520 N. Beacon (map)
thru April 15  |  tickets: $20   |  more info
  
Check for half-price tickets 
  
  
   Read entire review
  
---
Brilliant ensemble brings raw exuberance to controversial subjects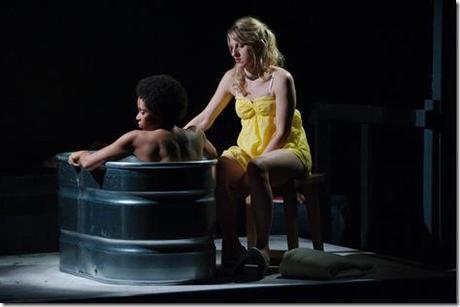 UrbanTheater Chicago i/a/w Pegasus Players presents
Fucking A
Review by K.D. Hopkins
The UrbanTheater Company picked the perfect time to stage the Midwest premiere of Fucking A. I would say that it is the perfect political climate but, in America, pre- or post-Apocalyptic – depending upon who you ask – is always fertile for controversy. Playwright Suzan-Lori Parks has written a brilliant riff on Nathaniel Hawthorne's "The Scarlet Letter" that illustrates how evolved and devolved this nation is.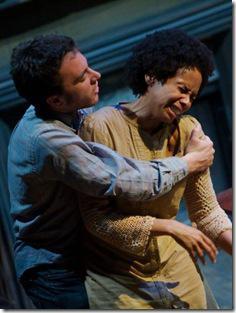 Kelly Owens, as Hester Smith (the post-modern Hester Prynne), delivers a performance I will not soon forget. In a perfectly measured style, Owens dispenses loneliness, aching love, razor sharp bitterness, and terror as the town abortionist. The town is never named but stands as Babel fallen with all survivors under the heels of the wealthy and politically connected. The citizens of this bleak society live under the constant threat of an arbitrary penal system that has no delineation between adult and child. Hester performs abortions to pay the 'freedom fund' for her son taken to prison at the age of five.
Abortion is legal but only if you wear a branded "A", always exposed on your left side. The citizenry is in an atavistic state where they have returned to the basest survival instincts. Hester and her best friend Mary Canary can literally smell when a new customer approaches needing her services. Mary Canary (Lyndsay Rose Kane) is also the mistress of a sleazy local politician simply known as The Mayor. Kane's performance is raw, sweet, and darkly funny.
The banter between Hester and Canary is loving and humorous. The women in this civilization speak "The Talk" which is a secret language about their sexuality. Parks' script makes an insightful and heavy statement about how women's sexuality has been clouded with the need for shame. Services and rights for women's reproductive necessities have been driven underground in one way or another with every political administration in America. "The Talk" language is both a shield and a weapon. A translation is projected in supertitles that are emotionally charged in shades of red and black. The projections mirror the bloody world in the foreground. Everything is sparse and dark with blood as an accent. Hester's tools of her trade are presented in a zinc bucket with the steel glinting as she spreads them out for work.
The Mayor (played with smarmy effectiveness by the wonderful Kamal Hans) married a rich girl whose family money made his political ascent possible. First Lady (played with a deceiving gentleness by Amrita Dhaliwal) is the one who sent Hester's son Boy Smith to the Penal System. Dhaliwal veers on being too delicate and helpless; it seems that there is an attempt to redeem her character because she is deemed barren and of course misunderstood. The again, this is a story of women's empowerment no matter the method.
There is a ray of light in this story when Hester connects with Butcher played by Madrid St. Angelo. St. Angelo brings a much needed gentle balance of humanity to the story. Butcher really is the district butcher who falls in love with Hester, leaving her gifts of meat and offering her human contact. St. Angelo is amazing as he counts off the litany of crimes that his daughter has committed. It is both funny and a bit scary because some of the crimes are arbitrary such as 'standing on one leg in a two legged zone'. Butcher is a sensitive man who has taken the time to try and learn "The Talk". The chemistry between Hester and Butcher is made dangerously erotic in the hands of these skilled actors.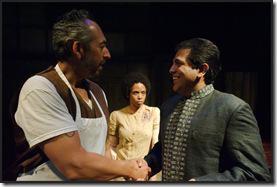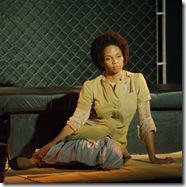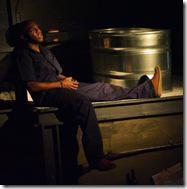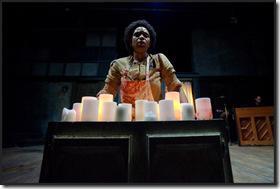 The ensemble is brilliant and brings exuberance to some controversial subjects. The story of Hester trying to reunite with her son Boy (Lance Newton) is both heart wrenching and horrifying. Newton plays this role with jagged emotions on the surface. Bert Matias, one of my favorite Chicago actors, has played some seriously twisted characters, but they are always endearing and achingly human at heart. He doesn't disappoint in Fucking A as Scribe, who gets paid to write all of Hester's letters to Boy in prison. Matias is both refreshing comic relief and part of the prison gang ensemble. David Guiden's role as Jailbait is a brilliant departure from the last time I saw him onstage for Lifeline's The 13 Clocks (my review), and his brutal performance as the prisoner sent to fool Hester is unforgettable and also difficult to watch. However, I could not look away from any of the performances.
Richard Perez' direction is tight and smooth. The spoken scenes that segue into songs are done in great musical form. This is great theater and it deserves a wide audience, especially because of the subject matter. Decisions of life and death are never simple to the thinking and feeling human being. Hester lights a candle for every abortion that she performs. It may be a blessing to a soul delayed or penance but what of that final candle? There was audible weeping in the audience on the night I attended.
There is no doubt that the subject matter of this play is very adult in nature, but it is also deeply human. There is a connecting point when a young woman may be on the precipice of either rejecting or receiving advice, and I would have definitely taken my daughter when she was a teenager to get a mature and insightful dialog going about how women are treated in society. Abortion is not the central theme of Fucking A – the play explores and exposes issues of identity, hypocrisy, and sexual repression. It is perhaps the most theatrically truthful exploration of the seeds of violence and of women's participation as both victims and perpetrators that I have seen. Whomever you take to this play – and you should take someone – you will have plenty to talk about when the lights go up.
Rating: ★★★★
Fucking A continues through April 15th at Pegasus Players Beacon Street Hull House Theater, 4520 N. Beacon (map), with performances Thursdays-Saturdays at 7pm, Sundays 3pm.  Tickets are $20, and are available by phone (312-239-8783) or online at OvationTix.com (check for half-price tickets at Goldstar.com). More information at UrbanTheaterChicago.org.  (Running time: 2 hours with one 15 minute intermission)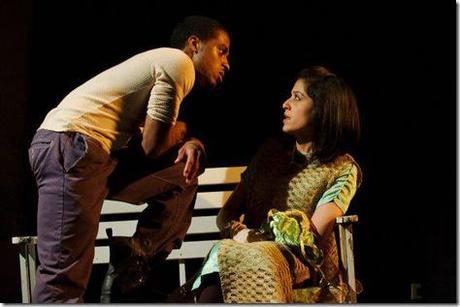 Photos by Anthony Aicardi
---
artists