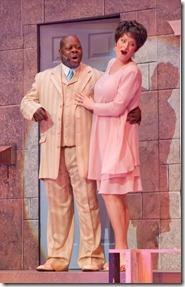 From Doo Wop to Hip Hop
Written and Directed by Jackie Taylor
   and Rueben Echoles  
Music Directed by Robert Reddrick  
Black Ensemble Theater, 4450 N. Clark (map)
thru April 14  |  tickets: $55-$65   |  more info
  
Check for half-price tickets 
  
  
   Read entire review
  
---
Great music brings us all together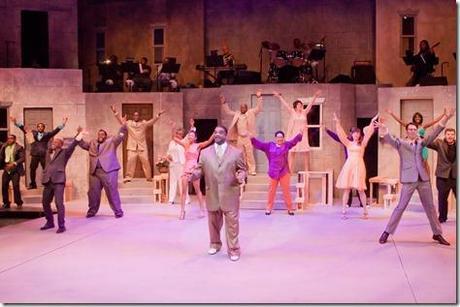 Black Ensemble Theater presents
From Doo Wop to Hip Hop
Review by Joy Campbell
As one character says, "It isn't about color when it comes to hearing good music."
In this exciting musical offering from Black Ensemble, we are taken to the upscale neighborhood of Unison Hills, where retired singers have settled to raise their families. Neighbors Clarence, Odell, and Melvin (Dwight Neal, David Simmons and Monty Montgomery) were in a singing group together back in the day; Marcus (Matthew Payne) is also a retired singer, and the new kid on the block is young Hip-Hop star Malcolm (Lawrence Williams), who has a notorious reputation as a drug abuser. Melvin's son Brian (Kelvin Roston Jr.), manages musical groups that include his sister Nina (an incredibly talented and adorable Lisa Beasley) and her friends Tahquesha and Kayland (the hilarious Marquecia Jordan and Danielle Davis, who does a mean beat box); he also manages a boy group consisting of Malcolm and two other young talents, Darell and J.R (Brandon Markell Holmes and Coryandre Wright).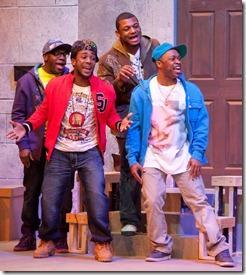 It's a somewhat contrived setting, but the characters are very real, very likeable, and you find yourself wishing you could find a Unison Hills of your own, where races, generations, and musical styles live and sing together in –wait for it – Unison. A number of good plot lines — from marital strife to young love to health issues — keeps this from being just a thin framework upon which to hang musical numbers, and the music selected supports the action very well. The characters are all well developed and, to a person, the acting and singing is tremendous.
In addition to entertaining us, the show gives us a little education on the history of the original performers, and we see how musical traditions build on and borrow from each other. Most impressive to this 49-year-old white woman was that I came away with a new appreciation for Hip-Hop, a genre that I don't care for in general. In one scene, Brian is rehearsing with his boy group, and J.R. demonstrates a new song he's written. He and Darrell launch into a really funny performance of the kind of raunchy, misogynistic song that has unfortunately come to characterize Hip-Hop for many of us. Brian stops him and explains that he's trying to get them back to the roots of Hip Hop, when it had a positive message. More power to the Brians of this world.
One of my favorite scenes is one in which the retired singers perform the Crests' "Sixteen Candles," interspersed with hip-hop improvisation by Malcolm and his boys. It's a beautiful homage to the debt that new music owes to the old, and that they are more connected than we often consider. From TLC to the Platters to Aretha, the show has something for most everyone.
It's hard to pick standouts in a cast this great, but memorable performances include Marquecia Jordan's Tahquesha, a loud, sassy girl always arguing on the phone with her unseen boyfriend. She's absolutely hilarious, and her riff on Erykah Badu's "Tyrone" is a gem. The exchanges between Cynthia F. Carter's Clarice and Meghan Murphy's Frances, as they get tipsy on champagne at the club, had the women in the audience eating out of their hands, and when Murphy sings "Do Right Woman," she brings it home. When Cleveland (Christopher B. Straw) belts out "Hurt," I was holding my breath. And we should all have a nerdy postman who can sing love songs like Frank (John Keating). But it's not really fair to call out some without calling out all because truly, every performer in this show is amazing.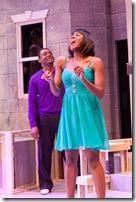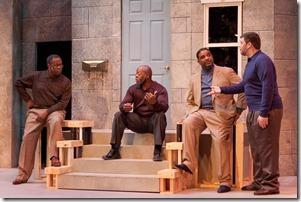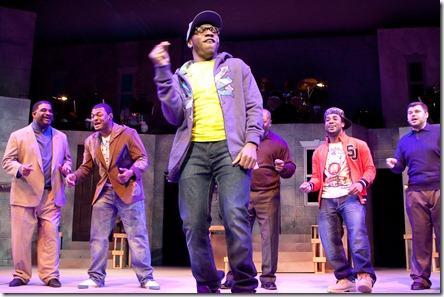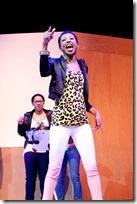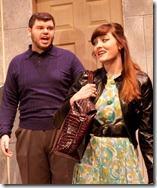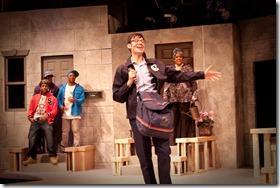 Props must also be given the band. Under the musical direction of drummer Robert Reddrick, this seven-piece ensemble is as tight and professional as it gets.
A few quibbles: Marcus' daughter Marie (Erin O'Shea) makes much of Amy Winehouse. I'm not sure whether this was an attempt to be more racially inclusive in the music, but with all due respect to Ms. Winehouse, I'm not sure she belongs in the pantheon. Also, Marie grew up next to Brian and Denise, yet while there is no enmity, she and Denise aren't shown as friends, which is odd, unless there is supposed to be a larger age difference than came across. I'd have liked to see more interactions among Marie, Nina, and the other girls, especially musically. Also, there is mention in the marketing materials of an event that threatens to rip the neighborhood apart. Frankly, this is a gross overstatement of something that happens elsewhere than the setting and has no real social repercussions at Unison Hills, nor would one expect it to, given that the residents here are good, decent, intellectual people hardly given over to blind overreaction. Playing on the expectation of racial conflict seems beneath his production.
The show winds up with a block party that gives us everything, including yes, a gospel-infused Charlie Pride, and each cast member has another chance to showcase his or her prodigious musical skill. It's a party for us all, and the energy is infectious; we are so fortunate to have this kind of talent at our doorstep. Someone described the experience as like going to church. To which I say, amen.
Rating: ★★★½
From Doo Wop to Hip Hop continues through April 14th at Black Ensemble Theater, 4450 N. Clark (map), with performances Wednesdays and Thursdays at 7pm, Fridays at 8pm, Saturdays at 3pm and 8pm, Sundays 3pm.  Tickets are $55-$65, and are available by phone (773-769-4451) or online through PrintTixUSA.com (check for half-price tickets at Goldstar.com). More information at BlackEnsemble.org.  (Running time: 2 hours 15 minutes, includes an intermission)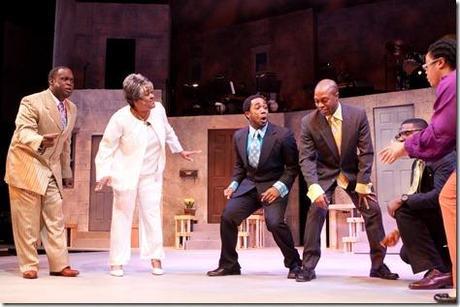 Photos by Danny Nicholas
---
artists
cast
Lisa Beasley (Nina), Cynthia F. Carter (Clarice), Danielle Davis (Kayland), Brandon Markell Holmes (Darell), Marquecia Jordan (Tahquesha), John Keating (Frank the Mailman), Monty Montgomery (Melvin), Meghan Murphy (Frances), Dwight Neal (Clarence), Matthew Payne (Marcus), Kelvin Roston Jr. (Brian), Erin O'Shea (Marie), David Simmons (Odell), Christopher B. Straw (Cleveland), Lawrence Williams (Malcolm), Coryandre Wright (J.R.)
musicians
Robert Reddrick (musical director/drummer/arranger); Herb Walker (guitar); Mark Moultrup (keyboards); Tracey Anita Baker (bass); Bill McFarland (trombone); Paul Howard (trumpet); Dudley Owens (tenor sax)
behind the scenes
Jackie Taylor (co-director); Rueben Echoles (co-director/choreographer); Emily Wall (stage manager); Denise Karczewski (lighting design); Les Spires, Mike Pierce (sound design); Bekki Lambrecht (technical director); June Saito (costume designer); Evelyn Danner (seamstress, wardrobe); Helen Lattyak (props); David Ferguson (scenic design); Danny Nicholas (photos)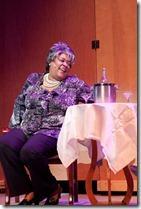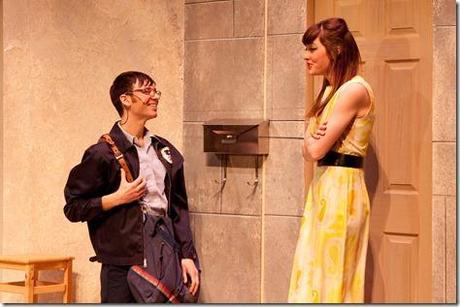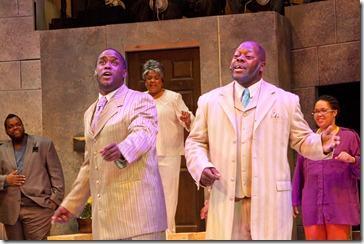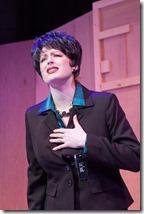 13-0256