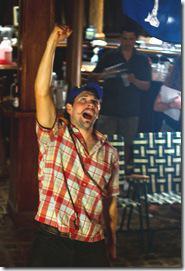 Frat
Written by Evan Linder
Directed by Andrew Hobgood
at Apartment Lounge, 2251 N. Lincoln (map)
thru Oct 22  |  tickets: $28.50  |  more info
Check for half-price tickets
  
  
   Read entire review
---
The price of brotherhood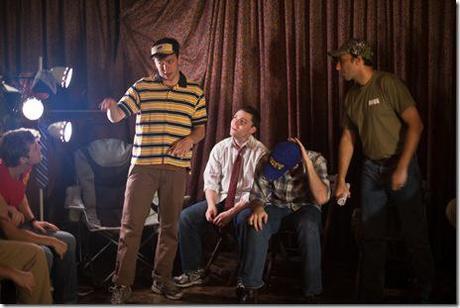 Hatmaker Theatrical Productions i/a/w The New Colony presents
Frat
Review by K.D. Hopkins
Going by the show's advertising and press packet, I was under the impression that The New Colony's remounting (i/a/w Hatmaker Theatrical) of Frat would be a comedy. It isn't. Frat first premiered in 2009 as the cultural temperature of the country was changing. The 'boys club' was being clung to until some of the big boys named Madoff, Goldman, and Sachs got caught with their collective drawers about their ankles. Fast forward to 2011 and what may have once been considered comedy is, in my view, a spot on drama.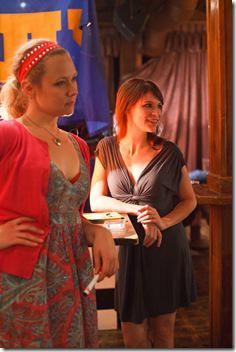 In
Evan Linder
's memoir of fraternity life, there is not much new exposed about the Greek system. People joined the Greeks because it was a passport to jobs, social circles, and the right spouse. Toeing the line, the show starts off with some testosterone-fueled altruism from the Theta Pi Psi elevator speech from recruiters as to why one should pledge this particular fraternity. The members are touted as brothers who will be by your side at your wedding and the same ones will lay you in the ground after you die. There is a drunken nobility about it and there are some laughs in the hazing dialog. Pledges are blindfolded and made to drink raw eggs. They are sleep-deprived and emotionally frayed. It was funny to a lot of the young audience but, to my impression, they have yet to get a whiff of the real world.
This portrait of campus subculture was possibly unintentionally dramatic. The language and the referrals to pledges as 'faggots' is offensive (not to say that it should be edited). Frat comes off as an expose of how culture becomes decayed by organizations that consider themselves exclusive, and those people who submit to the basest of behavior to belong and to have privilege as a shield in life's journey. It is refreshing that Linder lets so much information leak about how things work behind the scenes.
It seems that the drill instructors in "Full Metal Jacket" as well as "An Officer and A Gentleman" possessed some influence in the fraternity brothers' verbal abuse: the line about poking a pledge's eyes out is close to Lee Ermey's threat to skull f**k Private Pyle in Kubrick's war opus. This makes sense, however, in that this is what the collegiate generation watches and emulates. It is highly unlikely that they will ever find themselves wielding that kind of power except within the shelter of a fraternity.
The treatment of women is another disturbing factor in Frat. In the eyes of the fraternity brothers, the roles of 'little sisters' were to be passed around. Of course, the women choose to be a part of the routine and are perhaps looking to their futures as well. Ironically, the best roles are written for female characters in this play. The characters of Sara Catherine and Natalie are well fleshed out, showing the substrata that is the woman's role in a fraternity such as Theta Pi Psi. Sophie Gatins plays the very voluptuous Sara Catherine, who is the frat president's girlfriend of the moment. Her character is responsible for breaking confidentiality about Natalie that wrongfully exposes a pledge; nailing down his fate. Thea Lux, as Natalie, plays really well off of Gatins in what is one of the best scenes in the play. Tara Jayne Sissom as Amy is hilarious. Her dry delivery and sly timing are a great highlight. Her character is called 'Doug' by the frat brothers because they say that she is the ugliest girl. They tell a pledge that the ugly girl is all they can score. Amy is not ugly – she is the worst nightmare of the boys club, an intelligent and sexy woman.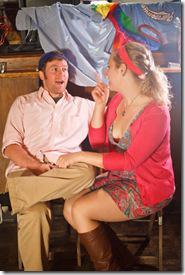 Joel Kim Booster as Ross is exemplary as the sole minority considered for a bid to Theta Pi Psi. I was neither insulted or surprised by how the brothers spoke about the sole Black pledge. I have heard it before. 'We have a nice fraternity and we want to keep it nice so no to the black guy'. The thing is, I heard that mess back in the 70′s- approximately thirty years before Linder's experience as a frat boy. Brandon Ruiter gives a wonderful and emotional performance railing against the unfairness of blackballing a pledge. His character, Luke, seemed to be the last bastion of reason and humanity during 'hell week,' where the hazing, drinking, and the battle for belonging becomes its' most atavistic. Patraic Coakley plays Todd, who is morally conflicted by the whole process, but seems redeemable. Todd sees the fraternity as a way to make friends of his own and on his own, yet his decision at the end still comes as a surprise.
Frat is done in promenade style, which works well for this play (though the lights would be better overhead rather than set as apartment lights, as they are blinding if anyone is unfortunate enough to stand in the wrong place around the room). Otherwise, the sets are done quite well and the fact that it is in a bar is most appropriate. I recommend this if you are planning to go off to college and especially if you are sending your kid to a 'nice' university. Kids romping about campus in a drunken daze. Young men making whores out of women. Women accepting the roles. Boys becoming truly American men in the old school tradition. Frat will put something heavy on your mind.
Rating: ★★½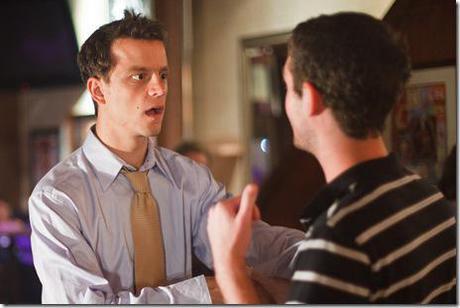 Frat continues through October 22nd at Apartment Lounge, 2251 N. Lincoln (map), with performances Fridays and Saturdays at 8pm. Tickets are $28.50, and can be purchased by phone (773-404-7336) or online at Tix.com. More information at FratTheShow.com.
---
artists
cast
Brothers: Jared Fernley, Henry Riggs, Brandon Ruiter, Benno Nelson, Steve Gensler, Alexander Lane, Evan Linder, Wes Needham, Kevin Stangler, Gary Tiedemann
Pledges: Will Cavedo, Quinn White, Joel Booster, Pat Coakley
The Girls: Caitlin Chuckta, Meg Johns, Thea Lux, Tara Jayne Sissom
behind the scenes
Andrew Hobgood (director); Kevin McClintock (set, props, lighting, tech design); Mark Botelho (costumes); Keely Haddad-Null (stage manager); Ashley Wolfe (asst. director); Eric Martin (marketing, graphic and web design); John Olson (producer); Nate Gardner (asst. producer)