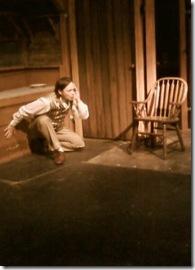 Frankenstein 
Adapted by Bo List  
Directed by Terry McCabe
at City Lit Theatre, 1020 W. Bryn Mawr (map)
thru Nov 4   |  tickets: $21-$28   |  more info
  
Check for half-price tickets 
  
  
   Read entire review
  
---
Disappointing adaptation of classic tale of scientific arrogance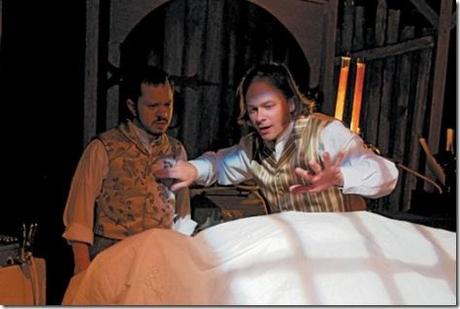 City Lit Theatre presents
Frankenstein
Review by Clint May 
This is the kind of universal story that hardly needs an introduction. So suffused into the cultural consciousness that it's rarely read at the source. At this point, people have two visions of Frankenstein and his monster from two famous movies: one is James Whale's 1931 Boris Karloff or Kenneth Branagh's 1994 Robert De Niro. Anyone not familiar with the classic would be shocked to see what isn't in the original (no lightning, no Igor, etc). Bo List's new adaption hews closer to the later's Gothic interpretation, complete with Mary Shelley's Paradise Lost allusions for a more articulate Creation. It takes pieces from several other adaptations—and they are uncountable at this point—and like the good doctor himself, stitches them into a whole that is just slightly less shambling than Karloff's rigor mortis induced advancements.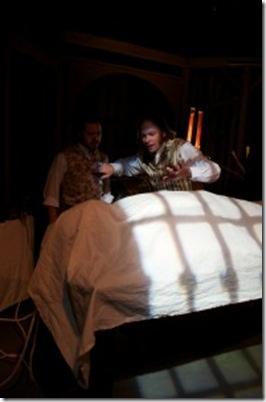 In the depths of the ice-encased north, Captain Walton (
Sandy Elias
) rescues a frozen Dr. Victor Frankenstein (
Ed Krystosek
). As he returns to consciousness, Victor learns of the captain's fanatical need to reach the North Pole. Seeing a kindred spirit, he relates the tale of his own hubris and his undoing as a cautionary fable to his host. As a brilliant medical student in Ingolstadt, he had dared to create an affront to God. Rejecting his Creation, he soon finds it difficult to shake the penance for his Promethyean sin. The Creation finds his way to civilization, befriending a blind man (
Eustace Allen
), who instructs him with the Bible and some Milton before being killed by superstitious townspeople believing the monster to be a demon. The Creation's descent to 'fallen angel' is complete when he begins to exact revenge on his father by killing his brother William (
Daniel Pass
), framing the nanny Justine (
Catherine Gillespie
) and murdering his father (also
Sandy Elias
). Driven to madness, the doctor gives in to his Creation's demand to create a bride, but destroys her when realizing their potential to create a new race of 'monsters.' Promising to be 'with [him] on his wedding night," the monster runs off, only to return and murder his "stepmother" Elizabeth (
Jennifer T. Grubb
) on their honeymoon. Absconding to the frigid lands of the North, the doctor gives chase and it is here the story comes to the present.
City Lit's production at times feels rushed, given how much story they must cover—line readings were clumsy and cardboard, as though being read from a teleprompter off stage. Bo List's script lingers too long in the wrong places (Justine's trial) and not nearly enough in some (Victor's rejection of his creation, which has the emotional resonance of a person mourning a lost potato battery experiment). Krystosek's Frankenstein lacks the range to go from idealistic scientist to desperate madman hellbent on revenge. As the Creature, Pracht fails to elicit sympathy for a rejected child whose nature precludes nurturing. Only Sandy Elias brings a sense of true characterization as the captain and Alphonse.
There are some intriguing twists, such as the source of the brain, which is left unexplored in the novel but here is far more interesting. The source of the bride is borrowed from other adaptations like Branagh's and seem to be added by other author's for greater emotional impact. List gives the monster more kills (Alphonse dies of grief in the novel) and less sympathy. This unfortunately erases some of the novel's themes of isolation being the worst curse of all, or treating poorly those who are different leading to monstrous behaviors on both sides. Captain Walton's change of heart is also left up in the air. Shelley had him pulling back from the brink of obsession after hearing the tale, a surprisingly optimistic note. That this critical point was left to the 'winds' is astounding, as that was the point of having Captain Walton in the tale at all.
Lacking the compelling mash-up of Romantic and Gothic that made the 18 y.o. Shelley's sci-fi horror novel so compelling, this Frankenstein can't electrify its adaptation. The stitches haven't yet healed over the places where additions were made and critical points cut out. Add to that a cast that seems mostly lost in 19th century replicated dialogue (the novel is purely epistolary), and the result is yet another adaptation to add to the hundreds that came before that proves the original is as enigmatic as ever. Almost 200 years after its publication, this is the kind of zeitgeist-defining parable that beguiles attempts at reduction. Its lessons are still relevant, perhaps more now than ever. Shelley's prescience of the perils of science was the ultimate foreshadowing of the progress trap. Her story needs a more incisive treatment than this lest the lesson becomes lost when it's most relevant.
Rating: ★★
Frankenstein continues through November 4th at City Lit Theatre, 1020 W. Bryn Mawr (map), with performances Fridays and Saturdays at 8pm.  Tickets are $21-$28, and are available by phone (773-293-3682) or online through BrownPaperTickets.com (check for half-price tickets at Goldstar.com). More information at CityLit.org.  (Running time: 2 hours 15 minutes, includes an intermission)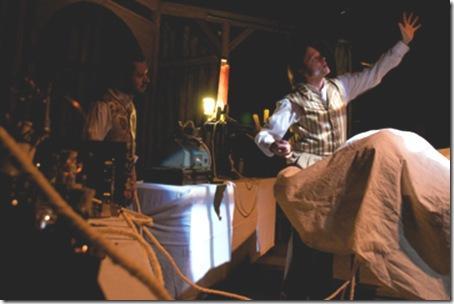 Photos by Tom McGrath
---
artists
cast
Eustace Allen (Waldman, DeLacey, Minister); Sandy Elias (Walton, Alphonse); Linsey Falls (Karl, Constable, Judge, Guard); David Fink (Henry Clerval); Catherine Gillespie (Justine Mortiz); Jennifer T. Grubb (Elizabeth Lavenza); Evan Johnson (Horst Deputy Kempe, Executioner, Sailor); Ed Krystosek (Victor Frankenstein); Daniel Pass (William); Mark Pracht (The Creature)
behind the scenes
Terry McCabe (director); Ray Toler (set); Devin Carroll (lighting); Tom Kieffer (costumes); Robert Kuper (makeup, wigs); Ian Anthony (props); David Yondorf (fight choreography); Norine McGrath (stage manager); Tom McGrath (photos)
12-0970