Finally, a theater company has hit the brooding nail on the head! I feel avenged for the angst-laden films with Zach Braff or those of his ilk. I liked "Garden State," but then the floodgates opened for television and films reflecting the millennial generation. The inundation of sullen narcissists and misunderstood grave robbers was all over the place, with soundtracks of 'look at your shoes' music. Even vampires went all shimmery and became Heathcliff from "Wuthering Heights". Kudos to The Cornservatory for breaking the glitter wall of crazy pixie girls who offer zany non sequiturs and slow motion sex to the antihero.
There are some exquisite lines spoken in Forgiveness. Writer Julia Weiss has mined the murky world of neo-dystopian novels and Dr. Seuss for some gems that are, or should be, part of the hipster vernacular.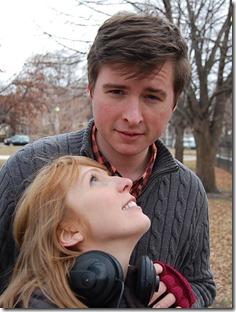 Forgiveness takes place in a bus station against a soundtrack backdrop of frothy music with angry lyrics. Turk (Seth Wanta) spies Forgiveness (Erin Thorn) dancing as if no one, naturally, is watching, while holding a teddy bear named Charles Grodin. Their eyes meet and – cue the synthesizer – they share a complete understanding of the pain and agony of growing up privileged in America.
The requisite sleeping hobo soon comes to life, played by the delightful G.M. McCorry. The character is written with a surreal quality that goes up a notch with McCorry's performance. He skillfully makes the hobo that only a movie pixie would ever touch spring off the stage, playing the gamut from sleeping pile of rags to comically dead (that has only been done well in "S.O.B." and, yes, "Weekend at Bernie's".
Robert Bouwman's staging of this show fills the space and makes every action count. Each ensemble member makes an impression that is familiar to anyone who has been through a delayed layover or on the CTA at an off-kilter hour. There is the guy using the station plug to charge his phone, the baby sling wrapped mom, the fitness freak stretching inappropriately on a bench where you want to sit, and the germaphobic who possibly has blood made of hand sanitizer. These are the people who call resourcefulness 'life hacks' and listen to Bob Dylan while feeling as if they are enveloped in his ironic lyrics.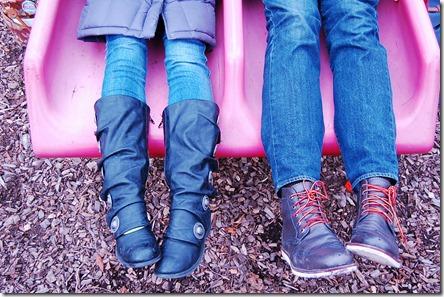 Seth Wanta, as Turk, is comic gold in this role; appealing enough to play any Zach Braff role (but thank goodness he is spoofing that ability). Erin Thorn's Forgiveness is a laser beam of hilarity as the magical pixie girl. She spouts metaphors on pain and knowing the self with (dare I say it?) adorable quirkiness. Thorn is the emblem for the fantasy sylph in all of those missed-you-on-the-L personals.
I recommend that you take some time to drop in on this millennial hipster spoof. It's an inspired show that caught me quite off guard because of my own cynicism about the antihero meets pixie dramas. I want to give a high five to the cast and crew of this show: Pixie dust and teddy bears named after guys who play schmos for everyone!
Rating: ★★★
Forgiveness continues through February 15th at The Cornservatory, 4210 N. Lincoln (map), with performances Wednesdays-Saturdays at 8pm.  Tickets are $7-$15, and are available by phone (773-650-1331) or online through Vendini.com (check for half-price tickets at Goldstar.com). More information at Cornservatory.org.  (Running time: 1 hour 45 minutes, includes an intermission. Note: Cornservatory is BYOB, so have some drinks during the show with that I-was-too-nervous-to-say-hi-to-you-on-the-el special someone!)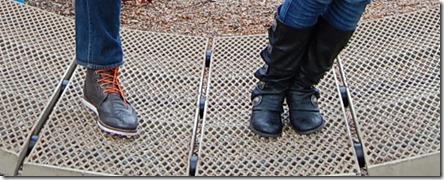 Photos by Rob Corn
---
artists
cast
Erin Thorn (Forgiveness), Seth Wanta (Turk), G.M. McCorry (Homeless Guy), Derik Iverson, Keith Glab, Ciara Caffey, Emanuel T. Arebalo, Meg Tresedder, Christina Fountain (ensemble), Charlie Vanderbilt Grodin ('Charles Grodin')
behind the scenes
Robert Bouwman (director), Kelly Schmidt, Dan Palonka, Michael Brooks (set design), Justin Oliver Lance, Robert Bouwman (set crew), Stephanie Palko, Kelly Schmidt (costumes), Lindsay Bartlett(props), Justin Oliver lance, Jes Mican (stage managers), Rob Corn (photos)