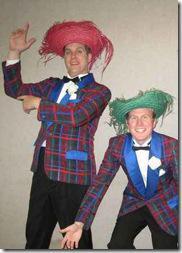 Forever Plaid
Written by Stuart Ross
Directed by Catherine Davis 
at Highland Park Community House (map)
thru Aug 14  |   tickets: $18   |   more info
Check for half-price tickets
---
A light and breezy show for the hot days of August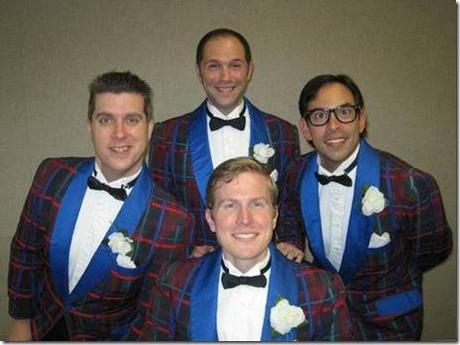 Highland Park Players presents
Forever Plaid
Review by Katy Walsh 
Backstreet Boys, In Sync, New Edition – boy bands have a resurgence every decade or so. People can't get enough of that old-fashion barber quartet sound.  In the 1950's, foursome harmonization was particularly popular.  A local favorite, Forever Plaid, was rising in hometown stardom.  Their road to fame seemed clear until a group of Catholic school girls stopped the music. Highland Park Players presents Forever Plaid.  En route to their evening gig, Forever Plaid is fatally hit by a parochial bus.  Fifty years later, through some cosmic force of balance, they return for that unsung show.  Preserved in their matching plaid ties and cummerbunds, the boys are back! Forever Plaid charms with simplistic nostalgia.
The show is a cabaret of twenty songs.  In between numbers, the guys interact with jocular familiarity.  A bleeding nose, asthma attack, stage nerves, the cute shtick builds the band's rapport with the audience.  The banter may be a little bit corny, but it's heartfelt.  Because, behind the facade of night-of-the-living-dead-singers, it's really about four men cast together in perfect harmony.  They sound great together!  As the characters talk about 'touching their dream' by 'sailing over melodies in one perfect chord,' it feels like each is talking about finding his three other soul mates.  The show works because the camaraderie isn't about childhood chums growing up with music.  It's really about four men, cast together, finding delight in unison.
Under the musical direction of Claire Birmingham, the boys hit all the right notes. Todd D. Bulmash, Mark Komiskey, Aaron Rumack, and Aaron G. Stash are a crooning chorus.  "Moments to Remember" is one of my favorite numbers.  During the show, the guys interact with the audience in a lovely flirtation.  For this song, the 'consider us your prom dates' creates a collective swoon from the ladies.  I also really enjoyed 'Sixteen Tons/Chain Gang' led by Rumack's deep, strong stylings.  An amusing 'She Loves You'  tries to cover a Beatles song.  The famous 'yeah, yeah, yeah' lyrics have been altered.  It emphasizes the guys really did hit the peak before a new generation of music exploded.  The finale is a superb 'Love is a Many Splendored Thing.'  It's sets the sentimental tone to go back into the real world of 2011.
In the scorching days of August, Forever Plaid is a light and breezy choice. It's revisiting familiar tunes and simpler times. Forever Plaid proves perfect harmony never goes out of style!
Rating: ★★★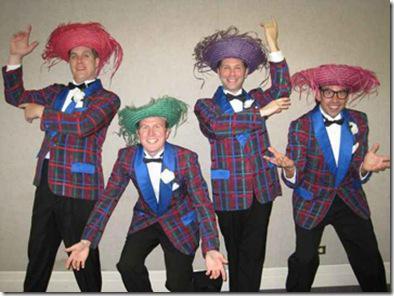 Highland Park Player's Forever Plaid continues through August 14th at Highland Park Community House, 1991 N. Sheridan Road (map), with performances Thursdays-Saturdays at 8pm and Sundays at 3pm. Tickets are $18, and can be purchased through their website. More information at HighlandParkPlayers.com.  Running Time: Ninety minutes with no intermission.   (photo credits: Catherine Davis)
---
artists
cast
Todd D. Bulmash (Frankie), Aaron Stash (Sparky), Mark Komiskey (Jinx), Aaron Rumack (Smudge)