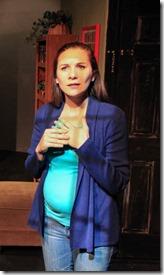 It's time to stop burying our heads in the sand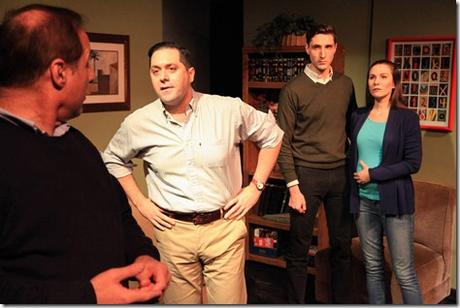 Review by Lauren Whalen
What does loyalty mean? How far does it go? And what if your loyalty affects your livelihood, your family, the rest of your existence? Award-winning playwright Lee Blessingtackles these questions and more in the 80 gut-punching minutes of his latest play, Interrobang Theatre Project's simple but stellar production sets a stunning example of what can be created when combining a provocative, arresting script with adept directing and acting.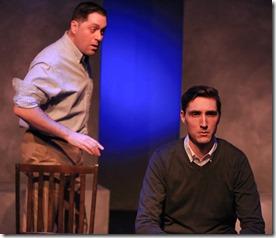 For the Lonely begins with Toby (Matthew Nerber) telling his wife Mia (Sarah Gise) a very disturbing secret. Toby's an assistant coach for a thriving university football program, and Mia is finishing up her degree while seven months pregnant with the couple's first child. Their future looks bright, but what Toby just witnessed may threaten everything they've built for themselves. Beloved Coach Carlson (Rob Frankel), known not only for leading the football team but also for his charity work with children, has an unhealthy, criminal obsession with underage boys. It's not new. It's not a secret to his colleague, Coach Hale (Josh Zagoren). But now that Toby knows about it, he and Mia have decisions to make - and they aren't exactly in agreement about what to do.
Inspired by the Penn State scandal, Blessing's script ably tackles the truths that we don't want to think about, but are nevertheless present, and insidious. No one wants to know a child molester, and yet many of us do - we work with them, welcome them into our homes, sweep accusations under the rug as untrue or just a small flaw in an otherwise great person. Even if we want to turn them in, sometimes police can't do much - or if they can, they too are biased toward an upstanding citizen who has the power to win games. It would have been so easy for a story like For the Loyal to descend into simplistic, Lifetime movie territory, but Blessing never, ever takes the easy way out, and the play is better for it.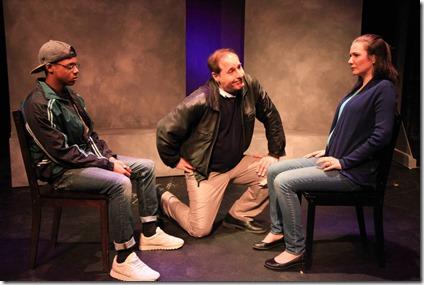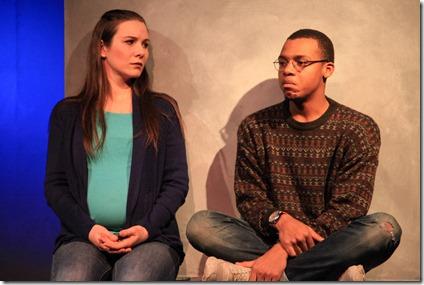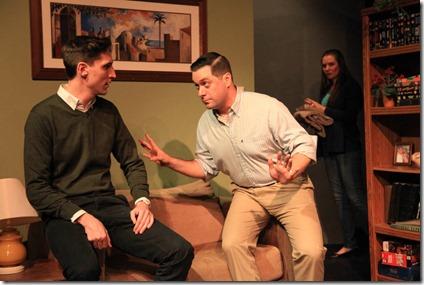 For the Loyal is part of Interrobang's : a group of productions that emphasize the story and its players, stripping down to minimal set, costumes and production values. This works incredibly well for Blessing's script, forcing the audience to ask themselves the tough questions: in Toby and Mia's situation, what would *I*do? How would I react? What if this were my employer, my family member, my friend? Director James Yostpulls no punches, never shying away from the tougher aspects of Blessing's script (spoiler alert: it's all pretty tough) while highlighting the rare but much-needed moments of humor. The pacing is tight, the actors ready to expose the dark side of each character. Zagoren is letter-perfect as the gum-chomping, chest-beating Coach Hale, and Richard Davidshines in several roles, from one of Coach Carlson's tricks to a future version of Toby and Mia's son. Nerber is every inch the eager young assistant coach, from his gelled hair to his shiny shoes, and Frankel bravely plunges the depths of an individual who's utterly unapologetic for his subhuman actions. Gise is the true star of the piece, taking Mia through the consequences of each decision she makes, revealing a secret from Mia's past with rough grace and ever-present dignity. She's always a joy to watch, but here, as Mia, she has found her tour de force.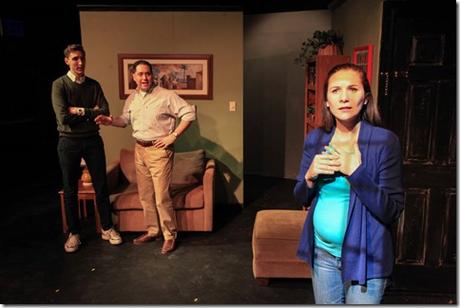 For the Loyal is hard to watch and hard to listen to. These things happen, and they happen more often than we would like to consider. For that very reason though, Blessing's newest work is incredibly important, and Interrobang's production vital. It's time to stop burying our heads in the sand.
For the Loyal continues through February 4th at Athenaeum Theatre, 2936 N. Southport (map), with performances Thursdays & Fridays at 7:30pm, Saturdays 2pm & 7:30pm, Sundays 2pm. Tickets are $32 (students w/ ID: $17), and are available by phone (773-935-6875) or online through OvationTix.com (check for availability of ). Find more information at InterrobangTheatreProject.com. (Running time: 80 minutes, no intermission)
Photos by Emily Schwartz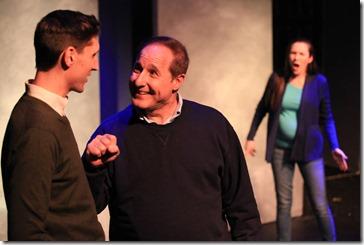 behind the scenes
(director, co-artistic director, sound & properties design), Pauline Olesky (scenic design), Rebecca Bartle (lighting design), Noël Huntzinger (costume consultant), Christopher Aaron Knarr (original music), Hannah Wolff (assistant director), Elana Elyce (artistic producer), Shawn Galligan (stage manager), (casting coordinator), Matthew Nerber (marketing associate), Nancy Payne (marketing manager), Zoe Verdin (creative design, website), Georgette Verdin (co-artistic director), John Gedeon (carpenter), Salar Ardebili (rehearsal photographer), Emily Schwartz (photos)
Tags: 18-0106, Chicago Theater, Christopher Aaron Knarr, Elana Elyce, Emily Schwartz, Georgette Verdin, Hannah Wolff, Interrobang Theatre, Interrobang Theatre Project, James Yost, John Gedeon, Josh Zagoren, Lauren Whalen, Matthew Nerber, Nancy Payne, Noël Huntzinger, Pauline Olesky, post, Rebecca Bartle, Richard David, Rob Frankel, Salar Ardebili, Sarah Gise, Shawn Galligan, Zoë Verdin
Category: 2018 Reviews, Athenauem, Interrobang Theatre Project, Lauren Whalen