A wild and crazy tango indeed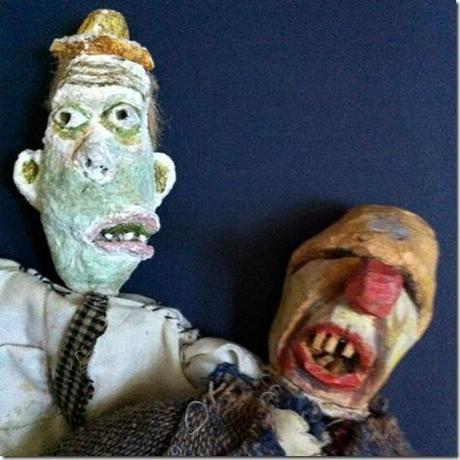 Theatre Zarko presents
Fool's Tango
Review by K.D. Hopkins
The word puppets conjures up some strange feelings for me. Now, granted, I was a strange kid who had nightmares about Garfield Goose taking off with me in a grocery cart. I was three – only Frazier Thomas could understand that snapping beak language. Fast forward a few decades, and I have the privilege of seeing puppetry from a different perspective. Master puppeteer Michael Montenegro makes an emotional connection with his odd and beautiful characters through movement and mise en scene in addition to some pretty good dialogue. Fool's Tango is not sock puppets behind a ledge. It is a whole universe unto itself.
A series of vignettes that are sure to delight all ages, Montenegro's humor is well rounded enough for the smaller children to be entertained and fascinated, while the older kids in the audience (i.e., me) are enthralled as well. The first vignette is Montenegro's head and a blond fright wig with a goofy mustache on top of a tiny little body. Those of us of a certain age will remember Tim Conway's goofy golfer character. The kids in the audience loved this sketch, as Montenegro runs the gamut of crazy and gives forth on his 'emotional range'. The kids laughed heartily at that comment, and I was immediately reminded of how savvy today's kids are. Montenegro never condescends to his audience by playing the characters too young.
The favorite of the show is the Grim Reaper vignette. A series of obnoxious characters give forth on power and arrogance only to be undone by the Grim one who does a hilarious Ed Grimley dance after each conquest. There is a subversive bit about a certain mayor of a big city who fires everyone and makes outrageous demands. (I wonder who that could be? Hmm.) There are knowing chuckles and snickering when The Mayor is dragged down by the Reaper. This sketch takes on the morals of a fable when a meek mouse gets the better of the Grim Reaper.
Fool's Tango adds a different aesthetic to the puppet characters. All is not bright and sunny in the beautiful sketch of the man with a suitcase. Montenegro wears an emotionless mask that is quite ominous looking until the character opens the suitcase and the small puppets within add poignant empathy to the vignette. This also has a lovely moral edge to it about judgments and needing to know the whole story before making conclusions. Montenegro's characters hold the attention and evoke more than simple laughter. It feels as if there is a good handle on the workings of the young mind.Fool's Tango will provide the context for discussions with your child about judgment, fear and the foibles of humankind.
There are some scary moments in Fool's Tango. I watched the kids in front of me get squirmy at a particularly Picasso-looking puppet mask. The squirming did not last, and gave way to curiosity. I recommend this show for children 6 and up – including grown-up children like the delightful woman who sat next to me offering lemon drops. The music is delight as well, adding depth and scope to the puppets and sketches. The sound is carnival with a touch of mystery – kudos to musicians Jude Matthews (who also composed the music) and Noah Silver Matthews (aka Mr. Polka Dots and Piano Lady).Fool's Tango has both entertainment and educational value, and is a fantastic way to spend time with your kids on a weekend afternoon.
Rating: ★★★
Fool's Tango continues through November 11th at the Theatre Zarko Studio in Evanston's Noyes Cultural Arts Center, 927 Noyes (map), with performances Saturdays and Sundays at 2pm.  Tickets are $5 for children; $15 for adults, and can reserved by calling 847-350-9275 (check for half-price tickets at Goldstar.com). More information at TheatreZarko.org.  (Running time: play length, includes an intermission)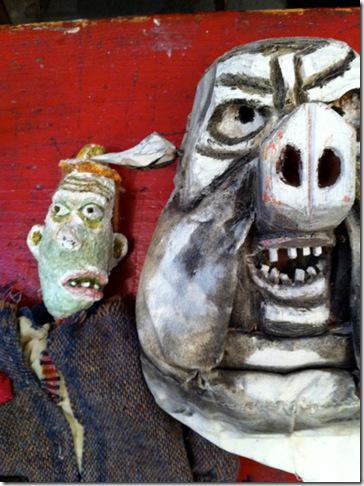 Photos by Laura Montenegro
---
artists
cast
Michael Montenegro (performer, writer, producer); Jude Matthews (music composition, live musician); Noah Silver Matthews (live musician)