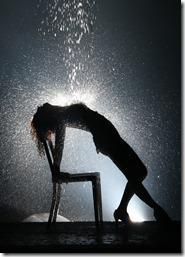 Flashdance the Musical  
By Tom Hedley, Robert Cary and Robbie Roth
Directed and Choreographed by Sergio Trujillo
Cadillac Palace Theatre, address (map)
thru Aug 18  |  tickets: $18-$85   |  more info
  
Check for half-price tickets 
  
  
   Read entire review 
  
---
Lots of flash, lots of dance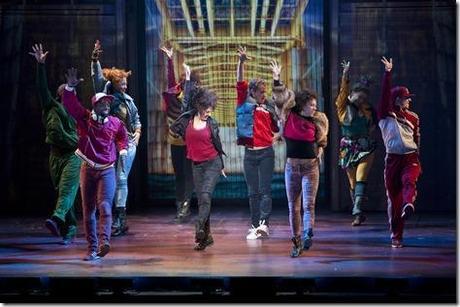 Broadway in Chicago presents
Flashdance the Musical
Review by John Olson
One of the more notable cultural contributions of the 1980's was a certain genre of feature film that, for a time, redefined the movie musical. It began in 1978, actually, with "Saturday Night Fever", continued with "Fame" in 1980, "Flashdance" in '83, "Footloose" in '84 and "Dirty Dancing" in '87. (Maybe we can include 1980's "Urban Cowboy" in the mix as well.) Though not literally musicals – the characters don't sing on camera – they used songs to tell their stories and illuminate character, as well as provide production numbers much like a traditional musical does. In the best musical theater tradition they all have characters with big dreams – in these stories wanting nothing so much as just to dance. It seemed logical enough to presume that they could work as traditional stage musicals. With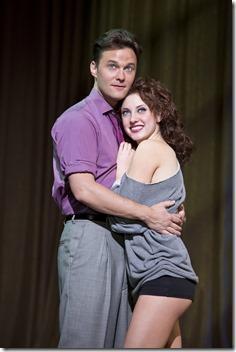 Flashdance: The Musical they now have all been recreated as stage productions. And none of them have really worked in that medium. Maybe it's because these films, all shot on location, have a level of realism and grittiness that fights the conventions of stage musicals. The source material presents us with characters that are largely inarticulate, expressing themselves more easily physically than verbally. They can't simply be brought to the stage without recreating them as more lyrical types. The songs commented obliquely on the action and emotions – not as directly as do songs in traditional musicals. (That probably explains why Dirty Dancing is not done on stage as a musical, but rather as a play with songs). And compared to our memories of the mean Brooklyn streets in "Saturday Night Fever," the prairies of "Footloose", the rundown city high school in "Fame" and the steel mills of "Flashdance", don't the stage sets seem pretty…stagy?
Flashdance: the Musical arguably has the weakest source material of these shows to begin with, at least in terms of plot and characters. The original movie, directed by Adrian Lyne (based on a story by Tom Hedley, co-bookwriter for this adaptation), was embraced more for Lyne's visual style – one that would become associated with the then-new genre of music videos – than for plot. The hit soundtrack album didn't hurt either. But here, the paper-thin characters seem particularly empty. They're developed as nothing beyond their driving desires. Sexy 18-year-old girl steelworker apprentice Alex (Jillian Mueller) wants to get into a prestigious Pittsburgh dance academy. Handsome and charming Nick (Matthew Hydzik), scion of the family that has owned the mill for generations, wants Alex. Alex's friend Gloria (Kelly Felthous) wants to go to Hollywood to be in music videos while her boyfriend Jimmy (David R. Gordon) wants to be a stand-up comedian or, failing that, the assistant manager of Harry's Bar – the strip club where Alex and Gloria work. Harry (Matthew Henerson) just wants to stay in business while his competitor C.C. (Christian Whelan) wants any sexy girl he can get his hands on. We also have two other strippers, Tess and Kiki (Katie Webber and Dequina Moore), who remind of us Sweet Charity's Nikki and Helene – and Alex's dance teacher, Hannah (JoAnn Cunningham). In the film, Hannah was a charming European-accented older woman, but here Hedley and Cary have resorted to the "isn't it funny when old people curse" shtick. And, of course, she has a sassy nurse, Louise (Doreen Montalvo). What the characters lack in depth they make up for in quantity.
With so little substance to these characters, we can't get invested in them, and the stakes never seem high enough to justify their expressing themselves through song. Sergio Trujillo has directed them all to act in a very upbeat, eager-to-please presentational style that exacerbates the artificiality (or maybe he's just wisely acknowledging the script's weakness and giving in to it). So, to no one's surprise who has seen the film, this show is not about plot or character, but about the songs and dances. The show is called Flashdance, after all, and who does flash and dance better than Sergio Trujillo? The choreographer of Jersey Boys and Memphis is again working with the designers from his past shows – lighting designer Howell Binkley and set designer Klara Zieglerova – to give us a bright and kinetic visual experience. Trujillo's dances deftly embrace hip-hop, the 1980's (lots of moonwalking), erotic dance and ballet. He wisely spares us the sight of steelworkers dancing in the extended opening number "Steeltown Sky," but moves the action to a fun street scene as Alex returns home. Here, he introduces a variety of urban types, brightly dressed by Paul Tazewell (also of Memphis). Zieglerova's sets, aided by Peter Nigrini's projections, are sometimes colorful to the point of gaudy and more suggestive than literal, but they bring us into visually distinctive places like the mill, two strip clubs, an alley and the dance academy.
All this is in the service of the songs – and there are lots and lots of them. The big hits created for the movie – "What a Feeling," "Maniac" and the lesser-known "Manhunt" are here, as are "I Love Rock & Roll" and "Gloria," used in the film as well. Robbie Roth and Robert Cary have written a total of 16 new songs for the production, and on a first listen, they seem to be pretty decent pop/rock numbers. The score as a whole, though, is generally at the same decibel level and tempo, which gets a little wearying over two-and-a half hours. Also, the sound on opening night at the Palace made it hard to understand any of the lyrics when sung by more than two people. The songs are given perfectly capable pop readings by the cast, and the hard-working and talented ensemble ought to get extra recognition for what seems like an unprecedented number of costume changes. (The uncredited dressers deserve special recognition as well).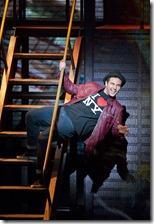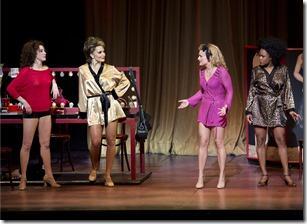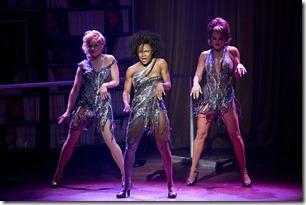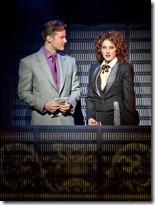 As Alex, Jillian Mueller brings an extra layer of spunk and playfulness to the character that I don't remember getting out of Jennifer Beals in the film. That take makes a lot of sense in bring the character to the musical stage and Ms. Mueller is a solid singer and dancer with the chops to carry the show. Her leading man, Matthew Hydzik, sells his songs with a decent if unremarkable pop voice. Hedley and Cary have tried to give Hedzik's character Nick a little extra texture by making him more insecure than his counterpart in the movie played by Michael Nouri. This Nick wants to establish his business credentials with his family and is a little softer and gentler than Nouri played the role, but he still ends up as pretty bland. Kelly Felthous as Gloria (who was Jeanie in the movie, but renamed here to match the song, "Gloria") does a nice job as the sweet but dim dancer who falls into the lair of rival club owner C.C.
In a recent interview, Hedley was quoted as saying the team has hopes for bringing this show to Broadway, but that significant changes to the writing and cast would be made before that. Well, that had to be motivational to the folks on stage at the Cadillac Palace! If you can't make it there during this two-week stay, you can feel at ease with waiting to see what they do with it and maybe catch it on the next national tour. But if you're a lover of the movie – and are just dying to see the iconic images of Alex dancing under a shower, wearing an oversized sweatshirt and doing that little quick-step dance – by all means, rush on down to Randolph Street because those moments are all there (and were roundly cheered on opening night).
Rating: ★★½
Flashdance the Musical continues through August 18th at Cadillac Palace Theatre, 151 W. Randolph (map).  Tickets are $18-$85, and are available by phone (800-775-2000) or online through Ticketmaster.com (check for half-price tickets at Goldstar.com). More information at FlashdanceTheMusical.com.  (Running time: 2 hours 30 minutes, includes an intermission)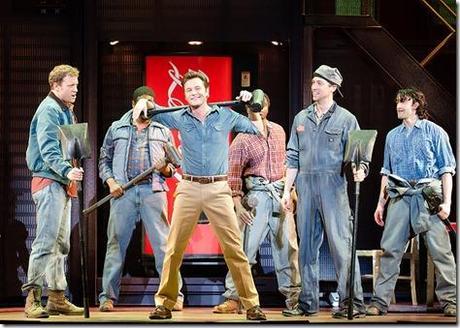 Photos by Jeremy Daniel
---
artists
cast
Jillian Mueller (Alex Owens), Matthew Hydzik (Nick Hurley), Matthew Henerson (Harry), Katie Webber (Tess), Dequina Moore (Kiki), David R. Gordon (Jimmy), Kelly Felthous (Gloria), JoAnn Cunningham (Hannah), Christian Whelan (C.C.), Lawrence E. Street (Joe, ensemble), Austin Owen (Andy, ensemble), Ariela Morgenstern (Miss Wilde), Doreen Montalvo (Louise), Shane Ohmer and Katelyn Prominski (Ballet Dancers, ensemble), Ryan Carlson (Break Dancer, ensemble), Carleigh Bettiol, Derek Carley, Haley Hannah, Charlene Hoffman, Jarvis McKinley, Angelo Soriano, Dani Spieler, Kamille Upshaw (ensemble).
behind the scenes
Sergio Trujillo (director and choreographer), Klara Zieglerova (scenic design), Howell Binkley (lighting design), John Shivers, David Patridge (sound design), Peter Nigrini (projections), Paul Tazewell (costume design), Charles LaPointe (wig and hair design), Cookie Jordan (makeup design), Tara Rubin Casting (casting), Doug Besterman (orchestrations), Jason Howland (music supervision and arrangements), Jim Abbott (dance arrangements), Nate Patten (conductor), Rick Sordelet (fight director), John Miller (music coordinator), Billy Jay Stein (electronic music designer), David Alpert (associate director), Edgar Godineaux (associate choreographer), Mary MacLeod (production stage manager), Hector Guivas (production manager), Dani Davis (executive producer), Kyle Froman, Jeremy Daniel (photos)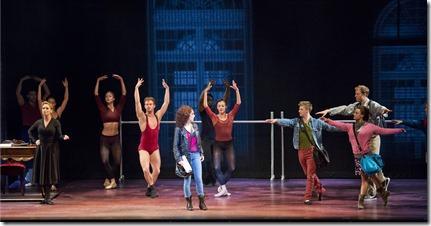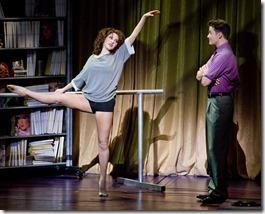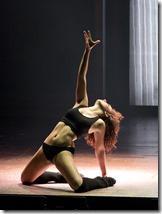 13-0811