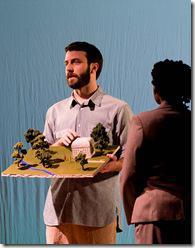 Five Flights 
Written by Adam Bock
Directed by Peter Cieply
at Red Tape Theatre, 621 W. Belmont (map)
thru Dec 18  |  tickets: $18-$28   |  more info
Check for half-price tickets 
  
  
   Read entire review
  
---
A fervent, bittersweet message about life and spirituality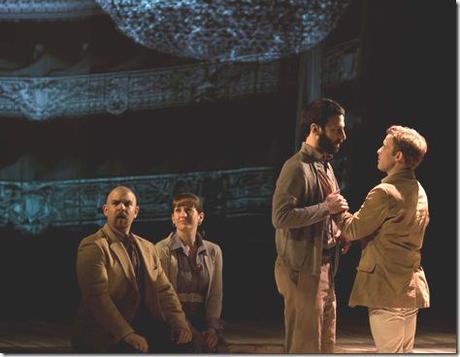 Immediate Theatre presents
Five Flights
Review by Katy Walsh 
'I want to live a paler life.  One that is too bright attracts too much attention.'  Life is all about choices.  We get to choose. What to believe. How to worship. Who not to love.  
Immediate Theatre presents the Chicago premiere of Five Flights.  Once upon a time, a husband built a bird sanctuary for his wife.  She died.  He died.  The decaying structure is an unresolved issue for their three adult children.  The trio disagree.  Adele wants to give it to a bird-worshipping church.  Bobby is neutral. Bobby's wife Jane votes for real estate development.  Ed prefers to let natural decomposition decide.  As Jane fights for modernization, Olivia aggressively recruits support for her Church of The Fifth Day.   'The soul is a bird we keep in our heart.' Are people really buying Olivia's flocked-up message?  Or are the devotees looking for love within the religious rite?  Five Flights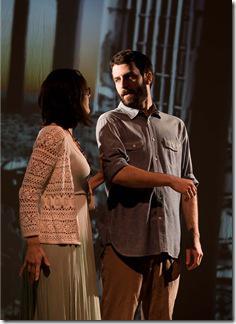 grounds itself in bittersweet truths.  
Playwright Adam Bock penned a lyrical allegory on life and death… the stuff in-between and the stuff after.  Early in the show, Nick Freed (Ed) announces the story's structure: narrative, vision, mad scenes, conclusion, a little dance. Following a scene at the ballet, the audience gets a recap of these element influences.  There is strong whimsical feel to this feathery tale.  Designer Michael Fernandez reinforces that impression with imaginative projections.  He opens the show with a line of birds pecking the ground.  Visually, it's like moving wallpaper.  Emotionally, it's like looking at fish in an aquarium… soothingly repetitive.  Later, Fernandez shifts the projected landscape for placement (bird sanctuary, park, apartment, ballet).  The dreamy illustrations add to Bock's fanciful creation.  
Under the direction of Peter Cieply, the ensemble is a tight flock.  Freed anchors the show in resigned sensibility.  His practicality is a little saddening and a lot authentically real.  Mildred Marie Langford (Jane) and Emily Gain (Olivia) are squabbling hysterical chicks.  They bluster through their crazy rantings with zest and conviction.  Chris Carr (Tom) delights in both his love hesitation and pursuit.  John Victor Allen (Andre) is hockey-player-goes-to-the-ballet hilarious.  Allen plays a sidekick with perfect comedic timing.   Melonie Collman (Adele) plays a sidelined character until she makes her big move.  Collman ends the show with 'a little dance' that is playful and hopeful. 
There is such a believable absurdity to this religious madness.  People choosing to pursue a connection for…
love,
spirituality,
happiness,
all of the above,
none of the above. 
The subtle message within the fervor lingers in me long after Five Flights is over.  Five Flights took me on a simplistic trip 'back to myself.' 
Rating: ★★★★
Immediate Theatre's Five Flights continues through December 18th at Red Tape Theatre, 621 W. Belmont (map), with performances Thursdays and Fridays at 8pm, Saturdays at 4pm and 8pm, and Sundays at 5pm.  Tickets are $18-$28, and are available by phone (800-838-3006) or online at brownpapertickets.com (check for half-price tickets at Goldstar.com). More information at immediatetheatrechicago.com.  (Running time: 90 minutes with no intermission)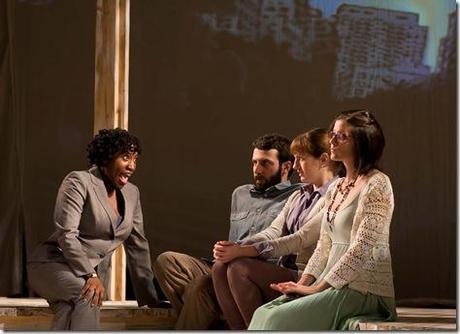 All photos by Jeremy Rill 
---
artists
cast