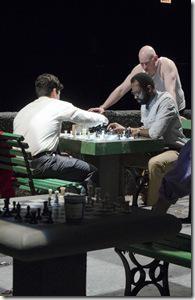 Fish Men 
Written by Candido Tirado  
Directed by Edward Torres
Goodman Theatre, 170 N. Dearborn (map)
thru May 6  |  tickets: $12-$42   |  more info
  
Check for half-price tickets 
  
  
   Read entire review
  
---
How to play chess with a hand made of ham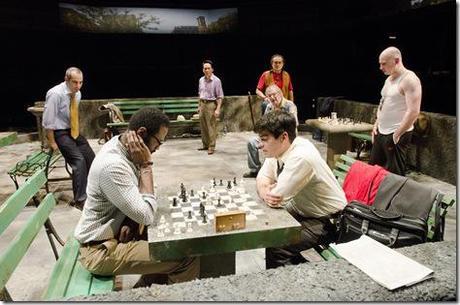 Teatro Vista presents
Fish Men
Review by Clint May
Revenge is a dish best served overwrought in the premiere production of Teatro Vista's Fish Men. The fish in this case are the "marks" to the chess hustlers (yes, that's a thing) in New York City's Washington Square Park. On one particularly sweltering day, a new fish swims into the pond, inciting the three "sharks" into fits of feeding frenzy. This fish is not all he seems, however, and the real game begins on a different level than the chess on display. One by one many of the players tell their tales of hard knock lives, from hate crimes to surviving genocide to the injustices of settlers. Like an undisciplined child in an elevator, Fish Men pushes every button it can. And like the ensuing ride, the constant starts and stops on the journey to the destination become extremely tedious.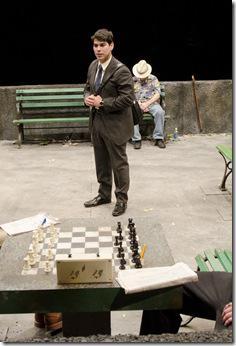 PeeWee (
Kenn E. Head
), Cash (
Cedric Mays
) and John (
Mike Cherry
) play chess not for fun but for a living. Unabashed hustlers working as a triumvirate of the park's chess tables, they take in not only regulars like Dr. Lee (
Gordon Chow
) or Stuart (
Danial Cantor
), but any unwary soul that gets trapped in their web. In the wings, ever present but rarely playing, are Native American Jerome (
Ricardo Gutierrez
) and holocaust survivor Adam "Ninety Two" Kirchbaum (
Howard Witt
). They have an established hierarchy and clearly defined philosophy. Stranded in the doldrums of a hot New York day, the only excitement comes from a young, seemingly naive man, Rey Reyes (
Raúl Castillo
), when he comes to pay Stuart back for loaning his beloved uncle money after the hustlers cleaned him out the day before. Troubled calls from his girlfriend foreshadow his own troubles with chess addiction, and the story follows a predictable arc throughout the first act as the hustlers seem to entice him back into the game while he waits. The second act follows stakes getting raised in tempo with the tempers of both players and observers, who froth and fume on topics both large and pedestrian, personal and public. It has what it thinks is a twist, but can't help but broadcast it to the point of removing the shock.
The tale that follows (and it takes a long while to kick in from that initial set up) is disjointed in tone, jolting from frat-boy antics mugging for laughs to somber storytelling begging for pathos, fitfully arresting its own momentum for some expositional bludgeoning. Shamelessly manipulative, Tirado's script throws every cliché at the wall to see what will stick, exploiting unearned emotion and punctuating every point to ensure no insight is left to the audience to discern. A few synthetic late-game twists undo any naturalism the cast creates, until finally it runs out of ideas on how to raise the stakes any higher and resorts to the unforgivable cop out of pulling a gun from nowhere, successfully blunting not only its own edge with narrative desperation but violating its own allegory of chess as the battleground for exacting humiliation. It completely throws out what two acts established as the key tension device, then undoes it's bombastic climax with a schlocky denouement that gives the entirety the tone of an after-school special but with more racial slurs. Trying hard to be good and have a good lesson in letting go of hate, it left me unmoved with its episodic inability to give me credit to ride along the journey myself without being treated to every emotional string puller in the book of platitudes.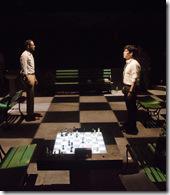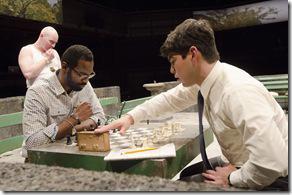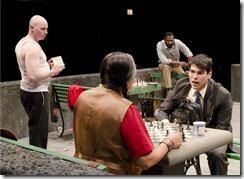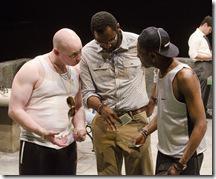 Wrapping up with an entirely unrealistic tidy bow of good feelings after events that would leave most breathless and shaking, Fish Men is mildly redeemed by some of its cast, particularly veteran Howard Witt, who could make reading ketchup ingredients seem ponderous with gravity even when he's saddled with giving two-penny advice on how to overcome the need for vengeance in the face of atrocities. It's galling in its glibness and love of its own conceit. I recommend anyone looking for an in-depth look at how to heal after massive tragedies to pick up Viktor Frankl and throw this 'Fish' back in the pond.
Rating: ★½
Fish Men continues through May 6th at Goodman Theatre, 170 N. Dearborn (map), with performances Wednesdays and Thursdays 7:30pm, Fridays and Saturdays 8pm, Sundays 2pm and 7:30pm.  Tickets are $12-$42, and are available by phone (312-443-3800) or online at GoodmanTheatre.org (check for half-price tickets at Goldstar.com). More information at TeatroVista.org.  (Running time: 2 hours 20 minutes, which includes one 15-minute intermission)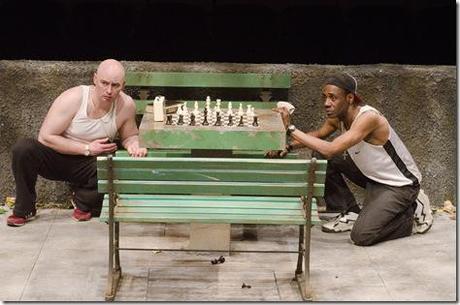 All photos by Dean La Prairie 
---