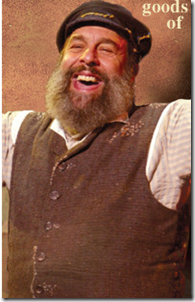 Fiddler on the Roof 
By Joseph Stein (book), Jerry Bock (music),
   and Sheldon Harnick (lyrics)
Directed by Sammy Dallas Bayes
Auditorium Theatre, 50 E. Congress (map)
thru Nov 27  |  tickets: $26-$85   |  more info
Check for half-price tickets 
  
  
   Read entire review
  
---
Tradition makes the shtetl go 'round

Broadway in Chicago presents
Fiddler on the Roof
Review by Katy Walsh 
I grew up Irish Catholic… Jewish.  Since their pilgrimage to Israel, my parents re-defined themselves as Jews for Jesus. They liberally steal from God's Chosen People.  They bake challah.  They light a menorah.  They have a mezuza on their doorpost. They love the traditions, traditions…. traditions!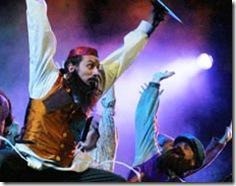 Broadway in Chicago presents the Tony Award-winning musical
Fiddler on the Roof
. In the tiny village of Anatevka, the community is bonded in Jewish customs.  They live life in the past.  The simplicity of the familiar has worked for them. They know who they are because of their traditions.  What happens when their way of life is challenged?  Internally, a younger generation rebel against their old ways.  Externally, political duress threatens their daily existence.  Tevye is out of control.  His daughters are falling for the wrong men.  The government is forcing submission on the villagers.  Tevye questions God.  He wants to know what to do.  On one hand, he can ignore the changes and do nothing.  On the other hand, he can embrace the unknown and have faith. 
Fiddler on the Roof
is a heartfelt traditional Jewish celebration.  
There have been many a 'Sunrise, Sunset' since its 1964 opening. Composer Jerry Bock and lyricist Sheldon Harnick created bittersweet harmonies. It's their rich and poignantly beautiful score that make this show positively unforgettable.  I've seen the movie and staged production multiple times.  I've listened to the soundtrack and have it memorized. I'm ready to understudy any part!  According to the press release, John Preece (Tevye) has been in over 3,400 productions (!) of Fiddler, and he's played the lead over 1,700 times.  And it shows!  Preece is a perfectly, personable Tevye!  Whether he is talking to God or lovingly teasing his daughters, Preece engages.  He commands the stage with a vulnerability that feels organic.  He adds a little extra humorous oomph with a mocking voice or side gesture.  He is hysterical!  In addition, his soulful singing commands the stage with a 'ya ha deedle deedle, bubba bubba deedle deedle dum.'  

It's the music!  The couple behind me remarked that they've never seen the play but they knew most of the songs:  'If I Were a Rich Man,' 'Tradition', 'Matchmaker, Matchmaker' and so much more!  The set isn't terribly remarkable, a functional, fold-out ethnic village that's easily transportable. But the visual turns spectacular during the wedding scene as the guests and musicians dance in celebration. It's the music!  I smiled.  I laughed.  I wept.  I sang… all the way home! Fiddler on the Roof has an enduring charm that transcends almost fifty years.  'To life, to life, l'chai-im! L'chai-im, l'chai-im, to life!' 
Rating: ★★★½
Fiddler on The Roof continues through November 27th at the Auditorium Theatre, 50 E. Congress Parkway (map), with performances Friday at 2pm and 7:30pm, Saturday at 2pm and 8pm, and Sunday at 2pm and 7:30pm.  Tickets are $26-$85, and are available by phone (312-977-1710) or online at ticketmaster.com (check for half-price tickets at Goldstar.com). More information at BroadwayinChicago.com.  (Running time: 2 hours and 55 minutes, which includes one intermission)

All photos by Carol Rosegg 
---
artists