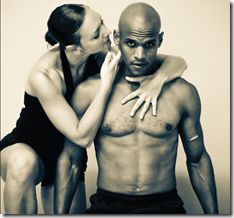 Faust
Choreographed and Directed by 
Kyle Vincent Terry
at Stage 773, 1225 W. Belmont (map)
thru Oct 9  |  tickets: $20  |   more info
Check for half-price tickets
   Read entire review
---
A scintillating, unique experience of Faustian dance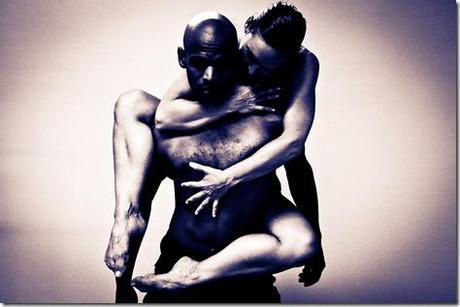 TheMASSIVE presents
Faust
Review by K.D. Hopkins
The flickering white images on a black cyc wall entertain the audience before the cast of Faust leaps into action. Those images are evocative of flames and the writhing damned in a traditional vision of Hell. Choreographer and Director Kyle Vincent Terry has turned that image and the road to damnation on its' head.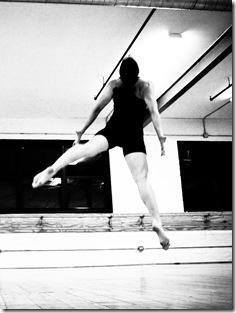 Dance company TheMASSIVE presents a sensuous and invigorating rendition of the classic tale of a man who sells his soul to the Devil for power and what he believes is fulfillment with nary a thought of the cost to his soul.
Mephistopheles is played by a Sarah Keating Oates in this version. In the words of Mr. Terry: "she is scorching" in this role. Ms. Oates possesses a compact and feminine body that tells a story with each movement. There is a beautiful economy in her dancing in that no move is without definition and depth. She confronts the graces as well as the deadly sins and has them submit to her will in subduing Faust.
Nebi Berhane, as Faust, is simply stunning in his gracefulness and explosive movement. He matches the intensity of Ms. Oates in the battle for the soul. His character's succumbing to both vice and grace is astonishing. This ensemble's portrayal morphs the disciplines of dance, music, and drama expertly. They project intense emotion and a provocative rawness that sets this Faust apart from other versions that I have seen. Berhane's Faust is allowed the hubris needed to justify such a deal with the Satan's seductive messenger, Mephistopheles.
The choreography is a perfect simmering of frenetic precision and carnal release. The insertion of philosophy as characters is always a tricky thing especially in the art of dance. Mr. Terry has formed a visual onomatopoeia with the portrayal of graces and sins with Free Will as a wild card, in the form of Tucker Worley, leaping through the action just as in literary adaptations of this tale. Mr. Worley has a graceful athleticism and delightful friskiness about him that's a joy to watch.
Jennifer Zyrkowski stands out in the roles of Margaret, Chastity, and Lust. It is no small feat to combine polar opposites and emerge as one in the character of Margaret, who is both mother and offspring. The cast is beautifully rounded out by Rashiff Hughes, Sunshine Kallas, Kasey Kerr, and Christina Merrill. They blend and stand out at the same time in perfect synchronicity. In the second act, as the performance builds to a climax, they all run in and out of the scene, creating perfectly ordered chaos. I compare it to the meticulous art of Charlie Chaplin or the Keystone Cops. The element of surprise and reaction are portrayed through movement and facial expression. I loved it! The music that is the undergirding of this production is a brilliant mélange of hip hop, spoken word, neo soul, classic soul, trip hop, techno, with a liberal dose of Tom Waits growling under it all. This is a brilliant production from Director/Choreographer Kyle Vincent Terry and TheMASSIVE, which has other incarnations for your enjoyment. There is a version with one dancer playing Faust, Mephistopheles, and Satan as well as a post performance improvisational for some of the weekend performances. Whatever night you choose to attend, it will be a memorable and scintillating experience in the performing arts. Go see it. It is exciting, arousing, heartbreaking and you will want to go home and do some serious sit ups after looking at the gorgeous cast.
Rating: ★★★★
TheMASSIVE's Faust continues through October 9th at Stage 773, 1225 W. Belmont (map), with performances Thursdays-Saturdays at 8pm and Sundays at 3pm. Tickets are $20, and can be purchased by phone (773-327-5252 ) or online at Stage773.com. More information at The-Massive.com.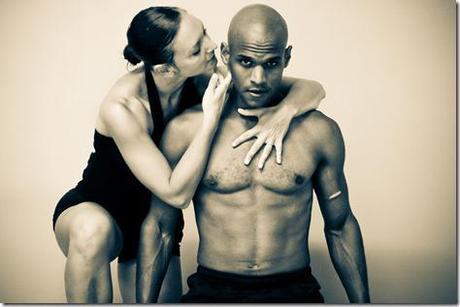 All photos by Josh Reichlin. Poster design by David Trang.
---
artists
dancers
Nebi Berhane, Sarah Keating Oates, Rashiff Hughes, Sunshine Kallas, Kasey Kerr, Christina Merrill, Jennifer Zyrkowski, Tucker Worley
behind the scenes
Kyle Vincent Terry (director, choreographer), Josh Reichlin (photos), David Trang (graphic design)