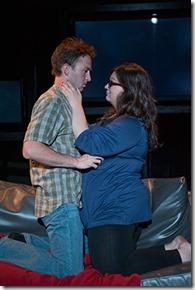 Fat Pig 
Written by Neil LaBute
Directed by David Prete
Steppenwolf Garage, 1624 N. Halsted (map)
thru June 16  |  tickets: $20   |  more info
  
Check for half-price tickets 
  
  
   Read entire review
  
---
'Pig' dishes out big, uncomfortable laughs
Steppenwolf Theatre presents
Fat Pig
Review by Keith Glab
Next Up 2013 presents three plays in repertory featuring work from artists graduating from Northwestern University's MFA programs in directing and design. One of these plays is Fat Pig, Neil LaBute's comedy about a yuppie who falls for an overweight librarian.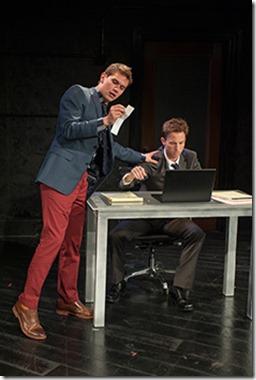 Tom (
Josh Bywater
) is your typical late-20s man in a suit. He's fit, good-looking, dissembling, shallow, and doesn't ever appear to do any actual work in his office. The play opens with Tom meeting Helen (
Anne Joy
), a fat, funny, and unbelievably direct woman, at a fast food joint.
The two begin dating, and we soon find that Helen's bluntness is less of a defining characteristic than we thought. Tom's co-workers are equally direct. Carter (JJ Phillips), a filter-free narcissist and antagonist, lets Tom and the rest of the office know just how he feels about Tom dating someone who he feels is beneath him due to her appearance. Jeannie (Baize Buzan), who has an off-and-on office relationship with Tom, feels jaded for getting passed over for someone who she also feels is beneath her due to her appearance. Tom must decide whether to follow his heart or bend to peer pressure.
LaBute's creation of a world in which honesty is the norm makes his play somewhat satirical. Tom, who rarely says what he means or addresses anything directly, is absolutely typical of people in our society. Yet in the world of Fat Pig, this behavior stands out as odd. The other characters are so open and honest about their feelings, you might think that Tom is their psychiatrist. It would be great if people really behaved this way, even though this über-honesty often results in some cruel words. The fact that people are not usually so open puts these events somewhat outside the realm of reality, and I'm not positive that's the intention.
Some of the design work further confuses what is on the surface a very straightforward play. Four large television screens dominate the set. A note in the program indicates that they "represent a constant outside influence on Tom," but this doesn't come across in the way they are utilized. Kevin O'Donnell sets the production to a thumping electronic soundtrack, but its relationship to the events onstage is unclear.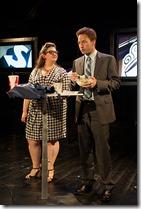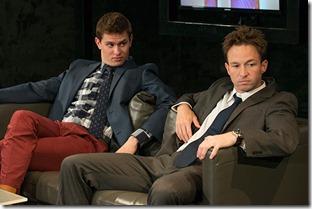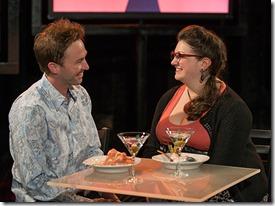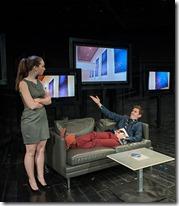 Despite some thematic ambiguity, this production works incredibly well as an entertaining comedy due largely to the strong performances. The entire cast has good comedic instincts, particularly Phillips who nails his portrayal of the mischievous Carter. Bywater and Joy develop a real chemistry onstage and present the unlikely couple as believable. Even though the play centers around these two, Buzan aptly makes Jeannie convey that the events are all about her. She gives a very convincing performance as the jaded and confused love interest who receives mixed messages from the disingenuous Tom. Bywater, Phillips, and Buzan somehow make their characters likeable despite the fact that they're all doing some pretty horrible things.
Fat Pig is a comedy that forces the audience to confront their own insecurities and question their priorities. This production serves up the laughs, many of which are uncomfortable, from an audience that isn't certain how they should react to a cruel-yet-humorous remark. Though this ensemble handles the humor a little better than they do the poignancy, the result is still a very entertaining performance that stays with you long after you've left the theater.
Rating: ★★★
Fat Pig continues through June 16th at Steppenwolf Garage, 1624 N. Halsted (map), and runs in repertory with 'The Internationalist' and 'The Drunken City'.  Tickets are $20, and are available by phone (312-335-1650) or online through their website (check for half-price tickets at Goldstar.com). More information at Steppenwolf.org.  (Running time: 95 minutes, includes an intermission)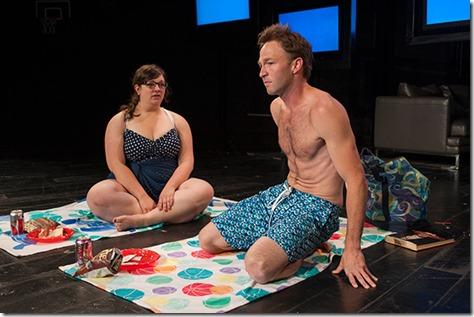 Photos by Michael Brosilow
---
artists
cast
Josh Bywater (Tom), Baize Buzan (Jeannie), Anne Joy (Helen), JJ Phillips (Carter), Matthew Glasner (Understudy)
behind the scenes
David Prete (director), Chelsey Batson (set design, costumes), Rebecca Barrett (lighting), Kevin O'Donnell (sound design), Kathleen Petroziello (stage manager), Brianna Parry (asst. stage manager), Kyle Hamman (projections), Michael Brosilow (photos)
13-0601