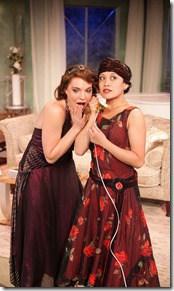 Fallen Angels  
Written by Noël Coward
Greenhouse Theater, 2257 N. Lincoln (map)
thru Jan 10  |  tix: $42-$52   |  more info
  
Check for half-price tickets  
---
90-year-old farce rises to the occasion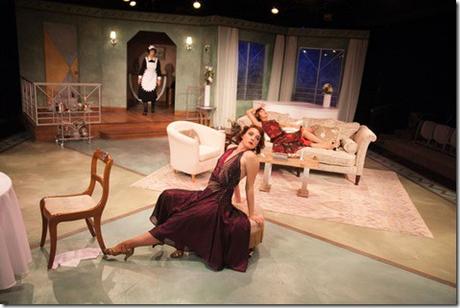 Remy Bumppo Theatre Company presents
Fallen Angels
Review by Keith Glab
"It's all such supreme nonsense!"
When Noël Coward first presented Fallen Angels in 1925, the audience responded with shock and outrage at the immorality of his farcical satire. Now 90 years later, modern audiences can appreciate the comical absurdity of Coward's premise without socio-political ramifications.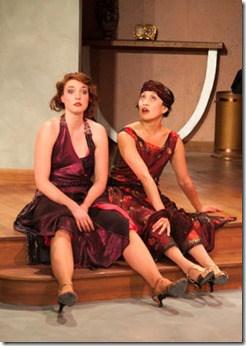 The overall plot delights in its simplicity. Julia (Emjoy Gavino) and Jane (Eliza Stoughton) are bored with their husbands of five-ish years and eagerly await the arrival of a French man with whom they had each been intimate with prior to their marriages. The proper British dames spend the majority of the play drinking, fantasizing, and competing with each other over the possible attention of their shared ex-flame.
Coward's genius lies in his buildup of suspense. Very little actually happens in the play, but the thought of what might happen hangs in the air like, well, an angel waiting to fall. While the mere thought of women cheating on their husbands (or even having sex prior to marriage) proved scandalous in the Edwardian era, a modern audience barely raises an eyebrow to such musings. How then, can this play prove entertaining and even riveting when the stakes seemingly stand low?
Ironically, by using the same production elements that would have been used to assure a 1920s audience that the proceedings aren't to be taken too seriously. Shannon Cochran directs her cast to uniformly heighten their performances just enough so that the absurdity of the characters gets underscored but their actions and motivations remain real enough to keep the production grounded. Where an audience form a century ago might have identified with the endearingly dull husbands, the modern audience is able to look down upon their outrage at the thought that their wives may not have been virgins when they married.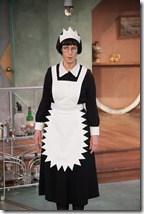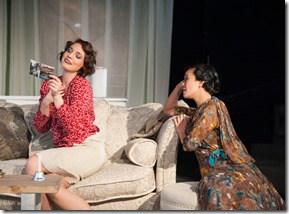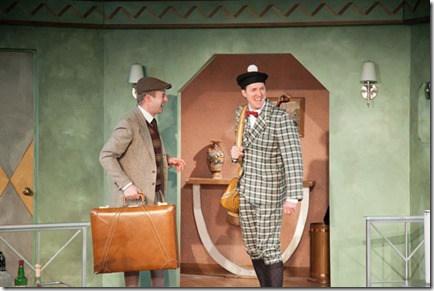 The physical humor of the piece is extremely well-realized, particularly so from the leading duo of Gavino and Stoughton. Annabel Armour also shines by giving the gender-bending butler Saunders a matter-of-factness to the character's incredible talents and life experiences. Her deadpan balances the outrageousness of the rest of the cast in a pleasing juxtaposition. The men also do well in their smaller roles, with Fred Geyer playing the buffoon, Jesse Dornan playing the stick-in-the-mud, and Joshua Moaney giving the barely-seen extramarital interest an easy charm and commanding presence. All of the cast handles Coward's elegant language as well as they do the physical comedy.
Even though our perspective has changed on some of the thematic elements of Fallen Angels, the emotion of jealousy remains as strong today as it did 90, 900, or 9,000 years ago. We can easily identify with two women competing over a man and two men feeling insecure about themselves. Cochran's production of Fallen Angels rises to the occasion of helping us empathize with this timeless emotion by nailing Coward's timeless comedy.
Rating: ★★★½
Fallen Angels continues through January 10th at Greenhouse Theater, 2257 N. Lincoln (map), with performances Wednesdays-Saturdays at 7:30pm, Sundays 2:30pm.  Tickets are $42-$52, and are available by phone (773-404-7336) or online through Vendini.com (check for half-price tickets at Goldstar.com). More information at RemyBumppo.org.  (Running time: 2 hours, includes an intermission)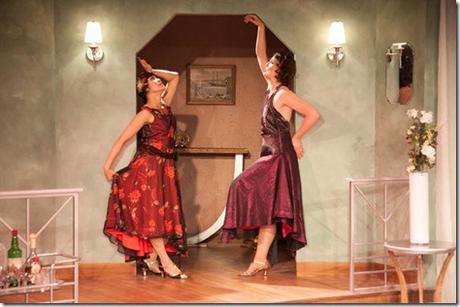 Photos by Johnny Knight 
---
artists
cast
Annabel Armour (Saunders), Emjoy Gavino (Julia), Eliza Stoughton (Jane), Jesse Dornan (Willy), Fred Geyer (Fred), Joshua Moaney (Maurice)
behind the scenes
Shannon Cochran (director), Shannon Gonzalez (stage manager), Kathleen Dickinson (asst. stage manager), Skye Robinson Hillis (dramaturg), Jeff Bauer (set design), Janice Pytel (costume design), Andrew Meyers (lighting design), Christopher Kriz (sound design), Amanda Herrmann (props design), Eva Breneman (dialect coach), Johnny Knight (photos)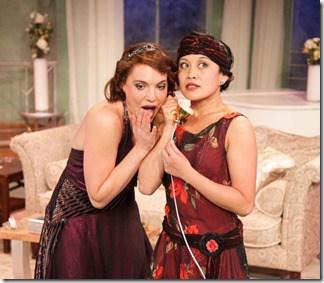 15-1168