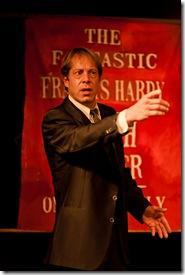 Faith Healer 
Written by Brian Friel  
Directed by J.R. Sullivan
The Den Theatre, 1333 N. Milwaukee (map)
thru Jan 20  |  tickets: $28   |  more info
  
  
---
A monologue-driven remount more impressive than engaging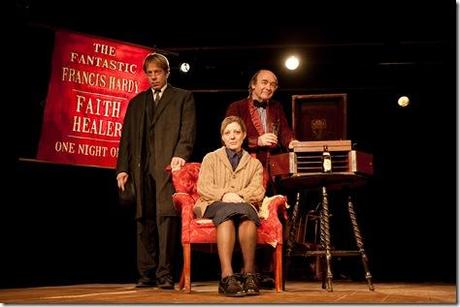 The Den Theatre presents
Faith Healer
Review by Keith Glab
Seventeen years ago, TurnAround Theatre staged a production of Brian Friel's Faith Healer, a show that first got produced in 1979. Today, the same three actors and director from that TurnAround production reprise the show at the Den Theatre.
The play features an unusual structure in which the entire narrative consists of four monologues delivered from the three actors. Each character is reflecting back on a time long ago with imperfect memory, so it's hard to imagine the three now middle-aged actors performing their roles as genuinely 17 years ago as they are able to today.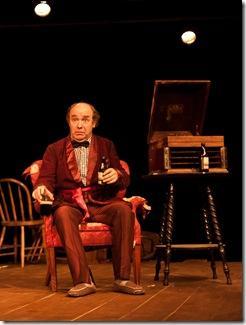 Francis Hardy (
Si Osborne
) opens the play, reminiscing about his life as a touring faith healer. Focusing more on the work than his personal life, Hardy admits that he does not know for sure whether he is a con man, whether autosuggestion plays a role in his successes, or whether he genuinely possesses a supernatural power to heal. His wide spectrum of successes to failures still haunts him.
His wife Grace (Lia D. Mortensen) then takes up the narrative, and we gain more insight into the Hardys' personal lives. Director J.R. Sullivan gives Mortensen even less activity than he does for Osborne; she is seated for most of her segment. Grace laughs about how Francis calls his healing seminars "performances" and explains how it was his charisma, not his physical beauty, that captivated her. (It would be nice to see more of Francis' charisma in Osborne's performance, rather than primarily tortured introspection, to punctuate Grace's story.) Her impersonation of Teddy, Francis' agent who travels/lives with them in a van, loses its effectiveness since Teddy has not yet appeared.
When Brad Armacost takes the stage as Teddy, he steals the show. Helped by the business of constantly pouring himself more stout beer (he downs about five during his 40-minutes onstage), Armacost engages the audience's attention far better than the other two actors. His seamless Cockney accent and open, gregarious personality fills the stage as we get a third take on the life of Francis Hardy. In a play consisting of four monologues delivered to the audience, Armacost best avoids the trap of telling rather than showing. The audience is able to glean Teddy's affection towards Grace and understand it perhaps even better than Teddy himself through Armacost's layered performance.
The experience unravels like a James Joyce novel, with unreliable narrators and a fragmented timeline. It's a lot to piece together, which each character giving a different take on the same events, plus adding additional information of their own. In a play such as this, the details are paramount. If two characters describe an event the same way, that's probably trustworthy. Trouble is, the play's structure and length make it impossible for the audience to stay focused for its entirety, meaning some of the important details will be missed. Friel's script needs to be pared down and tightened significantly for a play formatted like this to truly work.
Osborne closes the play with a final monologue that sheds light on some of the remaining mysteries, including the identity of to whom these three characters might be talking. Nevertheless, you'll come away from this production with a lot of uncertainty about what has transpired and why. Three seasoned actors give strong performances with difficult material, but after nearly three hours of listening to them, I'm frustrated not to have come away with a better understanding of their tale.
Rating: ★★½
Faith Healer continues through January 20th at The Den Theatre, 1333 N. Milwaukee (map), with performances Thursdays-Sundays at 7:30, plus Sundays at 3pm. Tickets are $28, and are available online through BrownPaperTickets.com (check for half-price tickets at Goldstar.com). More information at TheDenTheatre.com.  (Running time: 2 hours 30 minutes, includes an intermission)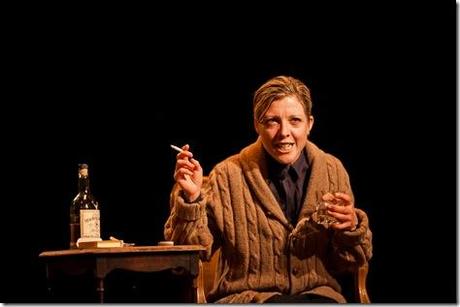 Photos by Joe Mazza 
---
artists
cast
Brad Armacost (Teddy), Lia D. Mortensen (Grace), Si Osborne (Frank Hardy)
behind the scenes
J.R. Sullivan (director); Henry Behel (set design, graphic design); Cat Wilson (lighting); Rachel S. Parent (costumes); Marshall Crawford (sound design, asst. director, production stage manager); Jen Bukovsky (asst. stage manager); Kris Kontour (technical director); Cynthia Judges (associate producer); Joe Mazza (photos)
12-1234