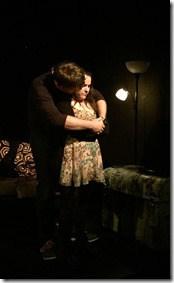 Exit 
Written by Leah Isabel Tirado
at Greenhouse Theater, 2257 N. Lincoln (map)
thru Dec 20  |  tix: $15-$25   |  more info
  
Check for half-price tickets  
  
---
ICU debut is worth seeing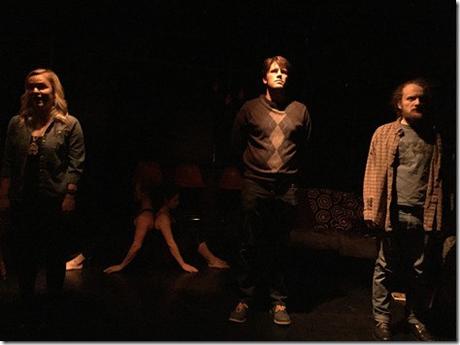 ICU Ensemble presents
Exit
Review by Keith Glab
ICU Ensemble – a new Chicago theater company centered around mental illness issues – purports to "provide Intensive care to those who no longer know how to connect." Their inaugural production, Exit, makes its world premiere delving into the mind and relationships of Lucy, who suffers from bipolar disorder due to a traumatic event from her past.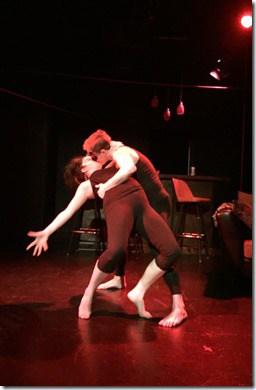 Lucy (
Giselle Vaughn
) gets thought of as "one of the guys" among her group of five twenty-something friends, though this doesn't stop several of them from making amorous advances on her. Outwardly, we see only hints that Lucy has anything but a healthy, reasonable state of mind. Her inner turmoil gets expressed via a pair of skilled interpretive dancers (
John Marshall, Jr.
and
Jenna Schoppe
) from seemingly innocuous moments such as her ordering a pizza to important ones like a good friend attempting to steal a kiss. These interpretive dance scenes work well, thanks in large part to Vaughn's reactions to the movements. Occasionally a pair of actors pause the action and directly address the audience as well, though these moments aren't as successful.
One of the production's strengths lies in all six characters developing and doing interesting things; not just the protagonist. We see Lucy as more than just a victim because her "normal" friends have struggles and issues of their own, not just in relation to navigating their relationship with Lucy. That strength also proves problematic, however, with the show running nearly two hours without an intermission. Perhaps some of the direct address to the audience could get cut, as that sometimes plays a bit like an after school special.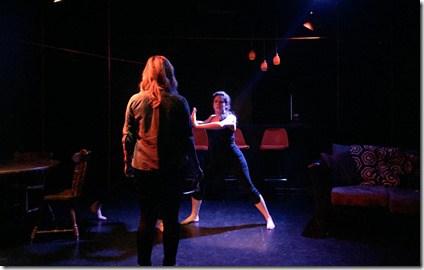 The rest of the action feels real, due in large part to the skilled cast. Even when the dialog doesn't ring true at times, they are often able to save the day by owning it and inserting small interjections. Lianne Rodriguez stands out as Lucy's BFF Bella, who deals with a love crisis of her own. The audience becomes invested in these characters and can surely relate to some of them. I recognize some of Lucy's behavior as mirroring behavior patterns of a friend of mine with a similar mental affliction. Exit plays out these scenarios honestly and subtly; it's hard not to get affected by it.
This emotion carries the show. Even if you don't walk out of the theater with a better understanding of bipolar disorder, you should come away with a better awareness of it and more empathy for those who seem to behave erratically and pull away. Exit may run a little long, but it grabs your attention from start to finish. This is an audacious and successful beginning for ICU Ensemble, and I look forward to watching them thrive in the Chicago theater scene.
Rating: ★★★
Exit continues through December 20th at Greenhouse Theater, 2257 N. Lincoln (map), with performances Fridays and Saturdays 8pm, Sundays 3pm.  Tickets are $15-$25, and are available by phone (773-404-7336) or online through GreenhouseTheater.org (check for half-price tickets at Goldstar.com). More information at ICUensemble.org.  (Running time: 1 hour 55 minutes, no intermission)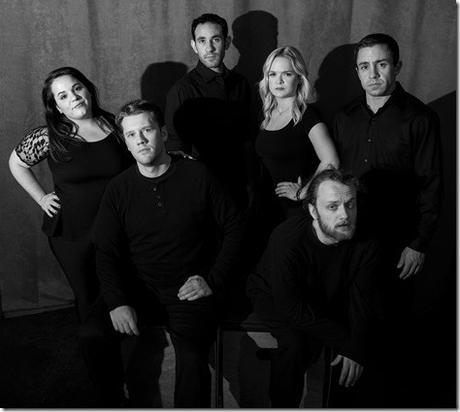 Photos by Emma Mullins and Leah Isabel Tirado
---
artists
cast
Giselle Vaughn (Lucy), Torey Byrne (u/s Lucy), Joe Lino (Jack), John Marshall Jr. (Male Dancer), Tommy Martin (Tom), Jake Peacock (Chris), Lianne Rodriguez (Bella), Jenna Schoppe (Female Dancer), David Zallis (Jared)
behind the scenes
Bobby Arnold (director), Lindsay Brown (stage manager), Archer Curry (sound design), Victoria R. Golden (production manager), Matthew Huston (asst. director), Brooke Johnson (costume design, props design), Aaron Peppel (composer), Greg Pinsoneault (set design), Scott Wagner (lighting design), Claire Michelle Miller (poster artwork), Emma Mullins, Leah Isabel Tirado (photos)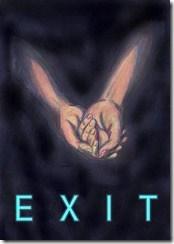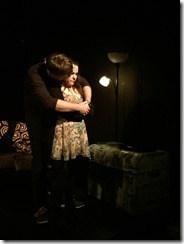 15-1203