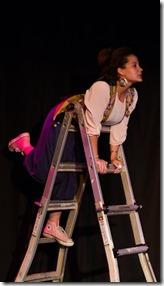 Screwing with your audience only goes so far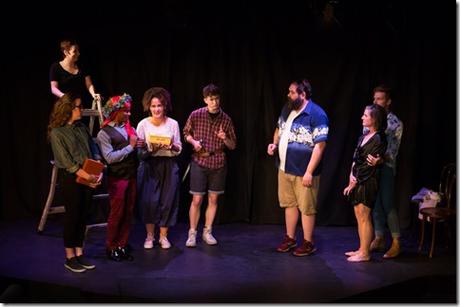 Review by Lauren Whalen
Branden Jacobs-Jenkins is a polarizing playwright. I don't know him personally, but I'm sure he'd agree. Everyone I knew who saw at Goodman Theatre in early 2017 had one of two reactions: they loved it, or they hated it. I was firmly in the "love" camp and therefore sat in the audience for his follow-up, Everybody , with delicious anticipation.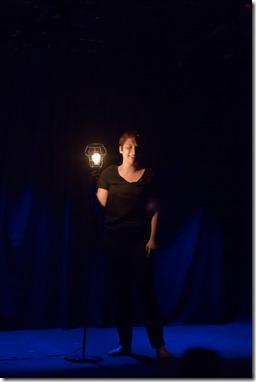 Ninety minutes later, I couldn't get out of the theater fast enough.
And what's worse, I didn't hate Everybody - Jacobs-Jenkins would have been successful if that were the case. I wasn't even frustrated. Instead I was, to use a very un-writerly expression, "meh." A riff on the 15th century morality play , covers love, death, God, time and other Philosophy 101 topics from freshman year of college, using a cast lottery, voiceovers, ballet and a lot of angsty vignettes. What could be a fascinating rumination on life and death in the modern era is instead a tired rant (mostly centered on social media) that never stops winking at the audience long enough to tell the truth.
begins with a friendly usher (Chelsea Dàvid) reminding the audience to turn off their phones, then giving a short tutorial on 's source material. You see, she lectures, the original Everyman is one of the earliest recorded plays in the English language. The morality play was most likely based on a Dutch work by a man named Peter, who in turn may have borrowed the story from Buddhism. The usher then goes into a metaphor about flowers and talks of death, before saying, "the play you're at right now is not that play." After a conversation between God (also Dàvid) and Death (Kenny the Bearded), five actors come out of the audience and draw a lottery to see who will play Everybody, a person resisting death until they finally succumb.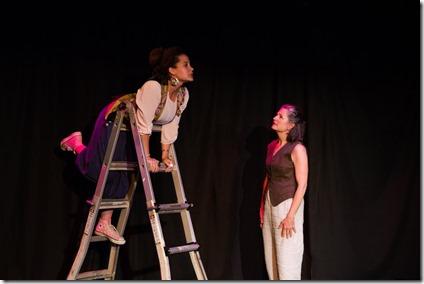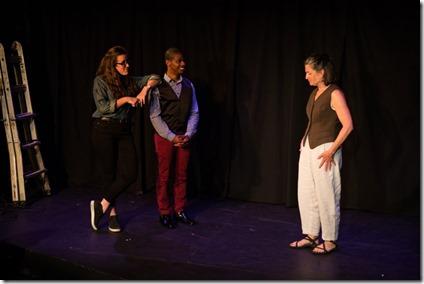 Cast lotteries are nothing new - I've seen that device at least twice in the past few months alone. However, lottery works best when the roles are clearly defined. When the audience is familiar with said roles, it's a bonus. In , the actors' roles are as loosely defined as the play's structure, making the lottery device largely useless. Who cares if a different actor plays Everybody each night? By the time the lottery is set up, at least 20 minutes have elapsed and the ensuing scenes are very short, relying on lip-synching, movement and dialogue that goes in circles. And as a result of five actors learning multiple roles, the cast seems under-rehearsed. Only Dàvid and Tyler Anthony Smith(a disgruntled audience plant who turns out to be Love) imbue their roles with nuance, dignity and charisma - likely not because they're that much more talented than everyone else, but because director Erin Shea Bradywas able to focus when coaching them.
Jacobs-Jenkins thrives on keeping an audience on their toes. He pulled it off successfully in Gloria, with a shocking plot twist at the end of the play's first half, and kept upping the stakes, leading viewers down different rabbit holes. In , Jacobs-Jenkins attempts to do the same, planting actors in the crowd and constantly changing the play's format. The difference is, while Gloria was fascinating and well-thought out, is messy and disjointed, alienating the audience so the playwright can have fun. I can understand why Brown Paper Box Co. chose this play: on first glance it appears deep and thought-provoking, a juicy challenge for director and cast alike. Unfortunately, shows that are interesting to participate in aren't always interesting to watch. As for deep and thought-provoking, just isn't. At all. Screwing with your audience only goes so far.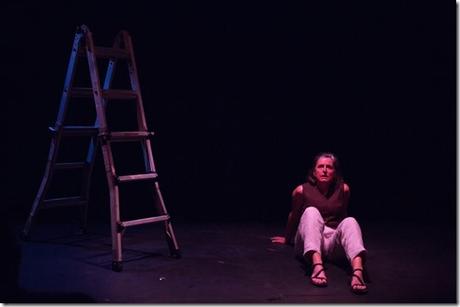 continues through August 12th at The Buena at Pride Arts Center, 4147 N. Broadway (map), with performances Thursdays-Saturdays at 7:30pm, Sundays 3:30pm. Tickets are $25, and are available through their website (check for availability of ). More information at BrownPaperBox.org. (Running time: 90 minutes, no intermission. Note: performances may contain nudity.)
Kenny the Bearded (Death), Hal Cosentino (Somebody), Chelsea Dàvid (Usher, God, Understanding), Alys Dickerson (Somebody), Nora Fox (Time), Alex Madda (Somebody), Francesca Sobrer (Somebody), Donovan Session (Somebody), Tyler Anthony Smith (Love), Hannah Green, Alexandra Moorman (understudies)
behind the scenes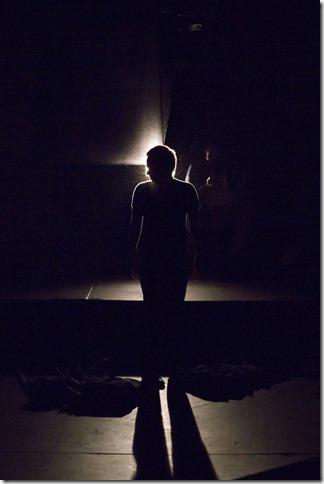 Erin Shea Brady (director), (photographer), M. William Panek (casting), Kaitlyn Guerrieri (box office manager), Charlie Baker (intimacy design), Michelle Benda (lighting design), Blake Cordell (sound design), Destiney Higgins (asst. director), Charlie Sheets (graphic designer), Jeremy Hollis (production manager), Gin To (dramaturg), Mollyanne Nunn (choreographer), Samantha Corn (costume design), (scenic design), Beth Weinstock (assistant stage manager), Deanna Satin (stage manager)
Tags: 18-0725, Alex Madda, Alexandra Moorman, Alys Dickerson, Beth Weinstock, Blake Cordell, Branden Jacobs-Jenkins, Brown Paper Box Co, Brown Paper Box Company, Charlie Baker, Charlie Sheets, Chelsea David, Chicago Theater, Deanna Satin, Destiney Higgins, Erin Shea Brady, Evan Frank, Francesca Sobrer. Donovan Session. Tyler Anthony Smith, Gin To, Hal Cosentino, Hannah Green, Jeremy Hollis, Kaitlyn Guerrieri, Kenny the Bearded, Lauren Whalen, M. William Panek, Michelle Benda, Michelle E. Benda, Mollyanne Nunn, Nora Fox, post, Pride Arts Center, Samantha Corn, The Buena, Zach Dries
Category: 2018 Reviews, Brown Paper Box Co, Lauren Whalen, Pride Arts Center