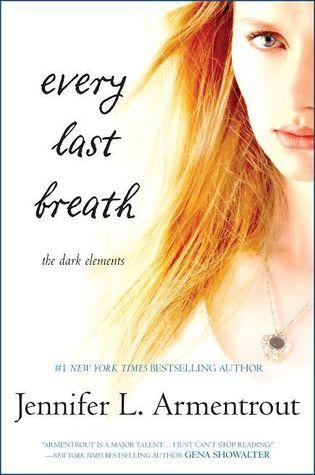 Every Last Breath (The Dark Elements #3)

 by Jennifer L. Armentrout
Summary: Some loves will last 'til your dying breath
Every choice has consequences—but seventeen-year-old Layla faces tougher choices than most. Light or darkness. Wickedly sexy demon prince Roth, or Zayne, the gorgeous, protective Warden she never thought could be hers. Hardest of all, Layla has to decide which side of herself to trust.
Layla has a new problem, too. A Lilin—the deadliest of demons—has been unleashed, wreaking havoc on those around her…including her best friend. To keep Sam from a fate much, much worse than death, Layla must strike a deal with the enemy while saving her city—and her race—from destruction.
Torn between two worlds and two different boys, Layla has no certainties, least of all survival, especially when an old bargain comes back to haunt them all. But sometimes, when secrets are everywhere and the truth seems unknowable, you have to listen to your heart, pick a side—and then fight like hell…  
Add to Goodreads
Source: I purchased a kindle copy.
Review:
I love The Dark Elements series and I couldn't wait for this book to come out. In the last book, Layla had her dreams come true by finding out that Zane returned her affections, but Roth was around and it was obvious that he cared about her. I was anxious to see what Layla would do. There was so much she didn't know about her heritage and what she was capable of, especially after being sheltered and lied to by the Wardens she lived with. Who would she pick?
Every Last Breath was a stunning conclusion. I love that Layla made her choice early on in the book. While I enjoyed the tension and anticipation of not knowing, I hate when books use that tension as their only source of conflict. JLA decided to give us what we wanted early and then move on to the dire and dangerous plot.
Layla was changing into something different and no one could tell her what she was. The Lilin was still running around causing chaos and killing important people, but Layla had no idea how to stop it. Once she made her choice, which I won't spoil, she went into the depths of hell to try to rescue Sam and discovered that she had some pretty tough choices to make about saving the world.
I LOVE that Layla chose who I wanted who to choose. It's hard to talk about the series without spoiling her choice. I'm just happy because I felt like it was the right thing for her and she was with someone who challenged her and helped her be a better person, despite what anyone might think.
I am sad this is over, but I'm also glad that it wrapped up and I got the conclusion I wanted so badly and I didn't have to wait ages and ages for it. I love JLA's writing and the way she creates such fun and likable characters. I highly recommend the series if you like paranormal romance and mythology dealing with demons and angels. It's YA, but it's mature YA. I think it's even better than the Lux series. My only complaint is that I hate the cover. I acutally had no idea this was the last book in the series until I read the description. The series has such awesome creatures and lore, so I think the covers should have been more fantasy based with cool demons or something on the covers.