This tiny wonder pot is part of the
Collagen Moistfull Trial Kit
from
Etude House
which i got it sometime back. Honestly this range is super awesome especially the eye cream. While i have no clue if i need a firming eye cream at this stage of my life, i was curious about the whole collagen thing here. While i do have pretty fine lines (which according my Dermatoligist is very common to have at any age) i wanted to smoothen them out while its not too late.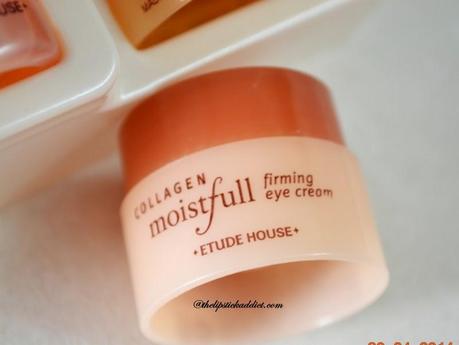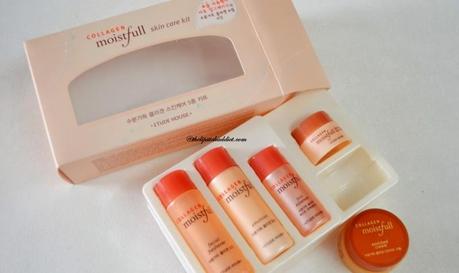 *Trail Kit*
Pros
Formula is sort of thick and rich creamy gel that absorbs quickly into the skin
Doesn't leave the skin greasy or sticky
Moisturizes, nourishes and even firms that loose skin around the eyes
A visible difference is found after applying this cream religiously after a week.
This tiny pot (sorry for not being able to tell you the qty of the product) almost lasts more than a month, that too using twice a day
Just a dab and this cream moisturizes even the driest of the areas around eyes
Great for dry and loose skin around eyes 
Cons
Price : 21.80$ for 25 ml
Buy here :
http://w2beauty.com/en/etude-house-skincare/4761-etude-house-collagen-moistfull-firming-eye-cream.html
While i went ahead and purchased Laniege Water Bank Eye Gel as i couldn't get my hands on this
Collagen Moistfull Eye Cream
then. I have been using
Laniege
for almost 40 days now and i have absolutely no complaints yet. Though i would repurchase
Etude House Collagen Moistfull Firming Eye Cream
once am done with
Laniege
. 
And
Etude House
has a huge collection of products from
Collagen Moistfull
Line, check the same here ~
http://w2beauty.com/en/search?controller=search&orderby=position&orderway=desc&search_query=collagen+moistfull&submit_search=Search
As for me i have ordered
Sleeping Pack
from
Collagen Moistfull Range
. I need a good overnight cream at the moment. You can check the same here ~
http://w2beauty.com/en/etude-house-skincare/4797-etude-house-collagen-moistfull-sleeping-pack.html
Its priced at 17.20$ for 100 ml.
So what have you bought lately in skincare? Do you like
Etude House
as much as i do??
And get an Instant 5$ discount at W2Beauty, details below ~