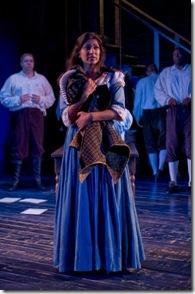 Equivocation
Written by Bill Cain
Directed by Sean Graney 
at Victory Gardens, 2433 N. Lincoln (map)
thru Oct 14  |  tickets: $20-$50   |  more info
  
Check for half-price tickets 
  
  
   Read entire review
  
---
A clever depiction of historical facts and literary fiction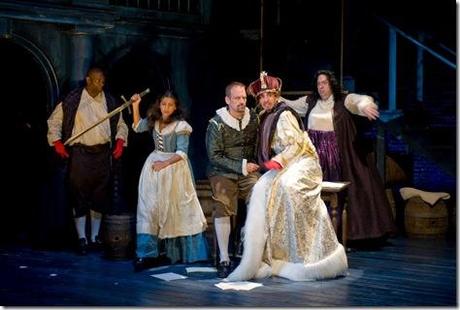 Victory Gardens Theater presents
Equivocation
Review by Katy Walsh 
equivocate |iˈkwivəˌkāt|
use ambiguous language so as to conceal the truth or avoid committing oneself
Victory Gardens presents the Chicago premiere of Equivocation.  The King has written a story about the Gunpowder Plot.  He wants Master Shagspeare to adapt the failed assassination attempt to stage.  Struggling to tell the story, Shag begins to investigate the obscure and torturous details around the event.  Meanwhile, his acting troupe is in revolt, his daughter is in disgust, and the King's stooge is in his face.  This writer must find the right words to tell the true tale without condemning himself or his theatre company to the gallows.  Equivocation is a brilliant wordplay.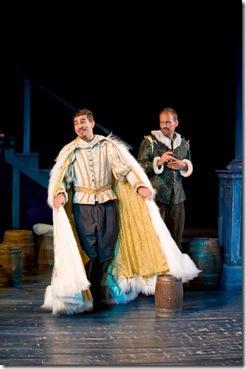 Playwright Bill Cain looks at an historical event through the perspective of the famous bard of the time period.  The character is named Shagspeare to keep it fictionalized but this is true Shakespeare.  Cain masterfully intertwines Shakes' personal and professional life.  It's a fascinating look at the possible influences of the literary genius. The dialogue is witty.  The politics are relatable.  The truth is veiled.  Under the effective direction of Sean Graney, the multi-dimensional story is staged to perfection. The talented ensemble assume multiple roles in this dramatic political intrigue meshed in slap-tastic comedy. 
If you love Shakespeare, you should meet Shagspeare.  Marc Grapey (Shags) plays brooding artist with cynicism and integrity.  Grapey poignantly portrays the human conflict behind the legendary man.  His interactions with the determined Minita Gandhi (Judith) is endearingly poetic.  There is a genuine affection and distance between the father and daughter. Surrounding this family discord is Shag's theatre world vying to pull focus away from his personal drama. The company's "cooperative venture" is theatrical democracy at work. It's the underlying jocular familiarity of the *actors* that pulls me into their comedy within their drama; within rehearsing the play; within their history. The entire cast energetically attack the text as actors playing actors or political figures.  Identities shift, sometimes instantly, with a limping walk or a crowned head.  In particular during the play within the play, Arturo Soria (Sharpe/King) is hysterical in heightened switchback buffoonery. It's all outstanding!  
Equivocation is the staged version of "Shakespeare in Love" without the romance.  It's a clever depiction of historical facts and literary fiction.
Rating: ★★★½
Equivocation continues through October 14th at Victory Gardens Biograph Theater, 2433 N. Lincoln (map), with performances Tuesdays-Fridays at 7:30pm, Saturdays 4pm, Sundays 3pm.  Tickets are $20-$50, and are available by phone (773.871.3000) or online through their website (check for half-price tickets at Goldstar.com). More information at VictoryGardens.org.  (Running time: 2 hours 30 minutes, includes an intermission)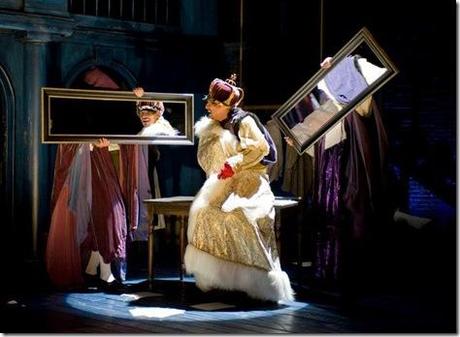 ---
artists
cast
Minita Gandhi (Judith), Marc Grapey (Shag), Matt Kahler (Armin), Mark Montgomery (Cecil), Arturo Soria (Sharpe), Bruce A. Young (Richard)
behind the scenes
Sean Graney (director); William Boles (set); Heather Gilbert (lighting); Janice Pytel (costumes); Kevin O'Donnell (sound design)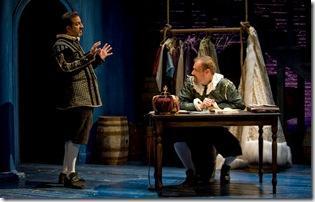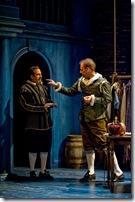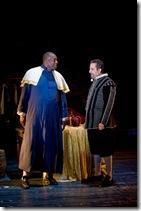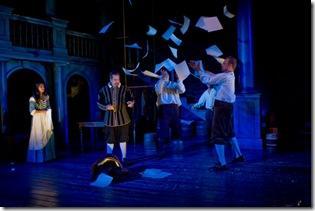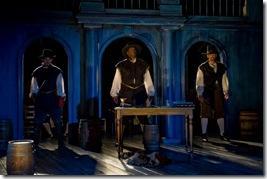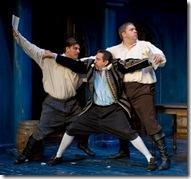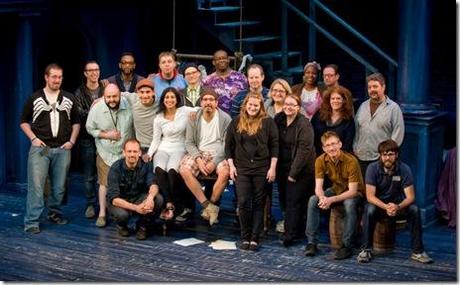 12-0959