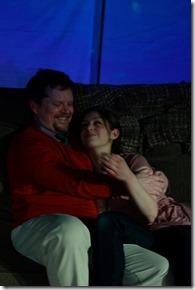 Ephebophilia
Written by Dusty Wilson
Directed by Clint Worthington
at Collaboraction, 1579 N. Milwaukee (map)
thru Feb 9  |  tickets: $10-$15   |  more info
  
Check for half-price tickets 
  
  
   Read review
  
---
New work tackles disturbing contemporary themes with an unblinking eye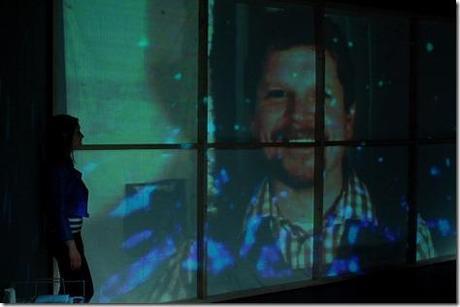 The Phebe Project presents
Ephebophilia
Review by Clint May 
In the boondocks of southeast Florida, a religious community founded for prison aftercare caters to the impossible geographic needs of registered non violent sex offenders. Unable to live anywhere near where children may congregate—which is basically anywhere—they have found mutual support in the midst of an isolated sugar cane plantation where they have been recruited to live since 2009. Founder and minister Richard Witherow's concept is controversial to say the least. That many of these men would end up homeless trying to obey the law doesn't cause a lot of sleepless nights for the powers that be or society at large. As elucidated in Dusty Wilson's premiere Ephebophilia (definition: a sexual attraction to minors), we care very little what happens to these people either actively through retribution or passively through neglect. His work of social commentary not only invites us to sympathize with certain untouchables, but to cast a wider net on the concept of predators.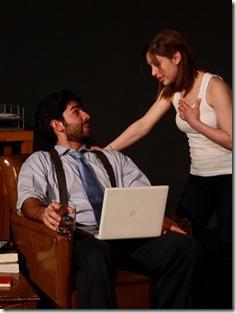 As has been pointed out by shows like Dateline NBC's "
To Catch a Predator
", men who want to commit illicit sex acts on minors are easy to ensnare (many men are easily ensnared
by most anything
). For a down-and-out millenial couple, they see Chris Hansen's show as an instruction manual for how to exploit the exploitive for personal rather than punitive gain.
Jackson (Andrew Saenz) has his MBA but can't sustain his American Dream at the onset of the Great Recession of 2008. Facing foreclosure, he sees an asset in his twenty-something wife Imogen's (Claire Saxe) neotenic good looks (it's implied that they were high school sweethearts, so Jackson is himself not attracted to little girls because she simply didn't age along with him). Renamed "Jenny," she starts trolling adult chat rooms as a 15-year-old girl with a typically troubled teenage life. Her vulnerability and beauty entraps a scientist named Alan (Arne Saupe), who takes a seemingly paternal interest in her melancholy. He is aware of potential traps, but after a month of nightly conversations, his judgment is overridden when 'Jenny' professes her love for him and invites him to her house. It's all part of a scam to gain access to his bank accounts and bleed him dry with threats of blackmail. Jackson breaks the fourth wall to assure us that in reality we wouldn't really feel sorry for his mark, but Imogen is having second thoughts.
Obviously there are some discomforting scenes in a show with this subject matter. Director Clint Worthington wisely skips the video projection of early video chats in favor of having Saupe and Saxe share the same space as a metaphor for their virtual intimacy. It's a poignant expression of how real the simulated world can be for lonely people seeking solace, regardless of intent. Jackson and Imogen's relationship is an overt allegory of how today's young adults are approaching the employment market. While Imogen is okay accepting a job at as a 'sandwich artist' at Subway, Jackson can't bring himself to go lower on the ladder (and why should he?) The dissolution of the American Dream and their desperate plan to subvert the system have a lot in common with Breaking Bad. But where Jackson sees only a "stupid" man letting his phallus get the better of him, we are asked to see Alan as a fully rounded, flawed person with a desire driven by a wistfulness to recapture a past he never had.
Saxe is fantastically well cast, calling on her young adult fears and transforming them into a projection of vulnerability that makes her a convincing teenager once more (one wonders if we ever grow out of it). Saupe does a good job making Alan a sympathetic everyman with a tragic flaw, while Saenz needs to go deeper into his Gordon Gekko-esque sociopath. Ephebophilia is a relatively brief story for its heady themes. More exploration of these people's various motivations would go a long way towards giving us empathy for monsters (and I don't just mean men attracted to minors). Still, Wilson's script is smart (if sometimes a touch heavy-handed), even managing to find a little bleak humor for the damned.
The threat of making any group of people less than human may seem low on the priority scale when we're talking the pariahs like those who seek sex with minors. Wilson challenges us to look again at what's being swept under the rug, however unsettling it may be. From our youth-obsessed culture to our increasing reliance on digital fantasies arisen from the broken promises of real life expectations—Ephebophilia is a multi-tiered indictment of the cruelty of our era's willful blindness.
Rating: ★★★
Ephebophilia continues through February 9th at Collaboraction Room 300, Flat Iron Arts Building, 1579 N. Milwaukee (map), with performances Thursdays-Saturdays at 7:30pm, Sundays 3:30pm.  Tickets are $10-$15, and are available or online through BrownPaperTickets.com (check for half-price tickets at Goldstar.com).  (Running time: 1 hour 20 minutes, no intermission)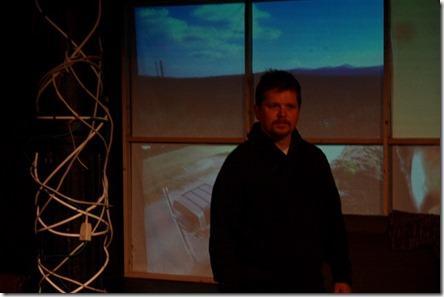 Photos by Danielle Stack
---
artists
cast
Claire Saxe (Imogen), Andrew Saenz (Jackson), Arne Saupe (Alan), Tricia Rodriguez (understudy)
behind the scenes
Clint Worthington (director), Julia Gray (stage manager), T. Paul Lowry (scenic, projection design), Sam Silva (sound design), Emma Deane (lighting design), Shawn Quinlan (costume design), Jake Fruend (graphic designer), Imre Trevino (videographer), Danielle Stack (production manager, photos), Julia Rohed (producer)
14-0123