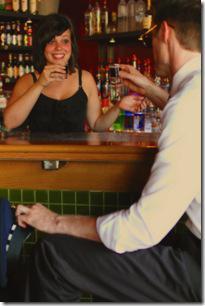 Enter Love
Music/Lyrics by Lynn Lupold
New book by Chris Hodack 
Original concept by Don Seybold
Directed by Andrew Park
The Blue Theatre, 1609 W. Gregory (map)
thru Oct 16   |   tickets: free  |  more info 
  
  
   Read entire review
---
A labor of 'Love'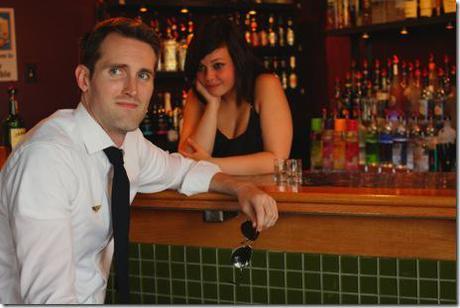 Quest Theatre Ensemble, i/a/w Red Boat Productions presents
Enter Love
Review by Lauren Whalen
Quest Theatre Ensemble is for the people. Now entering its tenth year, the small but mighty company presents each of its productions at no charge to the public, believing that once a price is put on art, its potential impact is diminished. Quest's world premiere of the musical Enter Love aligns with the company's mission: the ensemble tale of relationships has something for everybody. And though the music and lyrics are at times imperfect, the intentions behind the piece and the voices that perform it are perfectly lovely.
Set in O'Hare International Airport, Enter Love explores the nature and challenges of romantic connections in the 21st century. Each character has a different purpose, from counseling a son with a marriage on the rocks, to turning a cottage industry into a thriving business, to keeping travelers safe and satisfied on and off the ground. When a record-breaking blizzard leaves everyone stranded in the airport bar, secrets are revealed and decisions are questioned as each individual ponders the meaning of love and its place in his or her life.
Composer Lynn Lupold has chosen an ideal setting for an ensemble cabaret dramedy: interactions between contrasting characters don't feel forced, but organic in a "we're all in this together" way. Lupold's music and lyrics, however, are inconsistent. "Back in the Game," featuring sexy flight attendant Amy (Christin Boulette) feels forced rather than sensual, though that could also be due to Boulette's awkward execution of choreography, and the fact that the notes are a bit out of her range. And Chris Hodak's book contains some stilted dialogue. At one point, Fern (June Entwisle Miller) proclaims the airport toilets "newfangled," which seems less realistic and more like a young writer's idea of how an older individual would speak.
Despite its inconsistencies, Enter Love contains many sweet notes. The song "Don't Forget," in which soldier Angie (Ashley Stein) instructs her husband Tommy (Stephen Barker) on simple household matters before departing for Afghanistan, carries a wistful weight beneath its deceptively lighthearted lyrics. The cast's men band together to console a flight-phobic friend in the comedic "Josette," and jolly airport bartender Alex (Brianna Schumacher) battles with her emotions in the inspiring "Love to Me."
The cast contains a number of standouts: Angie and Tommy's complicated young marriage rings true even among singleton audience members thanks to Stein and Barker's nuanced interpretations. Perhaps the most interesting relationship in Enter Love is between tightly-wound Samantha (Laura McClain) and bohemian Kate (Beth Allin), who struggle as romantic and business partners with Samantha's ex still in the picture. McClain and Allin's gorgeous singing and thoughtful line readings have the audience rooting for their success in the boardroom and at home. But the strongest ensemble member is Schumacher as bartender Alex, who dispenses strong drinks and bubbly advice to all, while pining for married pilot Grant (BJ Engelhardt, channeling the twinkly charm of "Glee"'s Matthew Morrison). All sparkling eyes and tuneful high notes, Schumacher is a magnetic presence on the Quest stage.
Despite the awful weather conditions and missed connections of its airport setting, Enter Love's overall aura is pleasant and hopeful. The singer-actors' belief in the show is beautifully clear and present, and their happiness to perform leaves the audience with a collective smile. Free theatre is a positive trait for any city, but Quest patrons should remember that creating and producing cost money. Take a chance on Enter Love, and if you like what you see, don't forget to donate!
Rating: ★★★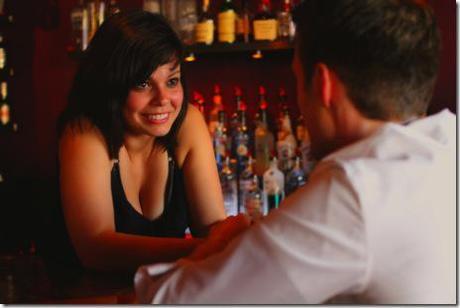 Quest Theatre Ensemble's Enter Love continues through October 16 at Blue Theatre, 1609 W. Gregory (map), with performances Fridays and Saturdays at 8 p.m., Sundays at 2 p.m. Tickets are free, but reservations are highly recommended and donations are encouraged. More information at QuestEnsemble.org. (Running time: 1 hour 45 minutes with 15-minute intermission)
All photos by Austin D. Oie
---
artists
cast
June Entwisle Miller (Fern), Vincent Lonergan (Harold), Laura McClain (Samantha), Beth Allin (Kate), Ashley Stein (Angie), Stephen Barker (Tommy), Brianna Schumacher (Alex), BJ Engelhardt (Grant), Christin Boulette (Amy), Jason Bowen (Frank); Kevin Pollack (male cover)