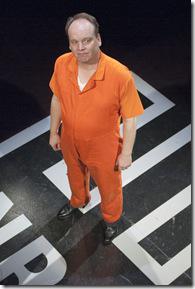 Enron
Written by Lucy Prebble
Directed by Rachel Rockwell  
at Timeline Theatre, 615 W. Wellington (map)
thru April 15  |  tickets: $22-$42   |  more info
  
Check for half-price tickets 
  
  
   Read entire review
  
---
Timeline has another hit on their hands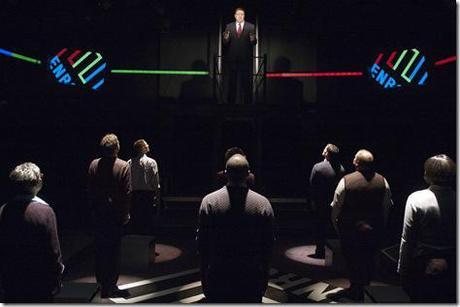 Timeline Theatre presents
Enron
Review by Catey Sullivan 
For the lucky, the collapse of mega-corp Enron was a tragedy somewhat removed from day-to-day life. The layoffs of tens of thousands of workers, the wiped out savings, the deaths that occurred when California's Enron-run power grid blacked out, the dreams destroyed – unless you had a stake in the Texas-based company (or happened to hit a traffic light at the wrong time), the epic, enraging fallout from corporate power brokers running amok was all quite terrible but it was also largely somebody else's catastrophe. Moreover, the components of the meltdown were hard to grasp for the average non-accountant. The tangled web of raptor and mark-to-market accounting, arbitrage opportunities, special purpose entities, derivatives and SEC regulations created a jargon that made the whole mess about as accessible as an advanced trig text.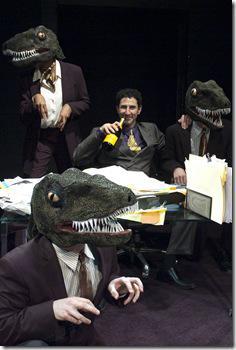 It's no small praise to say that
Lucy Prebble
's take on the Enron debacle takes a potentially dry tale of balance sheets, stock splits, and advanced math down to a human scale that's as salacious as a well-done soap opera and as easy to understand as a big ol' bounced check. In TimeLine's staging of Prebble's drama, the human faces of Enron mailroom provide a fascinating lesson in hubris and a compelling study of an economic freefall from board room to mail room.
Directed by Rachel Rockwell, the sleek, fast-moving production opens at an early 1990s party that's buzzing with power suits in full-on Masters of the Universe mode. Enron board chair Kenneth Lay (Terry Hamilton) is celebrating finance whiz Jeffrey Skilling (Bret Tuomi) and his ground-breaking mark-to-market accounting system, a plan that allows the company to account for profits before they actually come in. Also burning bright in this hard-charging group are Claudia Roe (Amy Matheny), a composite portrait of several female Enron execs and the quintessential portrait of a tough-as-nails, smart-as-hell woman with a head for business and a bod for sin. Finally, there's young Andrew Fastow (Sean Fortunato), a wunderkind accountant with the social skills of an autistic cactus.
The opening scene party captures the reckless sense of invincibility that colored the boom of the early 1990s, as well as vividly establishes the key players in what will turn into the world's biggest Ponzi scheme. Rockwell emphasizes the bellicose machismo of Enron's culture, putting the rabid pack of day traders in a pit that comes to resemble a circle jerk. It's an accurate, perversely funny image – young guns literally getting off on their own power – until people start dying because of the rolling blackouts necessitated by Enron's unsustainable strategies. The juxtaposition between the traders' rapacious choreography of buying and selling energy futures and the solemn pronouncements of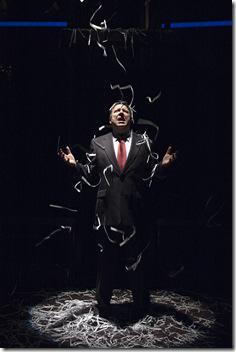 fatalities due to failed traffic signals and hospital blackouts is as disturbing as it is indelible.
Also memorable is the detailed, distinctive work by the ensemble. As Lay, Hamilton exudes both oiliness and good will as a good old Texas boy billionaire who just doesn't get – or chooses not to get – the duplicity taking place at the highest levels of his company. Fortunato does excellent work as Fastow, a man whose insecurities, ambition and creative accounting skills are seemingly boundless. Matheny is also powerful as a canny woman who has successfully infiltrated the old boys club, but is ultimately out-maneuvered by its members. If there's a weak-ish link in the group, it's Bret Tuomi's Skilling; he's immensely moving in his scenes with his daughter (Caroline Heffernan, seen on video), but he doesn't quite project the white hot verve and uber-confidence that defines Skilling.
As for the supporting players, keep an eye on Matt Holzfeind and Benjamin Sprunger, two very different and equally intriguing actors. Somehow, they both manage to be distinctively watchable without putting a wrinkle in the ensemble.
In the end, it doesn't matter whether your idea of high finance is indulging in a Venti -size specialty coffee or a multi-billion dollar hedge fund future. Enron makes the story vivid.
Rating: ★★★½
Enron continues through May 15th at Timeline Theatre, 615 W. Wellington (map), with performances Wednesdays and Thursdays at 7:30pm, Fridays at 8pm, Saturdays at 4pm/8pm, and Sundays at 2pm.  Tickets are $22-$42, and are available by phone (773-281-8463 x6) or online at OvationTix.com (check for half-price tickets at Goldstar.com). More info at TimelineTheatre.com.  (Running time: 2 hours 20 minutes, with one intermission)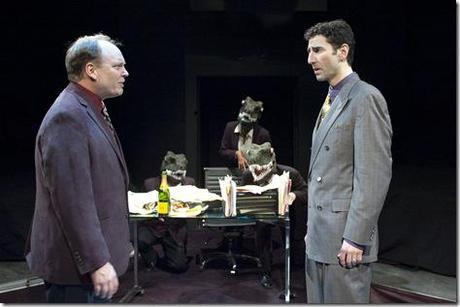 All photos by Lara Goetsch 
---