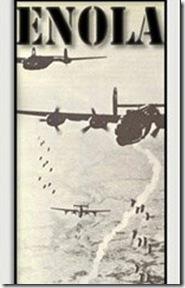 Enola
Written by Al Smith
Directed by Jaclynn Jutting
at Side Project Theatre, 1439 W. Jarvis (map)
thru June 15  |  tickets: $10-$20   |  more info
  
Check for half-price tickets 
  
  
   Read entire review
---
A compact and powerful hour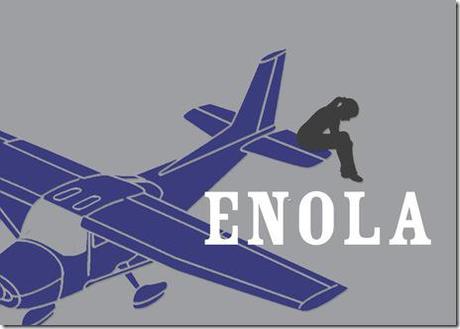 Side Project Theatre presents
Enola
Review by K.D. Hopkins
I grew up on the tail end of nuclear war hysteria. Fallout shelter signs were ubiquitous on public buildings, giving false comfort that one could indeed survive a nuclear attack. The truth is that what was unleashed on Hiroshima and Nagasaki was a horror unleashed on the world. The Side Project's production of Enola starts off with an echo chamber effect of the Hail Mary prayer. Whether it is a prayer of intercession, an adjunct to the Catholic Act of Contrition, or a plea for forgiveness – all is answered in a compact and powerful hour.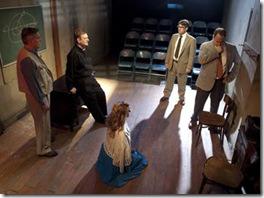 Enola is the fictionalized story of how the first atomic bomb and the plane that dropped it came to be. The real Enola Gay was named after the pilot's grandmother. In this play the name is given to three generations of women and told from the perspective of the youngest and last Enola. Julia Weed is charming as the girl raised in the perfect town for the perfect weapon. Weed projects guileless innocence with an understanding that 'flat as a pancake Kansas' will not lead to her perfect future. Enola dreams of becoming an astronaut. This was unheard of in the American 1930's, but she is being raised in a company town that builds planes for the war. Everyone lives on a grid and is no more than three minutes away from the plant or a Catholic church. The company life and the strict Catholic doctrine wreak havoc with Enola's mother's psyche, leading to her suicide and the family's rift with the Catholic Church. It is poignant to hear 8-year-old Enola ask two visiting scientists if they know what Enola is spelled backwards. It doesn't hit right away, but the impact is felt
Ron Butts, as Enola's father, gives a stunning performance as a man demanding that his wife be given a Catholic burial in spite of her suicide. Butts' expressions say everything that is unspoken. His Enola gave her life to the company as much as any engineer. He has toed the line for God and America, and feels that God understands how Enola's mind was taken from her. As the priest, Gary Saipe gives an equally haunted performance. He empathizes with William's anguish and anger but cannot go against the vows he has taken. Suicide is a mortal sin because it takes the power from God and there lies the crux of the story of Enola: should the power of life and death lay in any person's hands or is it better left in the hands of faceless corporations and governments?
Ian Novak, as physicist Cramer, deepens that quandary as his character evolves from gifted college professor to the man who develops a devastating weapon. Cramer at first is intrigued at having a public platform for his nuclear fission theory and then it becomes about power and money. Christopher Meister is wonderful as another scientist brought in to explain the trajectory of radiation poisoning. Watching his reaction to the levels of radiation being explained by Cramer and Salpe (in another role as an Army official) is sobering.
Meister and Butts share a haunting scene describing the effects of a nuclear attack wherein the flesh of those killed in the flash is burned into the concrete, producing semi-permanent shadows from the fat of their burned flesh. It's at this juncture that Enola became a universal warning about the consequences of war and ignorance of what lies in its wake.
The simple set constructed for Enola is perfect in its bleak simplicity, evoking the dusty and forlorn flat Kansas landscape. The stage seems bathed in sepia, painting a perfect picture of 'simpler' times in dust. Presented in repertory, Enola is one of a triumvirate on youth and war from Side Project Theater's Spring Series. It is an excellent beginning and I look forward to the other two.
Rating: ★★★
Enola continues through June 15th at The Side Project Theatre, 1439 W. Jarvis (map), with performances Thursdays at 7:30pm, Fridays 7pm, Sundays 5pm.  Tickets are $10-$20, and are available by phone (773-973-2150) or online at BrownPaperTickets.com (check for half-price tickets at Goldstar.com). More information at TheSideProject.net.  (Running time: 60 minutes with no intermission)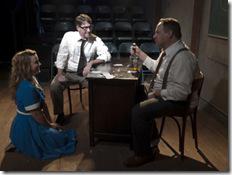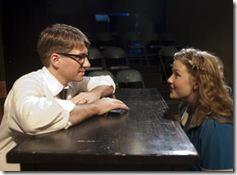 Photos by Scott Cooper 
---