Enchanted April 
Written by Matthew Barber
Directed by Evan Jackson  
at Rivendell Theatre, 5779 N. Ridge (map)
thru Sept 8  |  tickets: $15-$20   |  more info
  
Check for half-price tickets 
  
  
   Read entire review
  
---
Enchanting 'April' captivates as friendships enfold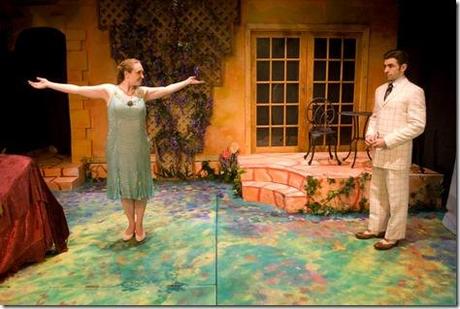 Idle Muse Theatre presents
Enchanted April
Review by Katy Walsh 
"To those who appreciate wisteria and sunshine…and who have ever hoped, on occasion, that a little Enchantment might step in…"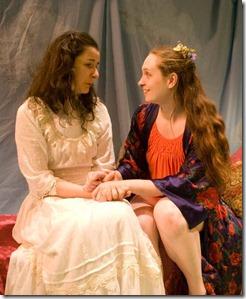 Enchantment is the word to describe this old-fashioned girls getaway.  Playwright
Matthew Barber
captures the essences of
Elizabeth von Arnim
's novel about
four women in post WWI England
.  The unacquainted ladies are all drawn to the same advertisement.  They each long to rent this mysterious castle in Italy for a month.  Steered by the mystical conviction of
Elizabeth MacDougald
(Lottie), the women end up vacationing together.  
Director Evan Jackson balances the humor and the sorrow as these strangers become friends. Although the entire cast captivates with their stellar performances, it's ladies' night as the gals dominate this stage.  The animated MacDougald bookends the show with her search for 'heaven' narrations.  MacDougald is delightfully wistful and later carefree in her nonconformist ways.  The show is all about transformation. And that's most apparent as Mara Kovacevic (Rose) goes from tightly-wound-pinched-face to radiant-glowing-formerly-disappointed-Madonna. Her physical change is stunning.  Bringing the humor, the comedy moments mostly belong to Catherine Hermes (Lady Caroline) and Maggie Speer (Mrs. Graves).  Hermes dead-pan delivers scathing lines with Parker Posy deliciousness.  The overbearing Speer makes her demands with absurd levels of entitlement.  Hilarious!  And a nod out to Jean Waller (Costanza) for authentically and amusingly playing an Italian-speaking housekeeper.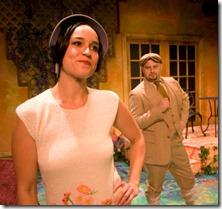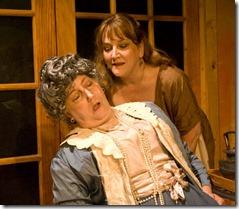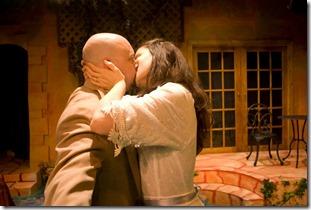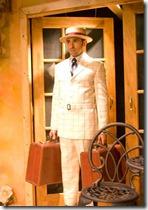 Between Act 1 and 2, Set Designer Dennis Mae transports us from an imposing, wooden fortress England to the floral, terra cotta covered Italy.   The extensive scenic transition is impressive yet the real pageantry was created by Costume Designer Erin Gallagher.  From the scantily-clad Roaring 20s look on Hermes to the ornate Victorian primness of Speer, Gallagher provides an ongoing fashion show.  The drab, sensible outfits of England give way to colorful, holiday finery.   Gallagher dresses each character distinctly for their initial appearance and ongoing metamorphism.  My favorite was this beautiful lilac evening gown on Kovacevic. Gorgeous!  
I love Enchanted April the play more than the movie.  Barber includes more backstory on characters building a connection to their before and after vacation intervention.  The audience becomes more invested in their sorrow and their happiness.  Enchanted April is 'the promise of a beautiful tomorrow.'  Enchanting!
Rating: ★★★½
Enchanted April continues through September 8th at Rivendell Theatre, 5779 N. Ridge (map), with performances Thursdays-Saturdays at 8pm, Sundays 3pm.  Tickets are $15-$20, and are available by phone (773-340-9438) or online through Arts-People.com (check for half-price tickets at Goldstar.com). More information at IdleMuse.org.  (Running time: 2 hours, includes an intermission)
---
artists
cast
Brian Bengtson (Frederick Arnott), Catherine Hermes (Caroline Bramble), Mara Kovacevic (Rose Arnott), Elizabeth MacDougald (Lotty Wilton), Maggie Speer (Ms. Graves), Joel Thompson (Mellersh Wilton), Nathan Thompson (Antony Wilding), Jean Waller (Costanza).
behind the scenes
Evan Jackson (director), Lane Flores (asst. director), Tristan Brandon (dramaturg, production manager), Erin Gallagher (costume design), Kathy Logelin (voice, dialect coach), Dennis Mae (scenic design), Matt Nischan (sound design), Sara Robinson (stage manager), Cecily Romaynne Shives (asst. stage manager), Laura Wiley (lighting design), Paul Daizovi (technical director)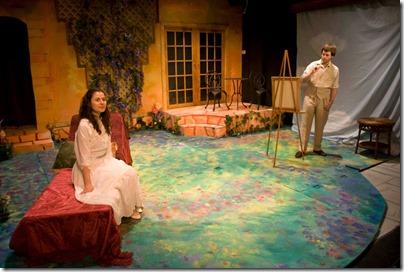 13-0815