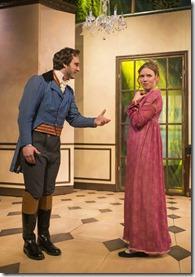 Emma
Written by Michael Bloom
Directed by Jim Schneider
at Stage 773, 1225 W. Belmont (map)
thru Date  |  tickets: $25-$42   |  more info
  
Check for half-price tickets 
  
  
   Read review
  
---
A charming, if safe, adaptation of Jane Austen masterpiece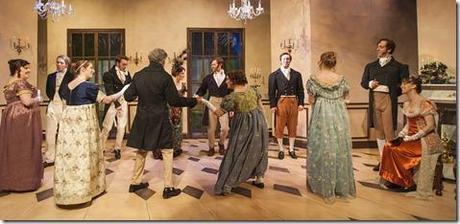 Dead Writers Theatre Collective presents
Emma
Review by Patrick Dyer
Emma Woodhouse is regarded one of Jane Austen's best loved creations. She's manipulative, she's witty, she's assertive, she's defiant of her strict culture, she's got it all. And the novel Emma is regarded as one of Austen's best (if not the best) novels. Of all her works, Emma seems to best capture Austen's desire to develop stronger female characters because of how flawed she was willing to make the title character. But with all that in mind, does that mean this book and this character are ready to take to the stage?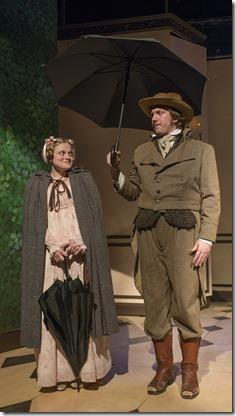 In Victorian England, Emma Woodhouse (
Heather Chrisler
) is an accomplished, precocious, yet spoiled young woman who has thoroughly convinced herself that she will never marry even though society practically demands it. But that doesn't mean she lacks the knack for matchmaking. She finds various ways of hitching people together, most notably her dear friend Harriet Smith (
Hillary Sigale
) to Robert Martin (
Nick Bonges
). But Harriet has her eyes fixed upon Mr. George Nightly (
Ben Muller
) – the same man Emma secretly has her eyes fixed upon. However, Emma soon finds herself entangled in the romantic lives of everyone else in her life including the Eltons, Augusta (
Maeghan Looney
) and Philip (
Kevin Sheehan
), her friend Jane Fairfax (
Megan DeLay
), and a man after her own heart, Frank Churchill (
Brandon Johnson
). But in the end after all the maneuvering, suspicion, intrigue, and misunderstandings, Emma finally finds true love, both a happy ending for our leading lady and a cautionary tale of how culture truly does affect the way we behave whether we accept it or defy it.
Michael Bloom's adaptation is faithful to Jane Austen's book – a little too faithful. He doesn't give the script quite enough bite or edge to fully warrant a stage rendering. It all feels a little too safe, and only portrays the story as a fluffy romantic comedy instead of really digging deeper into what Austen was trying to get across regarding societal pressures and how humanity can sometimes underestimate them. However, with that said, he still manages to capture Austen's wit and charm, and while I'm not keen on inserting word-for-word prose into a stage adaptation, it's still Austen's prose and that's always a delight to listen to. Director Jim Schneider keeps the pace smooth and quick, but like Bloom doesn't quite give the script enough edge or insight. However, he makes up for it with beautiful sets and costumes and assembling a competent cast.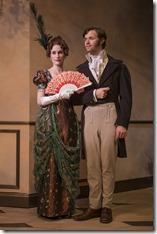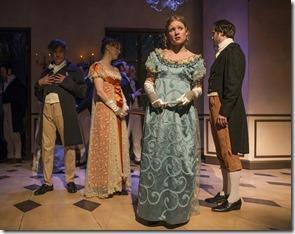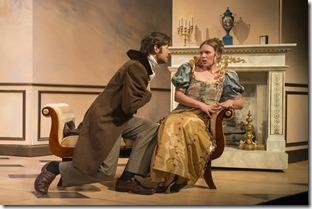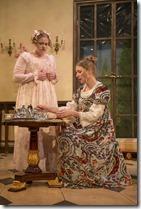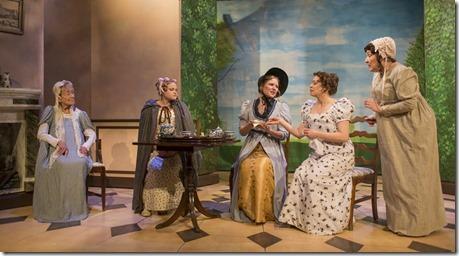 Chrisler as Emma is charming and witty (like any Austen heroine), but sometimes lacks dynamics, and her accent tends to veer from Victorian English to American sounding like a Brit. She still carries the show on her shoulders quite well, and has some well-earned comedic moments. Sigale is wide-eyed and naïve as Harriet, but she quickly becomes the audience favorite with her sympathy and kindness. Muller as Nightly is a good and sardonic opposition for Emma, making their now-cliché "Will they or won't they get together?" storyline still effective and believable for a contemporary audience. Looney has the most fun as the rival Augusta where she almost veers into camp but keeps it balanced enough to be enjoyable. Johnson is charming as Frank Churchill and oddly enough doesn't have much chemistry with Emma (which works since they're not really meant for each other anyway). Jerry Bloom as Emma's father, Mr. Woodhouse, is the funniest out of the cast, especially when crying at the thought of losing his precious daughter to marriage.
This isn't the best Emma we could hope for the stage, but it has enough charm and wit to stay true to Austen's writing. After all, that's why she's still celebrated after two hundred years. This Emma is like eating a piece of cake: it's delicious, it's delicately made, and I'm glad I consumed it, but it could still be a just little more substantive.
Rating: ★★★
Emma continues through May 25th at Stage 773, 1225 W. Belmont (map), with performances Thursdays-Saturdays at 7:30pm, Sundays 2:30pm.  Tickets are $25-$42, and are available by phone (773-327-5252) or online through Stage773.com (check for half-price tickets at Goldstar.com). More information at DeadWriters.net.  (Running time: 2 hours 30 minutes, includes an intermission)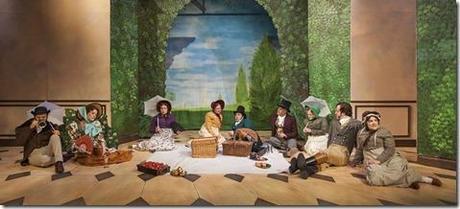 Photos by Michael Brosilow 
---
artists
cast
Heather Chrisler (Emma Woodhouse), Jerry Bloom (Mr. Woodhouse), Ben Muller (Mr. George Nightly), Hillary Sigale (Harriet Smith), Brandon Johnson (Frank Churchill), Megan DeLay (Jane Fairfax), Lorelei Sturm (Mrs. Weston), Brad Davidson (Mr. Weston), Kevin Sheehan (Philip Eton), Maeghan Looney (Augusta Elton), Sara Minton (Miss Bates), Joyce Saxton (Mrs. Bates), Nick Bonges (Robert Martin), Jerico Bleu, Kamron Palmer, William Czerwoinka, Andrea Young (Servants)
behind the scenes
Michael Bloom (adaptor), Jim Schneider (director), Mady Newfield, Tammy Ravitts-Bretcher (choreography), Moon Jung Kim (set design), Patti Roeder (costume design), Linda Bugielski (lighting design), Jeffrey Levin (sound design, original music), Jeffrey Nigo (dramaturg), Kari Warfield (stage manager), Angela Guest, Krista Ulbricht (assistant stage managers), Michael Brosilow (photos)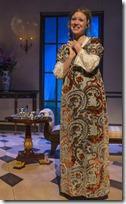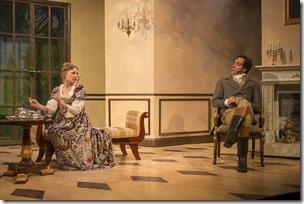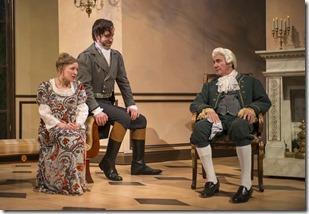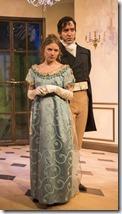 14-0436