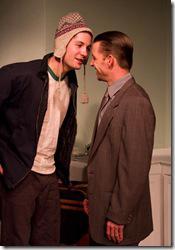 Elling
Adapted by Axel Hellstenius, Petter Naess 
Based on book by Ingvar Ambjornsen
Directed by Steve Scott 
at Redtwist Theatre, 1044 W. Bryn Mawr (map)
thru Oct 30   |  tickets: $25-$30  |  more info
Check for half-price tickets
  
  
   Read entire review
---
Talented cast, innovative design breathe new life into fanciful comedy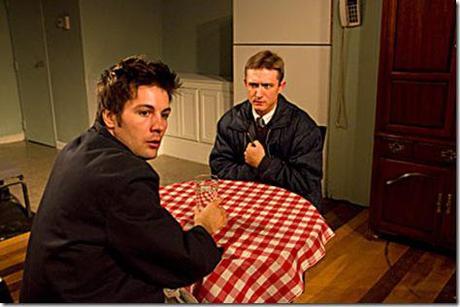 Redtwist Theatre presents
Elling
Review by Keith Ecker 
When Elling premiered on Broadway in 2010, it received lukewarm reviews, attracted a meager audience and closed after only a month. The Norwegian play—which is based on a novel by Ingvar Ambjornsen, adapted by Axel Hestenius in collaboration with Petter Naess and adapted in English by Simon Bent—just didn't seem to have legs here in the states. The New York production even had a big star, Brendan Frasier, filling the title role.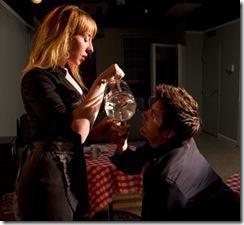 Redtwist Theatre's production of
Elling
, which features no movie stars and is produced hundreds of miles from Times Square, will likely not suffer the same fate as its Big
Apple
predecessor. The intimate (if not cramped) storefront theater is the perfect setting for a play whose title character suffers panic attacks when leaving the confines of his apartment. The actors adeptly fill the shoes of the eccentric and discarded souls of
Elling
's world, while the set design, which ingeniously maximizes the utility of the space, is a star in its own right. Add to this a quirky story with some solid comedy and interesting language and you have the makings of successful show.
Elling is the story of two Norwegian mental patients who are released and transferred to live in an apartment together in Oslo. Elling (Andrew Jessop) is a frantic mama's boy who stirs up tall tales to impress his roommate Kjell (Peter Oyloe), a dimwitted but kind-hearted clod who is obsessed with sex. Comedy erupts as the Norwegian Felix and Oscar navigate living with each other despite their many differences in personality and taste.
Meanwhile, the pressure is on Elling and Kjell to successfully integrate into mainstream society, thanks to the presence of the kind but stern Frank (Michael Sherwin). The state social worker is assigned to mark the duo's progress. One too many setbacks, and the two will be carted back to the nut hut.
But then Kjell meets a woman, Gunn (Marssie Mencotti). He becomes infatuated, and she too takes a quick liking to him. This stirs up the jealousy within Elling, who has become quite accustomed to having Kjell as his constant and sole companion. Shortly thereafter, Elling discovers poetry and a poet Alfons (Brian Parry). The chance meeting inspires him to express himself artistically and hone his own identity.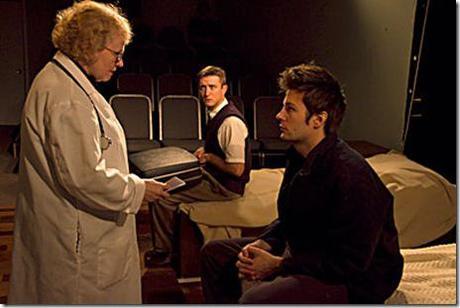 Jessop and Oyloe are consistent in their portrayals of the two chemically imbalanced protagonists. Jessop portrays Elling with a frantic energy masked by a suspiciously calm exterior. The comedy is in his condescending and deadpan delivery, which allows him to be a likeable jerk. Oyloe imbues Kjell with a Lenny-esque affectation. His speech, mannerisms and propensity to get overly excited are like that of a little boy. Yet there is an adult's heart here, as seen with his interactions with Gunn. The supporting actors fill out the show nicely with Mencotti playing genuinely sweet and Parry adding a sagely voice that is as rich as butter.
Jessop is also behind the captivating set design, which practically steals the scene at times. Furniture ingeniously doubles as alternate set pieces. A fridge becomes a urinal; a floor sprouts up to become a tabletop. The innovative thinking is something you only find in a small theater that invents out of necessity rather than for gimmicks.
Elling is a light and fanciful comedy. With a talented cast and a solid script, it's sure to entertain. For those looking to chase away those pre-winter blues, check out this play.
Rating: ★★★½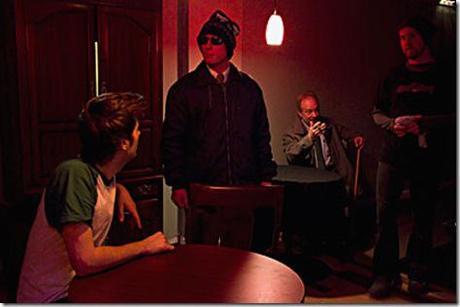 Elling continues through October 30th at Redtwist Theatre, 1044 W. Bryn Mawr (map), with performances Thursdays-Saturdays at 7:30pm, Sundays at 3pm. Tickets are $25-$30, and can be purchased by phone (773-728-7529) or through their website. More information at Redtwist.org. (Running time: 2 hours 10 minutes, which includes an intermission)
All photos by Kim Schechter
---
artists
cast
Peter Oyloe (Kjell); Andrew Jessop (Elling); Marssie Mencotti (Gunn); Michael Sherwin (Frank); Melissa Walker (Johanne); Brian Parry (Alfons); Cameron Feagin (Reidun); Scott Butler (Seth the Poet)
behind the scenes
Steve Scott (director); Kate Guthrie (asst director); Shauna Warren (stage manager); Anna Eisenbraun (asst. stage manager); Olivia Baker (production assistant); Andrew Jessop (scenic); Christopher Kriz (sound); John Kelly (lighting); Clare Kemock (costumes); Sara Isom (props); Jan Ellen Graves (marketing); Cassandra Rose (dramaturg); Mary Beth Liss (vocal coach); Jeff Harris (illustration); Kim Schechter (photos)