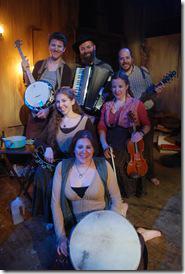 Elephant's Graveyard 
Written by George Brant
Directed by James Palmer
Red Tape Theatre, 621 W. Belmont (map)
thru June 16   |   tickets: $5-$30   |   more info
  
Check for half-price tickets 
  
  
   Read entire review
  
---
A whimsical memorial to unexpected truths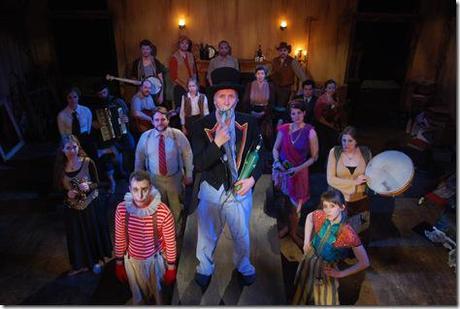 Red Tape Theatre presents
Elephant's Graveyard
Review by Katy Walsh 
I'm not an animal person. I don't want a dog, cat or fish. The only animal I'd like to acquire is a full-length mink coat.  Despite this lack of sensitivity to non-human species, zoos and circuses have always troubled me.  Animals held in captivity for people's viewing pleasure just seems wrong.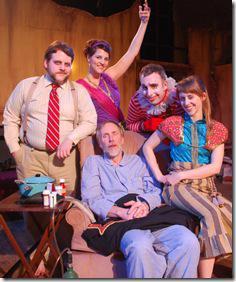 Red Tape Theatre presents
Elephant's Graveyard
.   A dying marshall is haunted by the ghosts of circus and town folk recounting the tragedy marring his career.  It's 1916. The Sparks Circus rolled into Kingsport, Tennessee.  A vagabond named 'Red' was hired to help with the animals.  On September 12th, Red took Mary the Elephant for water between shows.  The accounts are conflicting.  But something happened that prodded Mary to pick up Red with her trunk and hurtle him to his death.  And on September 13th, while 2,500 people watched, the 5-ton Mary was executed by being hanged from a crane. 
Elephant's Graveyard
is a fantastical tale of a historical happening.  
Red Tape Theatre is housed in the remnants of an old church.  Their imaginative utilization of the space is always impressive.  This time, the look is especially unforgettable.  Scenic Designer Emily Guthrie builds out a balcony on either side of a circus-style ring.  The single file audience is looking down into the performing arena.  Both in the audience and stage area, the look is decrepit.  The powerful illusion, aided by Lighting Designer Kyle Land, sets the tone for nostalgia.  The rickety reality is the roped-off section – emphasis on rope – makes my seat position slightly precarious.  I have some vertigo issues.  The few feet difference between watching the show and plummeting into the show was an ongoing goosebumps sensation. The feel has all the death-defying marvel of a real-life circus.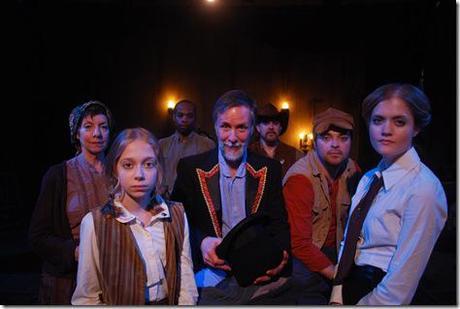 Director James Palmer fills the Big Top with a-whole-lotta acts.  Aided by Myah Shein (choreography and movement), Palmer orchestrates carnies, townies and the six-piece band in a relatively small space.  Palmer keeps the movement fluid with periodic dramatic pauses.  The mob frenzy becomes disquieted with the ongoing appearances of an execution hood.  The death symbolism is somber flashes in this highly animated tale.  The in-sync ensemble are engaging as the supernatural voices from the past.  Their descriptions and reactions to Mary's death are a roller coaster of emotion.  An angry peanut-throwing character (without headshots I can't decipher for certain the actor) makes a profound comparison that leaves me completely unsettled.  
And did I mention the soundtrack?  The band, The New Switcheroo, adds a bluegrass twang and homespun harmonies to the memory play.  They lighten or darken the mood depending on the theatrics.  They are the perfect accompaniment for an Elephant's Graveyard.  I highly recommend this whimsical memorial for its unexpected truths surrounding an execution… just be careful of where you sit. 
Rating: ★★★★
Elephant's Graveyard continues through June 16th at Red Tape Theatre, 621 W. Belmont (map), with performances Thursdays-Saturdays at 8pm, Sundays at 3pm.  Tickets are $5-$30, and are available at the door (cash only) or online at BrownPaperTickets.com (check for half-price tickets at Goldstar.com). More info at RedTapeTheatre.org.  (Running time: 90 minutes, no intermission)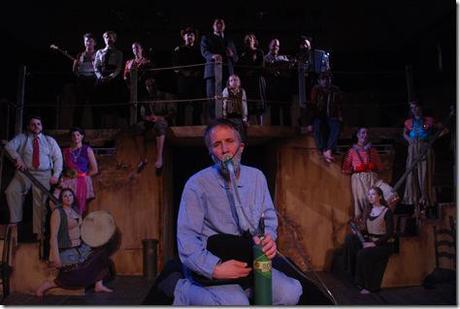 All photos by Austin Oie 
---