One evening a year, Chicago walks the red carpet into the Civic Opera House.  It's the night that magnificently dressed gentlemen and ladies in the audience out-costume the folks on stage.  The glamorous celebration officially opens the season…now in its 58th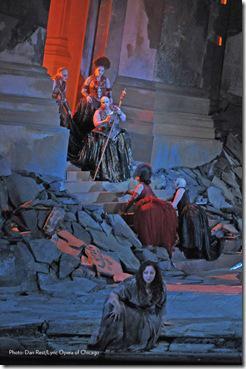 year. 
The Lyric Opera of Chicago presentsElektra.  When the King returns from the war, the Queen kills killed.  The Princess Elektra has trouble coping with the family drama.  She runs away from home…. well, really just outside the castle walls where she dances vigils of hatred.  She wants to murder mom and mom's new boyfriend before they kill the heir to the throne, her brother Orest. Her sister is not happy with their mother but prefers life inside the castle. She refuses to help Elektra assassinate anyone.  As Elektra gets her axe ready for a solo slaughter, she hears news that Orest is dead.  No longer able to protect her brother, Elektra grapples with revenge as the motive for her carnage spree.  Elektra is bloody terrific!  
From curtains up, the look is mesmerizing.  Set and costume designer John MacFarlane has built a stone fortress.  The castle walls are massive.  The action takes place in the rubbled front yard of Elektra's home.  This background is stark and gray contrasting brilliantly with the colorful queen and her maidens. Their costumes are outrageously vibrant with metal breastplates and hoop-skirts.  To make their fashion even more unforgettable, the Queen and her court are bald with excessive white make-up.  They look like this breed of ruling amazons.  Their severe artificialness distinguishes them from a natural rag-clad, barefoot, long-haired Elektra. MacFarlane goes for the continued shock value right into the blood infused finale.
In the lead, Christine Goerke (Elektra) is crazy great in the demanding role.  Under the direction of Sir David McVicar, Goerke embraces lunacy.  She is a dancing, laughing, plotting loon.  And under the baton of Sir Andrew Davis, Goerke pulls us into her anguish with superb singing.  Goerke may act demented, but her powerhouse singing reveals a strong woman of conviction.   She and Emily Magee (Chrysothemis) share a tender but tortured sisterly bond.  Magee, in particular, delivers an unforgettable emotional conclusion.  I'm left wondering her fate.  With controlled absurdity, Jill Grove(Klytamnestra) is a wicked and commanding force on stage.  The entire cast lends magnificent voice to the fall of the house of Agamemnon.
Elektra opens the Lyric's 58th Season on a ferocious note.  The bloody showcase sets the tone for a killer season.
Rating: ★★★½
Elektra continues through October 30th at the Civic Opera House, 20 N. Wacker Drive (map), with performances October 10, 13, 19, 22 and 30 at 7:30pm; October 26th at 2pm.  Tickets are $49-$259, and are available by phone (312.332.2244) or online through their website (check for half-price tickets at Goldstar.com). More information at LyricOpera.org.  (Running time: 1 hour 45 minutes without intermission. In German with projected English supertitles)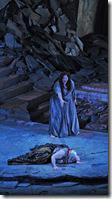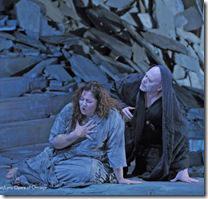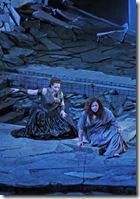 Photos by Dan Rest 
---
artists
cast
Christine Goerke (Elektra); Emily Magee (Chrysothemis); Jill Grove (Clytemnestra); Alan Held(Orestes); Roger Honeywell (Aegisthus); Elizabeth Byrne (Overseer); Jason Stearns (Orest's Tutor);Victoria Livengood (1st Maid)
behind the scene
Sir Andrew Davis (conductor); Sir David McVicar (director); John Macfarlane (designer); Jennifer Tipton (lighting); Martin Wright (chorus master); August Tye (choreography); Dan Rest (photos)