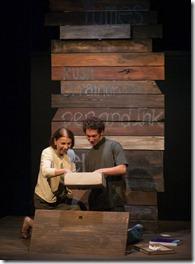 Elegy
Written by Ron Hirsen
Directed by Dennis Zacek
Victory Gardens Theater, 2433 N. Lincoln (map)
thru Dec 1  |  tickets: $30-$48   |  more info
  
Check for half-price tickets 
  
  
   Read review
  
---
Blurry characters lack emotional depth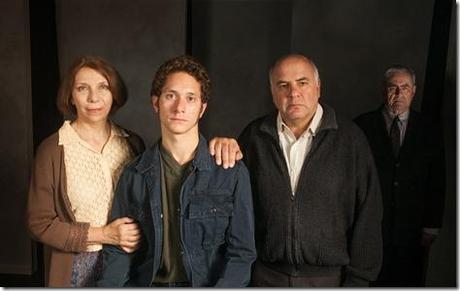 The Elegy Project presents
Elegy
Review by Catey Sullivan 
File this one in the Underwhelming drawer. With his 70-minute Elegy, playwright Ron Hirsen explores the tragic legacy of the Holocaust from the distance of the 1970s, as a tight-knit family in New York City shows that decades of distance haven't muted the harsh, immutable impact of World War II's genocidal horrors. Unfortunately, Elegy breaks little ground in plumbing the vast, fathoms-deep fallout and countless indelible scars left in the wake of the Holocaust.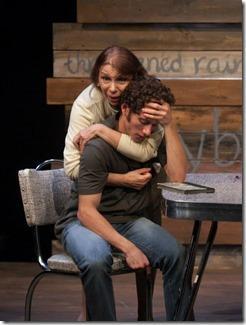 The story
Elegy
has to tell is an important, timeless one. But in the telling,
Elegy
squanders it's slight running time with dialogue that's seems unduly repetitive as variations on the same argument and troubled family dynamic play out. Under the direction of
Dennis Zacek
, the piece felt significantly under-rehearsed opening night. There were more than few instances of line-fluffing during
Elegy
's debut, a flaw that both diluted the play's potential power and distracted from its potentially rich narrative.
Elegy is centered on Hilde (Iris Lieberman) and Helmut (David Wohl), death camp survivors and German emigres living in New York City roughly 30 years after they were brutalized by the events of Kristallnacht – the two-day period in 1938 when Nazis terrorized Berlin by destroying Jewish-owned businesses and murdering Jews on the streets while the German police stood by and watched. Having survived both that horrible harbinger and the genocide that followed, Hilde and Helmut see their son Jerry (Justin Leider) as a symbol of all that the Nazis failed to destroy. The couple have bestowed their son with the status of "miracle child" – the living embodiment of the extraordinary power of human resilience and an unfailing reminder that the Nazis failed in their attempt to stamp an entire race of people off the face of the earth.
As Elegy unfolds, Jerry is bucking under the smothering mantel that comes with being revered as a symbol as much as a son. Weary and angry with the onus of living up to his "miracle" status, Jerry is also increasingly intolerant with the fortress of stoicism his father invokes deep within. Unable and unwilling to reclaim the pieces of his heart he locked away during the war, Helmut – a passionate, articulate poet as a young man in Berlin – has buried his emotions so completely that he has all but killed a part of himself, effectively snuffing out the joy, ardor and creativity he once radiated. The idealistic young poet Helmut was before the war has been overcome by an embittered, deeply wounded older man.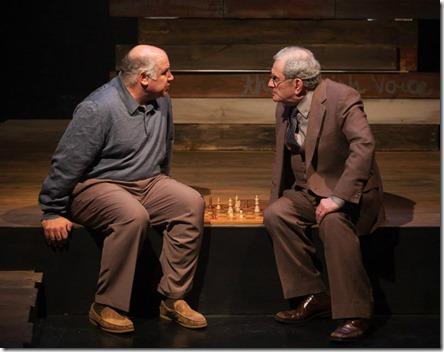 The catalyst for Jerry's confrontation – which involves a very messy scene involving a birthday cake – with his parents is sparked by his discovery of an elaborately romantic poem tucked away in the attic, a fading scrap of writing that sparks his curiosity. When he learns that his outwardly cold, perpetually stony-faced father penned the unabashedly emotional love poem, Jerry becomes angrily obsessed with insisting Helmut reopen his heart to his artistic past.
Hirsen illustrates Helmut's pre-war passions in flashback, showing us an ebulliently expressive Berliner who declared his love in the Cafe Julius, reading poems to his "red rose" while also having them published in the vibrantly outspoken Jewish Voice newspaper.
In New York, Helmut refuses to even acknowledge his poems, much less accede to his son's repeated demands that he read them aloud. He is a man whose anger and sorrow have taken the form of an iron shroud, a psychological shield that protects him, even as it prevents him from making meaningful connections with the people he loves most.
For Jerry, breaking through his father's seemingly impenetrable exterior becomes a driving, uncompromising priority. The son's push to connect with the parent he never knew drives Elegy's narrative.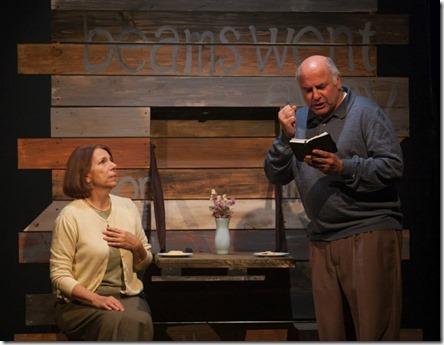 Hirsen has the bones of a thought-provoking, emotionally complex drama in place. But he sorely needs to flesh out his characters – Jerry seems little more than a generically petulant adolescent. The source of his frustration and rage needs to be more deeply explored, the psychic consequences of being deemed a "miracle child" shown in greater specific detail. More too is needed in portraying Helmet's damaging transformation at the hands of the Nazis and his own father (Bernard Beck, giving a troublingly hesitant performance opening night). As for Hilde, she's more archetype than character, a pillar of marrow-deep compassion defined by her role as a mother and a wife.
What works, and beautifully so, in Elegy is the simultaneously mournful and gorgeously hopeful atmospheric music provided by cellist Bill Meyers. His playing has all the detail and richness that the dialogue lacks, and the aching beauty of his performance dominates the production. Also effective is Grant Sabin's set design, a backdrop of rough hewn wood etched with phrases from the play.
If only the emotional power of those design elements, particularly the music, were instilled in the script. Then Elegy might succeed in the storytelling it aspires to.
Rating: ★★
Elegy continues through December 1st at Victory Garden's Richard Christiansen Theater, 2433 N. Lincoln (map), with performances Thursdays and Fridays at 7:30pm, Saturdays at 5pm and 8:30pm, Sundays 3pm.  Tickets are $30-$48, and are available by phone (773-871-3000) or online through VictoryGardens.org (check for half-price tickets at Goldstar.com). More information at ElegyProject.org.  (Running time: 1 hour 10 minutes, no intermission)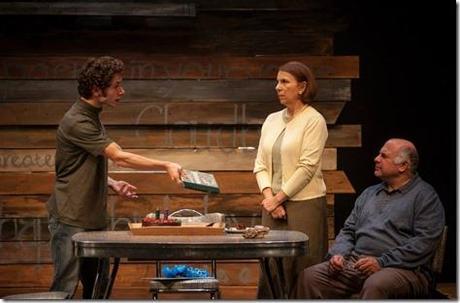 Photos by Anthony Robert La Penna 
---
artists
cast
David Wohl (Helmut), Iris Lieberman (Hilde), Justin Leider (Jerry), Bernard Beck (Papa)
behind the scenes
Dennis Zacek (director), Grant Sabin (set design), Claire Chrzan (lighting design), Scott Miller (sound design), Bill Meyer (cellist, music coordinator), Tina M. Jach (production stage manager), Justin Snyder (technical director), Anthony Robert La Penna (photos).
13-1110