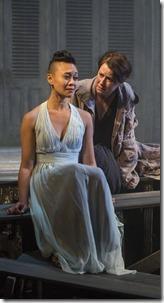 Beautiful exploration into the monstrous depths of the human soul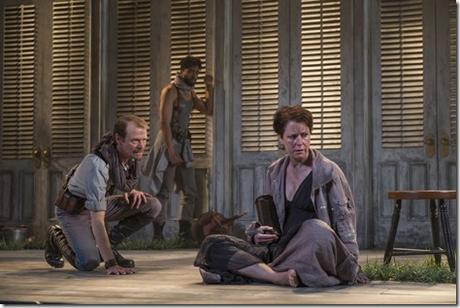 Review by Catey Sullivan
If Thanksgiving left you with a certain, clear and abiding belief in your family's inherent dysfunctional craziness, you'll feel much better once you've taken in Electra . When it comes to scorched-earth-take-no-prisoners-familial meltdowns, it's House of Atreus for the win, hands down, no contest.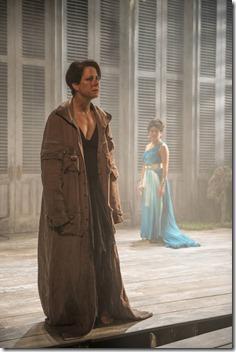 The final installment in adaptor
Nicholas Rudall
's three-play Greek cycle for the
Court Theatre
,
Electra
follows 2014's
Iphigenia in Aulis
and last year's
Agamemnon
.
A recap of previous events seems in order: In Iphigenia, King Agamemnon slaughtered his daughter in an attempt to please the gods and win the Trojan war. Agamemnon's wife Clytemnestra was not on board with either the war or the sacrifice, which set the scene for 2015's Agamemnon. In the second piece of the the trilogy, Clytemnestra has her revenge. Agamemnon is killed. Clytemnestra wastes no time in grieving and quickly takes up with Aegisthus. That brings us to . Electra is King Agamemnon's non-sacrificed daughter.She wants vengeance on Clytemnestra, and won't rest until both her mother and Aegisthus are dead.
Given that all three of these plays are thousands of years old and firmly categorized as Greek tragedies, it's not a spoiler to note that matters end badly and bloodily in . Say what you will about mandatory familial holiday gatherings: Odds are that nobody will actually get stabbed to death with the turkey carving knife.
Clocking in at 90 minutes, Rudall's translation is all sleek poetry and forward momentum. Director Seret Scottshapes the treacherously difficult material into a fittingly larger-than-life epic.
The cast starts on blast, and stays there to the slam-bang, visually searing close. Such constant howling and over-the-top grief would pose a problem for a lesser cast. The characters' grief, rage and passion are are as stormy and destructive as a category five hurricane. As they weep, wail and literally tear their hair out, every scene is but an incisor away from turning the production into an exercise in scenery chewing. That never happens though - Seret navigates the wire between the sublime and the ridiculous, balancing forever on the former.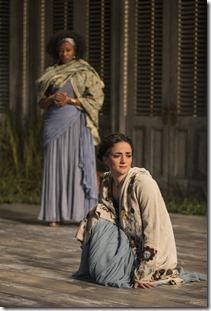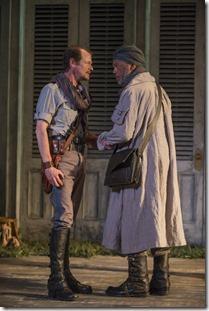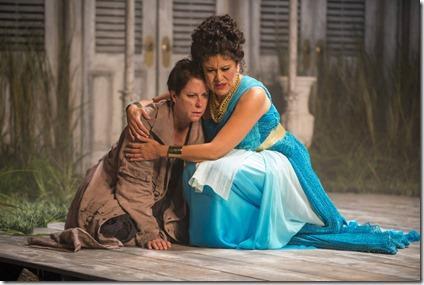 The outsized emoting is taken still further by the stylized movement choreographed by Tracy Walsh. Whenever a character of import is mentioned, the cast emphasizes that importance by performing synchronized movements that evoke ballet, modern dance, and mime. The vocals go to extremes as well. Every time Aegisthus is mentioned, the ensemble lets out a venomous hiss. Throughout, the language is heightened to the semi-sung intonations of a High Latin Mass.
Seret makes all of this grandeur and affectation work. The story is the stuff of mythology and as such, you've either got to go big or go home. Scott goes huge, creating a beautiful exploration into the monstrous depths of the human soul.
As Electra, Kate Fry embodies the feral, wild-eyed anger and grief of someone who has nothing left to lose. Electra's emotions are like a burning building - she's trapped by them. Short of clawing her own skin (or someone else's) off, there's no relief. Fry gives exhausting authenticity to Electra's desperation and hell-bent determination.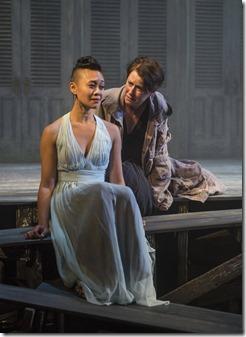 Sandra Marquez is Clytemnestra, a queen who is the extreme opposite of Electra. The queen is as regal and icy as a mountain peak, cold-eyed and precise in everything she says, and wholly unrepentant for murdering her husband. Marquez has a glittering, calm malevolence that makes the Clytemnestra terrifying. Next to Electra's scruffy, dirty face and raggedy clothes, Clytemnestra is breathtakingly beautiful. It's the beauty of a deadly adder poised to strike. If you cross this woman and you want to live, you best make sure you kill her.
Scott Davis' set design is a haunting marvel of old world decay and beauty. Towering French doors (similar to those you see in New Orleans' French Quarter) line the stage. Lush drapes of Spanish moss hang from above, evoking the claustrophobic humidity and torpid climate it needs to flourish. On the ground, plants and weeds reach up like grasping fingers. The overall image is of a world where man is out of control, and nature is reclaiming all that foolish mortals have constructed.
Jacqueline Firkins' costume design enhances each character. Clytemnestra is all shining gold and dazzling turquoise, the sole pop of color in a world of gray peeling paint and mossy green decay. Electra wears the tattered gown that looks and moves like smoke. For the chorus that besieges Electra like furies, Firkins' has designed gowns that move with the grace of flowing water and that signal the culture of ancient Greece.
In all, is as striking visually as it is verbally. It is tragedy writ large, and a fittingly memorable finale to Rudall's trilogy.
continues through December 11th at Court Theatre, 5535 S. Ellis Ave. (map), with performances Wednesdays-Thursdays at 7:30pm, Fridays 8pm, Saturdays 3pm & 8pm, Sundays 2:30pm & 7:30pm. Tickets are $48-$68, and are available by phone (773-753-4472) or online through their website (check for half-price tickets at ). More information at CourtTheatre.org. (Running time: 90 minutes, no intermission)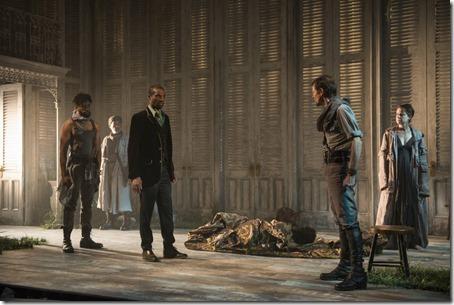 Photos by Michael Brosilow
Caren Blackmore (chorus), Thomas J. Cox (Orestes), (Electra), Emjoy Gavino (Chrysothemis), Cruz Gonzalez-Cadel (chorus), Rashaad Hall (Pylades), Sandra Marquez (Clytemnestra), Michael Pogue (Aegisthus), Tracy Walsh (chorus), Dexter Zollicoffer (Paedagogus).
behind the scenes
Seret Scott (director), Scott Davis (scenic design), Jacqueline Firkins (costume design), Paul Toben (lighting design), Andre Pluess (sound design), Tracy Walsh (choreography), Amanda Weener-Frederick (production stage manager), Michael Brosilow (photos)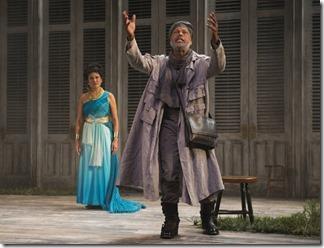 Tags: 16-1148, Amanda Weener-Frederick, Andre Pluess, Caren Blackmore, Catey Sullivan, Chicago Theater, Court Theatre, Cruz Gonzalez-Cadel, Dexter Zollicoffer, Emjoy Gavino, Jacqueline Firkins, Kate Fry, Michael Brosilow, Michael Pogue, Nicholas Rudall, Paul Toben, post, Rashaad Hall, Sandra Marquez, Scott Davis, Seret Scott, Sophocles, Thomas J. Cox, Tracy Walsh