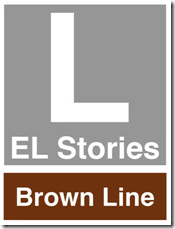 El Stories: Brown Line
Adapted and Directed by Thomas Murray
Greenhouse Theater Ctr, 2257 N. Lincoln (map)
thru August 13  |  tickets: $13  |  more info
Check for half-price tickets
   Read entire review
---
It's okay to stare: CTA story-swap gives insight into Chicago's soul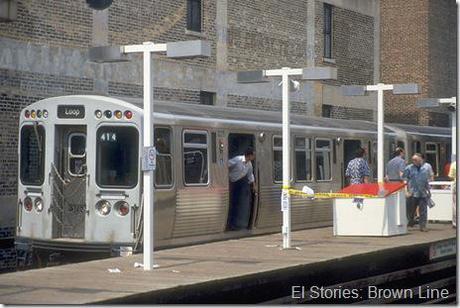 Waltzing Mechanics presents
El Stories: Brown Line
Review by Dan Jakes
When a confused tourist asks me a question on the el platform about how to get to his or her destination, I get giddy. Silly as it may be, in my head, my ability to answer validates my status as a legitimate Chicagoan. My rush-hour commute is a badge of honor, and I can't help but feel a sense of ownership whenever I hear a brown or red line rumble past. When I travel back from out of town, it's what I need to hear to feel home.
And that's entirely the point. Theatre achieves something special when it's local.
Earlier this year, Route 66 Theatre's A Twist of Water (our review) capitalized on Windy City landmarks to create art that spoke directly to a unique, specific audience. The results were intimate and affecting. Likewise, Waltzing Mechanics presented El Stories: Red Line (our review ★★★), a one-act collection of vignettes about the city's public transit and its sometimes gawk-worthy riders. As other art mediums become more globally consumable, it's important to remember that theatre has an ability to foster a sense of community and to tap into sentiments not felt or articulated elsewhere. It's the strong suit of adaptor and director Thomas Murray's newest presentation, which follows a similar format but hops tracks from red to brown.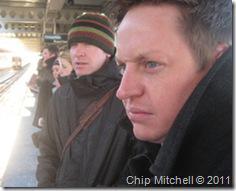 The real-life characters described in this partially staged series of monologues are mostly what you'd expect: bratty teens, a meth cooker who samples his own batch, drunks, and the homeless. A show about city transit would be incomplete without
some
mention of class-conflict and pokes at wackos–after all, when it comes to diversity, the el is a moving equivalent of the DMV–but segments featuring erratic behavior as the centerpiece are not delved into beyond the momentary amusement you'd experience for yourself on an average weekend ride. More entertaining are the characters that ring truer to the average passenger, which are presented more subtly: somewhere right now, in Chicago, there's a woman that actually uses phrases like "high off an opera" to describe her post-theater mood. Everyone drops "DePaul" or "Loyola" when talking about college kids, as if there's an unspoken, inherent implication about either. The young cast is always game and on-point, even if not every story is not (the performance I attended was cut back by several speeches due to an actor emergency, but it's still safe to hope for more unexpected subjects).
Brown Line is at its best when it goes beyond anecdotes about loonies and uses common experiences about the el to expose deeper truths about urban life. Two muggers are unsettling in one woman's story about getting robbed, but more disconcerting is how the train keeps moving afterward, cold and unsympathetic to her panic. It's like the city itself: too big to care. The onlookers that try to help have limited success, but their gesture speaks volumes. In a few short minutes, she's both disillusioned and comforted by total strangers. Another piece that discusses the horror operators endure before and after railcar-suicides demonstrates Murray and company's capacity for well-constructed speech and visual storytelling.
Waltzing Mechanics is currently collecting vignettes for its next transit-themed project; it could be promising, so long as they stay away from the crazies.
God help us if they tackle the bus.
Rating: ★★½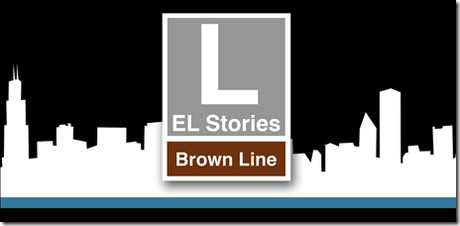 Waltzing Mechanics' El Stories: Brown Line continues through August 13th at the Greenhouse Theater Center, 2257 N. Lincoln (map), with performances Fridays and Saturdays at 10:30pm. Tickets are $13, and can be purchased by phone (773-404-7336) or online at greenhousetheater.tix.com. More info at WaltzingMechanics.org. (Running time: approximately 60-minutes with no intermission)
---
artists
cast
Bryan Campbell, Nick Chandler, Zack Florent, Lance Hill, Barry Irving, Teresa B. Kuruvilla, Keely Leonard, Eric Loughlin, Adrienne Matzen, Deanna Myers, Eleni Pappageorge, and Shariba Rivers