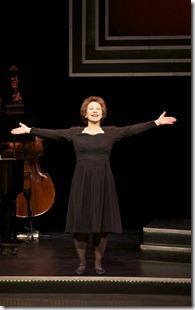 Edith Piaf Onstage
Written by Leslie Fitzwater
Directed by Jim Butchart
Music directed by Paula Foley Tillen
at Cabot Theatre, 158 N. Broadway (map)
thru Feb 10  |  tickets: $24-$75   |  more info
  
Check for half-price tickets 
  
  
   Read entire review
  
---
A triumph to her life offstage,
honoring her determination and spirit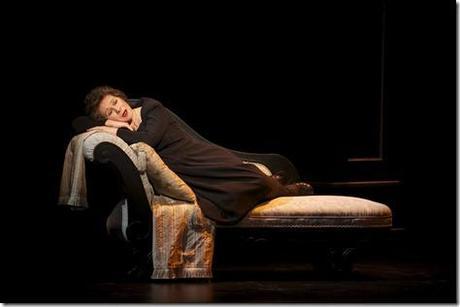 Skylight Music Theatre of Milwaukee presents
Edith Piaf Onstage
Review by Harry Cherkinian
Edith Piaf made headlines for her singing and performing onstage as well as her life—and subsequent death of liver cancer at 47–off stage.
Literally a child of the streets (born on the pavement in Belleville, France according to legend), Edith Giovanna Gassion, was abandoned early on in life by her parents and raised by her paternal grandmother who ran a brothel. The young girl was raised by the inhabitants, prostitutes. Small wonder that the singer who would later became an international icon for her ballads of longing and loss of love always yearned for that which she could never have—self acceptance.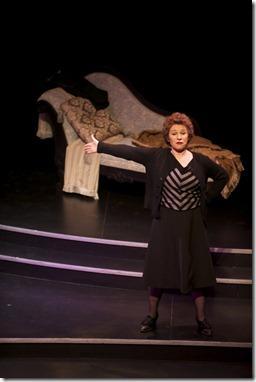 Fifty years after her death, Piaf (French slang for "sparrow") has been brought back to life in a manner which honors and cherishes her indomitable spirit in
Edith Piaf Onstage
, at Milwaukee's
Skylight Music Theatre
. That is due in large part multi-faceted talents of Milwaukee veteran performer
Leslie Fitzwater
, who wrote and performs in this one actor show. Director
Jim Butchart
has kept the staging simple, with a café table and chair and a chaise lounge to vary the scenes as well as rear screen projections with quotes from some notable figures in Piaf's life (playwright Jean Cocteau among them). But the spotlight firmly remains on Piaf in all ways.
Captivating an audience is a tricky business for any actor. In the case of a lone spotlight for nearly two hours, it is a testament to Fitzwater's abilities to transform herself into France's most beloved singer and international icon in a number of multidimensional ways. Fitzwater and Piaf have traveled the road to stage together, including unexpected obstacles. She first performed a revue of Piaf's songs in 1987 at Milwaukee's summer festival celebrating all things French, Bastille Days. The following year saw the World Premiere of the show at Skylight and ran again in 1989. Another revival was staged in 2006 in a smaller space with an encore run later in the same season. However, illness befell Fitzwater a year ago and the show was cancelled. However, like her stage persona, Fitzwater has come back stronger than ever and her incarnation of Piaf is truly an achievement of determination and skill, much like the many "roles" Piaf played in her own life.
There's Piaf recalling her life as a street performer along with her then present father Louis, a street acrobat. She ultimately become more popular than he and got her break in a nightclub.
Then there's the Piaf who found acceptance, externally with audiences local to international but still clung desperately to her bottle of whatever was handy, a "security blanket" in dealing with the demands of the present and the demons of the past.
And then there is finally, Piaf the woman—passionate, untamable, yet able to touch the souls of millions with her heartfelt singing and songs of love and its many versions of sorrow and sadness. Piaf knew what she sang: her abandonment as a child, lost loves including her beloved (but married) boxer Marcel Cerdan who died tragically in a plane crash in the Azores coming to visit her in America.
We learn so much about "little sparrow" amid classics that still see the light of day in contemporary culture (her music has been played in movies as diverse as "Saving Private Ryan" to "Madagascar 3"), and Fitzwater evokes the passion and soul of Piaf that transcends mere imitation. Yes the physical gestures are all there: the recognizable stance with legs apart, hands on hips conveying Piaf's own silent determination to do things her way (sing in her native French) to the simple plain black dress, unadorned, putting the focus strictly on the singer and her music.
But we as the audience quickly forget that this is an actor performing songs such as the highly recognizable "La Vie en Rose, " Non, Je Ne Regrette Rien ("No, I Regret Nothing") or the haunting "Autumn Leaves" (first introduced to the world in a 1946 film by her then protégé, Yves Montand). Fitzwater so embodies the singer's soul that we can feel her pain as she sings of lost love while at the same time, understand the determination to go on with life, wherever it leads. It's a performance that educates, entertains, but most importantly conveys the spirit and emotion of a beloved icon.
There is a French proverb that goes: "Where there's music, there can be love." For Edith Piaf, the "little sparrow," she was able to at least find love in her music and that could console her onstage. For her audiences watching and listening offstage, we can watch the excitement of such joyful discovery time and again in Edith Piaf Onstage.
Rating: ★★★★
Edith Piaf Onstage continues through February 10th at the Broadway Theatre Center's Cabot Theatre, 158 N. Broadway in the Historic Third Ward of Milwaukee (map). More information at SkylightMusicTheatre.org.  (Running time: 2 hours, includes an intermission)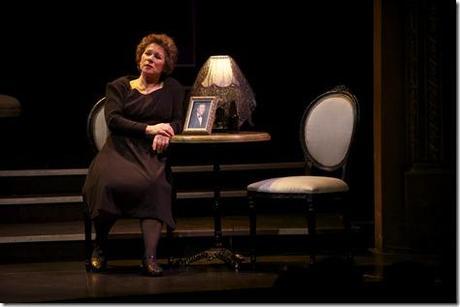 Photos by Mark Frohna 
---
artists
cast
Leslie Fitzwater (Edith Piaf)
orchestra
Tom Knack (accordion), Tom McGirr (bass), Mike Lorenz (drums and percussion), Paula Foley Tillen (piano)
behind the scenes
Jim Butchart (stage director, choreographer); Paula Foley Tillen (music director, arrangements, orchestrations); Rick Rasmussen (set); Shima Orans (costumes); Holly Blomquist (lighting); Gary Ellis (sound); Jennifer Anderson (stage manager); Mark Frohna (photos)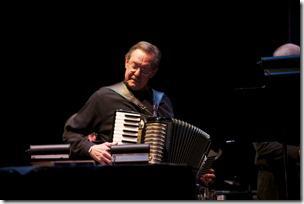 Musical Numbers
Act 1
Act 2
1. Monsieur Saint-Pierre
2. Elle Frequentait La Rue Pigalle (Tape)
3. La Goualante Du Pauvre Jean
4. L'Accordéoniste
5. C'est L 'Amour
6. My Lost Melody
7. Comme Moi
8. Lovers For One Day
9. Autumn Leaves
10. La Foule
11. C'est Lui Qu'Mon Coeur A Choisi (Tape)
12. Mon Dieu
13. Hymne À L'Amour
14. Padam
15. Milord
16. C'est À Hambourg
17. La Goualante Du Pauvre Jean
18. La Vie En Rose
13-02m1