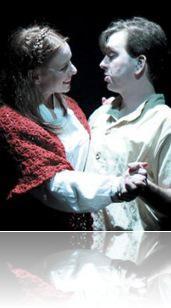 East of Berlin and
   The Russian Play
Written by Hannah Moscovitch
Directed by Ronan Marra 
Signal Ensemble Theatre, 1802 W. Berenice (map)
thru Nov 13  |  tickets: $20   |  more info
Check for half-price tickets 
  
  
   Read entire review
  
---
Two confessionals steeped in truth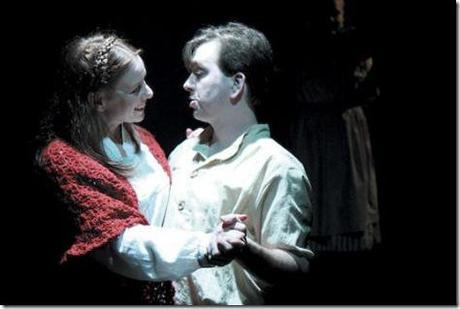 Signal Ensemble Theatre presents
East of Berlin / The Russian Play
Review by Lawrence Bommer
Hannah Moscovitch is a Canadian playwright whose scripts have souls, judging from Signal Ensemble Theatre's worthy Chicago premiere of East of Berlin and U.S. debit of The Russian Play. Her one-acts feature richly detailed characters: Their solidly grounded confessions compassionately depict believable crises. They challenge us to wonder what we'd do—the kind of identification that can only enlarge and enlighten audiences. Theater thrives on the bracing universality of brave questions–so it's no marvel that Ronan Marra's disparate stagings deliver two hours of solid goods.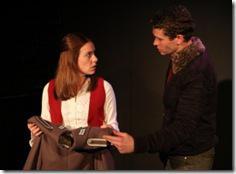 In
East of Berlin
, a burning testimonial that wonders whether the sins of the father are visited on the son,
Billy Fenderson
plays a searcher named Rudi. This handsome young German emigre slowly learns that the Germans surrounding him in Paraguay are ex-Nazis sheltered by the Odessagroup. Worse, before he changed his name and nation, Rudi's otherwise agreeable father was a notorious S.S. doctor at Auschwitz, responsible for ghoulish experiments involving injecting Jewish victims with typhus or tearing out organs without anesthesia. This dad from hell thought he was advancing medicine—but, if not, well he was only following orders.
Now seven years separated from his South American exile, Rudi lets us imagine the denial, guilt and revenge that seethes through him as his present catches up with his father's unrepentant past. In order to shock his father Rudi engages in a homosexual affair with Hermann (Tom McGrath), the son of another prominent Nazi refugee. He returns to Berlin to confirm the ugly truth, then falls in love with a very different researcher—Sarah (Melanie Keller), a Jewish girl. Desperate for her own stability, Sarah almost marries Rudi until she discovers his reason for being there and the facts about the name his family discarded a generation before.
Since he's damned whatever he does, Rudi is along in coming to terms with his devilish descent from a monster who escaped punishment. Inevitably he must confront his father and free himself from a curse that continues. But, like everything before it, what happens here raises questions for which real life provides no satisfaction.
The real redemption here is the performances, with Fenderson, McGrath and Keller powerfully true to a present that reflects a terrible past. Fenderson's Rudi (resembling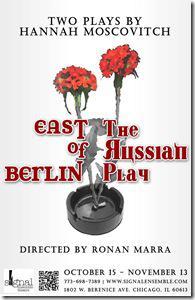 James Franco, whose character Harry had his own father issues) is a young man caught in the crossfire, memorable as he desperately reaches for a lost innocence.
Shorter and lighter, The Russian Play belongs to the apostrophizing Keller, whose Sonya recounts a Slavic story of relentless realism—Chekhov without the leisure for heartbreak. Flower-shop girl Sonya, a near survivor enduring Stalinist repression, engages in a doomed and clumsy affair with a married gravedigger (McGrath), then rebounds with equal fatefulness by falling for a kulak's wealthy son (Fenderson)—a sure way to fall afoul with the authorities. (Accompanying this melancholy but hilariously deadpan story is violinist Allison Cook, her strings echoing the irony and sorrow with equal fidelity.)
Sweetly sardonic but ultimately as uncompromising as the first offering, The Russian Play, despite its title, is much more subversive than generic. Harvesting depression with heavy accents and soulful looks, the three actors squeeze suffering like juice from an orange. It's so sad that it has to be funny.
Rating: ★★★★
East of Berlin and The Russian Play continues through November 13th at the Signal Ensemble Theatre, 1802 W. Berenice (map), with performances Thursdays-Saturdays at 8pm, Sundays at 3pm.  Tickets are $20, and are available by phone (773-698-7389) or online at vendini.com. More information at SignalEnsemble.com.  (Running time: 2 hours, which includes one intermission)
All photos by Johnny Knight 
---
artists
cast
East of Berlin – Melanie Keller* (Sarah), Billy Fenderson (Rudi), Tom McGrath (Hermann).