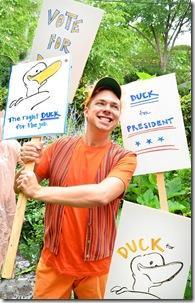 Duck for President 
Adapted by James E. Grote
Music and Lyrics by George Howe  
Directed by Shole Milos
at Lifeline Theatre, 6912 N. Glenwood (map)
thru Nov 25  |  tickets: $15   |  more info  
  
  
  
  
---
'Duck' wins by a landslide!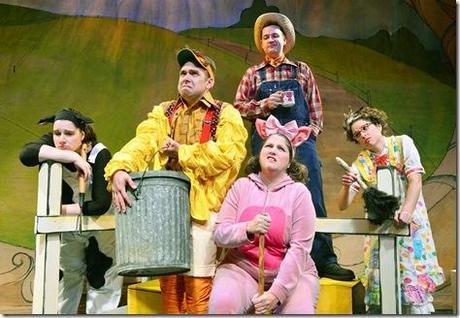 Lifeline Theatre presents
Duck for President
Review by Joy Campbell
Farmer Brown has a problem: he's worn out from running his farm alone. He assigns chores to Pig, Hen, Cow, and Duck so that they can help pull their weight, but this does not go over well, so the animals decide to vote on who gets to run the farm. Duck wins with a platform of giving everybody what he wants, and so begins his political journey and education on the hard job of leadership and keeping promises.
In adapting the children's book by Doreen Cronin and Betsy Lewin, Jim Grote injected an educational element, using the story as a vehicle for informing kids about political process and civic duty. "It was very important to me to teach that to kids," Jim told me.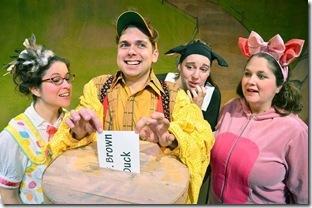 In the current political season, it could not be better timed.
An extremely witty, fast-paced script and catchy songs help tell the story of slacker Duck's increasingly burdensome struggles as he goes from leading the farm to running for governor (I may never be able to hear the word "gubernatorial" again without giggling), and finally, running for president. He is encouraged all along by Rasputin-like Pig, eager to be the power behind the power, whose explanations to Duck about leadership provide many of the lessons learned. Keeping it fun and interesting, the animals teach Duck, and by extension, us kids, why people vote in a democracy, and what happens in a campaign, and why. In a segment that I particularly liked, Hen gives a darling explanation of why every vote counts. (OK, they avoid the whole electoral-college discussion, but that's probably for the best.)
Duck learns that being in charge is a lot more hard work and responsibility than it seems; it is not all "sparkle ponies and rainbows dipped in sunshine." Pig — well, no spoilers here.
The script is delightful. In writing the book and the songs, Jim Grote and George Howe seemed to have as much fun creating the work as we do enjoying it. They never talk down to the kids (there are words like "quadruped" and "tympani"), and they remember that about half of their audience will be the adults who accompany the children. As with all truly brilliant kids' entertainment (hello, Muppets), the material entertains thoroughly on more than one level. So when Duck does his Nixon impression and the animals spoof the famous "phone call in the night" from the last presidential race, and Duck's profound comment on the economy is "the economy is stupid," the adults understand the cleverness of it all, and the kids — well, the kids just think it's funny.
The cast is outstanding and immensely likeable. As Duck, Nathaniel Niemi is sweet and earnest, the kid in all of us who just wants to play, and who gets in over his head. In a nod to another animal farm, Heather Currie's Pig is the brains behind the scheming, and is the funniest sow ever. Amy Malcolm's Cow is the dryly amusing cynic, and Amanda Link's Hen is the sincere centrist who votes for Farmer Brown, bucking popular pressure. Derek Czaplewski plays Farmer Brown as well as other, minor human characters, and is the perfect straight man to the animals' naively misguided zeal for change. As an ensemble, the cast members have terrific chemistry, impeccable comic timing, and fantastic singing voices.
Joanna Iwanicka's simple but effective set looks like a huge coloring-book Farmer's Almanac, and pays tribute to the book's author and illustrator. Simple props echo the cartoonish nature of the story.
I watched the kids in the audience, including a few who were particularly antsy before the show, and to a child they were enrapt. If you have a child in your life, bring them. If you don't, go anyway. You'll have a blast.
Rating: ★★★★
Duck for President continues through November 25th at Lifeline Theatre, 6912 N. Glenwood (map), with performances Saturdays and Sundays at 11:00 am and 1:00 pm.  Tickets are $15, and are available by phone (773-761-4477) or online through PrintTixUSA.com. More information at LifelineTheatre.com.  (Running time: 55 minutes, no intermission)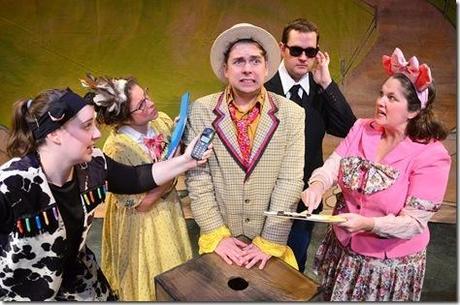 Photos by Suzanne Plunkett 
---
artists
cast
Heather Currie (Pig), Derek Czaplewski (Farmer Brown, various humans), Amanda Link (Hen), Amy Malcolm (Cow), Nathaniel Niemi (Duck), Kasey Alfonso, Jeremy Myers, Mike Ooi, Eliza Shin, Sally Beck Whippman (understudies)
behind the scenes
James E. Grote (adaptor); George Howe (music and lyrics); Shole Milos (director); Jana Anderson (costumes); Anthony Ingram (sound designer); Joanna Iwanicka  (set, props); Jordan Kadasz (lighting); Joe Schermoly  (tech director); Benjamin Dawson (production manager); Suzanne Plunkett (photos)