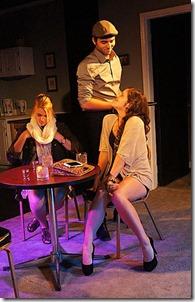 Drunk and Ready
Written by Scott Woldman
Directed by Michael Osinski 
Redtwist Theatre, 1044 W. Bryn Mawr (map)
thru Sept 7  |  tickets: $15   |  more info
  
Check for half-price tickets 
  
  
   Read entire review
  
---
No amount of drunkenness prepares you for a dramedy this tiresome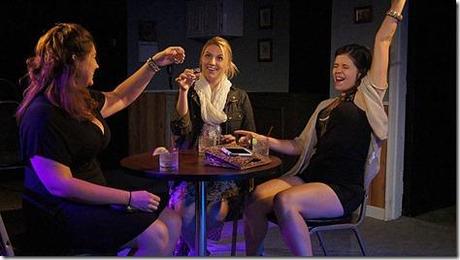 Redtwist Theatre presents
Drunk and Ready
Review by Clint May 
About 40 minutes into Drunk and Ready, there's an excruciatingly long montage of men delivering one-liners to an attractive woman at a bar. As I watched her endure strings of pick up groaners in rapid succession ("Nice legs. What time do they open?"), I realized that the exasperated, faraway look upon her face was in fact my own. That was me. I was on a bad date with this production. Wishing I was somewhere else. Turns out, the title was in fact instructional. To be ready to view this, one must be drunk. Unfortunately, I'd have had to drink to Mel Gibsonian proportions to endure this hackneyed farce*. But I wouldn't be able to—my liver just couldn't take it.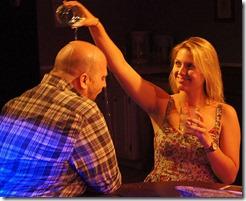 Part of Redtwist's new
Dark Red Series
of late-night productions (this is the "Luv Cycle"—that's right, with a 'u'),
Drunk and Ready
tries to be a drama, a comedy, and maybe even a morality tale.
Finally ready to step out (so it would seem) on the town one year after her fiancé was killed by an ice cream truck, Kimberley (Amy Rapp) reunites with two close friends at a local club to drink it up. There's Courtney (Elizabeth Argus), the manic sweet one and Liz (Allison Estep), the sardonic vivacious one. Though her friends think she's ready to at least talk to a guy (if not more), that idea is quickly shot down as a parade of endless male caricatures demonstrate absolutely nothing funny—or even insightful for that matter.
It's not for lack of trying almost everything ('subtly' and 'good timing' was left off the list). Playwright Scott Woldman trots out scatalogy (lots of it), profanity, slapstick, stereotypes, etc. at intense volumes in an attempt to garner a guffaw. I've never been able to make it through an episode of "Two and a Half Men", but I have to imagine this is the kind of puerile humor that makes it the source of such derision. These people are so unlikable, their motives so inscrutable, that trying to turn their situation into something sympathetic feels aggressively artificial. Add tonal shifts from dark drama (death, adultery, fetishism, alcoholism) to broad humor to a little 'closing time' sermonizing from the waiter 'Hot Pants' (Jason Rohn), and you might just feel your head spinning like you had one too many.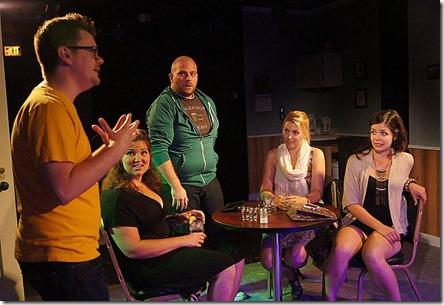 The opening scene introduces the kind of friend who doesn't feel terribly bad about making light of Kim's dead fiancé, and ends with a twist so bizarre it's sickening and more than a little insulting. At this point I've officially given more thought to this show then a date this schizophrenic deserves, so I'm going to abruptly make up an excuse about feeding my cat**, go home, and eat some Ben & Jerrys. Maybe a little nip of the good stuff wouldn't hurt either.
*not to be confused with a real farce.
**I don't own a cat.
Rating: ★
Drunk and Ready continues through September 7th at Redtwist Theatre, 1044 W. Bryn Mawr (map), with performances Fridays and Saturdays at 10:30pm.  Tickets are $15, and are available by phone (773-728-7529) or online through BuzzOnStage.com (check for half-price tickets at Goldstar.com). More information at Redtwist.org.  (Running time: 65 minutes, NO intermission. BYOB)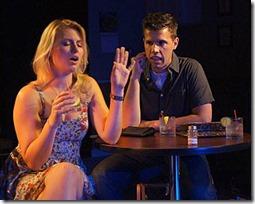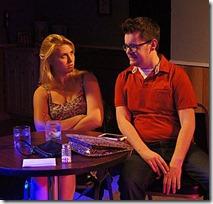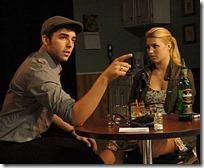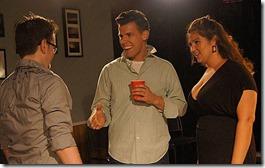 Photos by Jan Ellen Graves
---
artists
cast
Elizabeth Argus (Courtney), Matt Babbs (Tim, Ryan, Steven), Allison Estep (Liz), Chris Petlak (Donald, David, Adam), Amy Rapp (Kimberley), Giuseppe A. Ribaudo (Male Ensemble), Jason Rohn (Hot Pants)
behind the scenes
Michael Osinski (director), Allison Queen (stage manager), Garvin Jellison (lighting design), Daniel Carlyon (sound design), Olivia Leah Baker (costume design), Jessie Chappe (casting director), Charles Bonilla (box office manager), E. Malcolm Martinez (box office associate), Johnny Garcia (box office associate, associate producer), Jan Ellen Graves (graphic design, marketing, photos, producer), Michael Colucci (producer)
13-0812