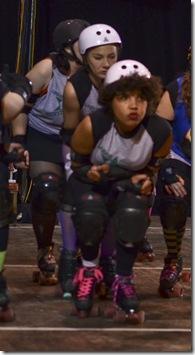 Down & Derby 
Written by Aaron Weissman  
Directed by Thrisa Hodits 
at Red Tape Theatre, 621 W. Belmont (map)
thru Dec 8  |  tickets: $20   |  more info
  
Check for half-price tickets 
  
  
       
  
---
Though a good idea, 'Derby' crams too many stories into the rink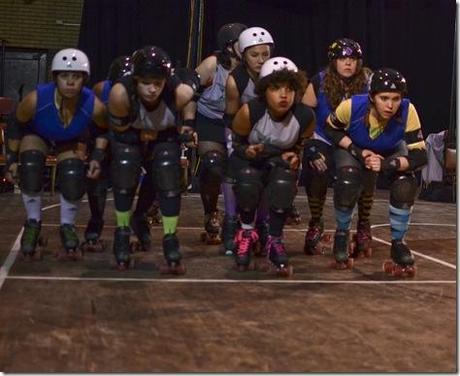 The New Colony presents
Down & Derby
Review by Lauren Whalen 
The New Colony has a lot of energy. Not only is their mission to "develop new work and fresh perspectives" noble and necessary, the company's dedication earned them the 2011 Broadway in Chicago Emerging Theater Award. However, energy goes hand in hand with structure. All the enthusiasm in the world does not a complete production make: plot and character development have infinite possibilities, at least one or two of which must be explored. Don't get me wrong, I found the company's premiere of Down & Derby plenty entertaining – but in the end, I wasn't quite sure what I'd watched.
Larkin City, Ohio is devastated after a severe tornado that leaves many dead and the small town in tatters. When two orphaned sisters (Aileen May and Rania Salem Manganaro) remember the happiness they felt skating as children, a roller derby team is born. One year later the Misfit Mavericks are competing on their home turf, boosting morale as an unstoppable all-female force – but will ambition, family issues and small-town confines threaten the feisty bunch?
The innate problem with Down & Derby lies in its script. Playwright Aaron Weissman worked with the cast to build characters and story. Scroll down this post and you'll see that Down & Derby has a rather large cast. Letting the actors lend a hand can lead to fresh perspectives, but at some point the playwright must decide what characters and plot(s) will be most prominent. That didn't happen here: Down & Derby follows so many team members and various conflicts that at times I was too busy writing down names and characteristics than paying attention to the action. At the end of the play's first half, a principal character drops a major bomb – but so much had happened, it was difficult to connect. Ensemble pieces are difficult to execute – similarly-themed films "Whip It!" and "A League of Their Own" successfully distinguished each team member as an individual, while concentrating on one or two main conflicts (Bliss versus her mother, and Dottie versus Kit, respectively). And though Red Tape Theatre's space convincingly resembles a rink, Thrisa Hodits' staging is also problematic: I know I missed key interactions because they were at the opposite end of the room.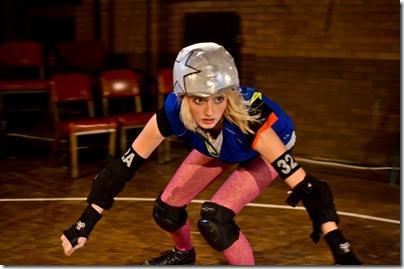 Script and staging issues aside, there's a lot to like about Down & Derby. Movement director Katie Spelman does a brilliant job at seamlessly integrating the rough movements of roller derby into almost every scene. Though only two cast members have roller derby experience, all appear completely comfortable wheeling around the space at breakneck speed. I also appreciate the body diversity among the women: they look like derby girls, not actresses playing derby girls. And there are several strong performances: Aileen May recalls her strong performance as Maureen in ATC's Rent (my review), bringing genuine pathos to proactive but single-minded team captain Hunt Her Ass Thompson (gotta love derby monikers). Evan Linder earns several laughs as the eager, goofy Misfit Mavericks hanger on-slash-local restaurant manager, and Mary Williamson has some nice moments as Dirty Harriet, who finds refuge from her alcoholic father at the rink. Lauren Sivak's timing is spot-on in the role of blunt but caring Jailhouse Block, and Rania Salem Manganaro's Maul of the Wild has a believable vulnerability. And with her in-your-face wit, loud voice and impeccable comic timing, Kristi Parker-Barnhart's Harlot O'Scara is a force of nature all her own.
If only these exceptional performers had better source material.
I realize my opinion of Down & Derby is likely an unpopular one. There was copious screaming and cheering at curtain call, and it wasn't entirely undeserved. Besides containing several standout performances, at its core Down & Derby is a really cool idea. But that's all I saw: an idea. With a tighter structure and more attention to plot, character and detail, Down & Derby could go far beyond its abundant potential.
Rating: ★★★
Down & Derby continues through December 8th at Red Tape Theatre at St. Peter's Episcopal Church, 621 W. Belmont (map), with performances Thursdays through Saturdays at 8 p.m. Tickets are $20 (discounts available for students and industry professionals). and are available online through Tixato.com (check for half-price tickets at Goldstar.com). More information at TheNewColony.org.  (Running time: 2 hours, includes an intermission)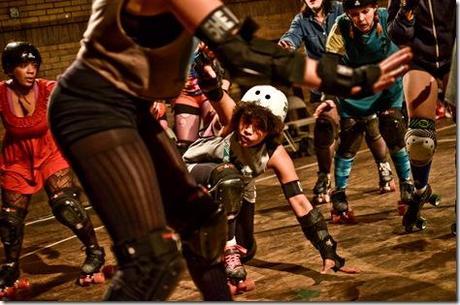 Photos by Ryan Borque 
---
artists
cast
Hannah Alcorn (JonBenet Slamsey), Joel Kim Booster (Diego), Lucy Gossett (Blood Bath and Beyond), Jaclyn Keough (Kilotwatt), David Kravitz (Graham), Evan Linder (Tasty), Rania Salem Manganaro (Maul of the Wild), Aileen May (Hunt Her Ass Thompson), Morgan McNaught (Hot Dish), Kitty Mortland (Roleen Joleen), Kristi Parker-Barnhart (Harlot O'Scara), Carol Saller (Martha), Lauren Sivak (Jailhouse Block), Sasha Smith (Whip-her Snap-her), Sara Stern (Martha), Mary Williamson (Dirty Harriet), Zoe Schwarz (Zooey Deathanel, Referee), Stephanie Shum (Mulan Bruise, Referee)
behind the scenes
Thrisa Hodits (director), Curtis Cassell (costumes), Heather Gilbert (lighting), John Holt  (scenic design), Nick Kawahara (sound design), Brianna Parry (stage manager), Andi Sharavsky (asst. director), Katie Spelman (movement director), Ryan Borque (photos), Alyssa White (asst. stage manager), Will Cavedo (fight choreography), Martin Marron (asst. costumes), Kevin Stangler (production assistant), Stephanie Shum, Tricia Bobeda, Emilee Lales (producers)