Hello! Welcome to the first official post on my blog, how exciting! I thought I would make my first post a review (just so you can learn a bit about me
,
ha).
The review is going to be on the Dorothy Perkins 'Super Soft Eden Jeggings'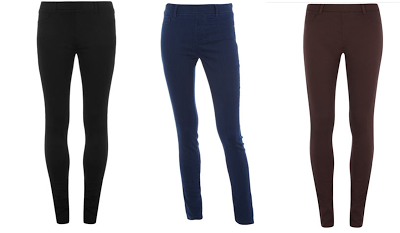 Colours left to right: Black, mid wash and Fig
These are the three colours I own/ have owned in the past. I could go on and on about how they a fabulous and comfortable, and 'super soft', as the label says, but I'd be lying if I said they're amazing. Don't get me wrong, they're literally the comfiest jeans ever, but the quality is definitely not the best.
If you're like me and loves chocolate too much, therefore doesn't have a thigh gap (don't worry, we can cry together), then the jeans rub together, which results in the fabric becoming thinner and eventually ripping, which you wouldn't get if you had a real pair of jeans, but the reason I wear them so often is not the softness, its the super comfy elastic waist, that just feels like heaven compared to the normal jeans waist. They also make you legs look AMAZING.
Hope you liked the review. It's a bit of a mixed verdict at the end, but I hope it helped you decide to buy what new jeans to buy. (?)
Rebecca x